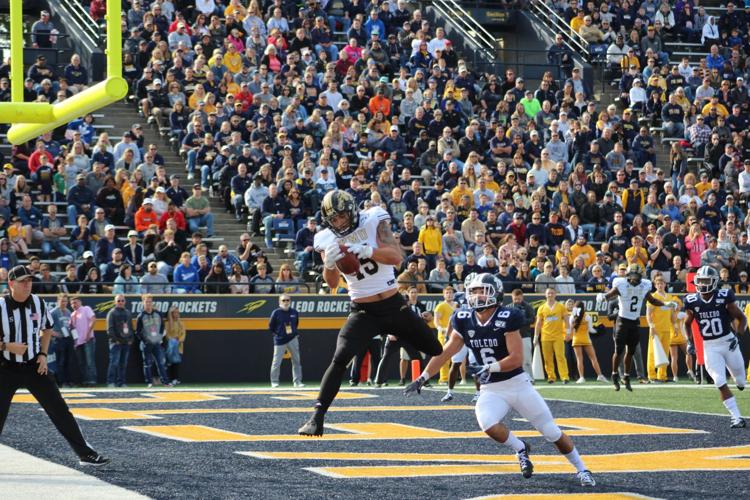 Coming into Saturday's game, it was clear that the winner would have a big leg up when it came to who would be the front-runner in the Mid-American Conference West Division. 
On Saturday, the Toledo Rockets gave themselves that leg up with a 31-24 home win against Western Michigan. 
Early on, it was yet another slow start on the road for the Broncos. Toledo put together scoring drives of 80 and 50 yards on their first two possessions of the game to take a quick 14-0 lead out of the gate. Toledo quarterback Mitch Guadagni threw touchdown passes to Bryce Mitchell and Devin Maddox in the two drives.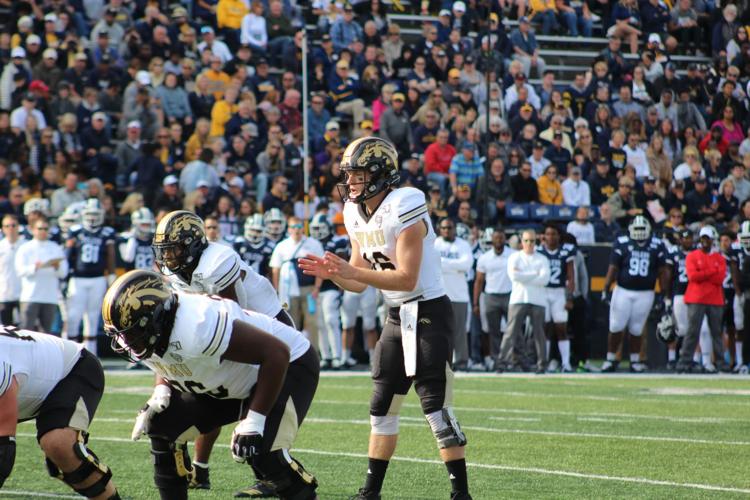 WMU was able to respond with a scoring drive of their own as Western Michigan quarterback Jon Wassink was able to connect with tight end Giovanni Ricci for a six-yard score to cut Toledo's lead to 14-7 going into the second quarter. 
To begin the second quarter, the Broncos defense decided it was their turn to make a big play. After Toledo was putting together a nice drive, senior linebacker Drake Spears came up with his first interception of the season on a tipped ball to force the game's first turnover. 
Western's offense however was not able to capitalize as their next drive stalled around midfield and punted the ball back to Toledo. 
The Rockets drove the ball down the field and Mitch Guadagni ran a draw play in for a touchdown to make it 21-7. But the drive was aided by an unsportsmanlike conduct penalty on safety Stefan Claiborne to give the Rockets a big first down in Broncos territory.  
Lester was pleased with the four penalties his team committed, compared to 15 last week. But he knows that was a huge play in the game. 
"One of the guys on the sideline got a text from his dad and said it was a terrible call," WMU head coach Tim Lester said. "I didn't see it; we immediately took him out of the game. We told the team if you get one (an unsportsmanlike penalty) you're done. I don't know what he did, I have to watch it and see, but it was a big play in the game. That was a big drive, when you lose by seven every little thing matters."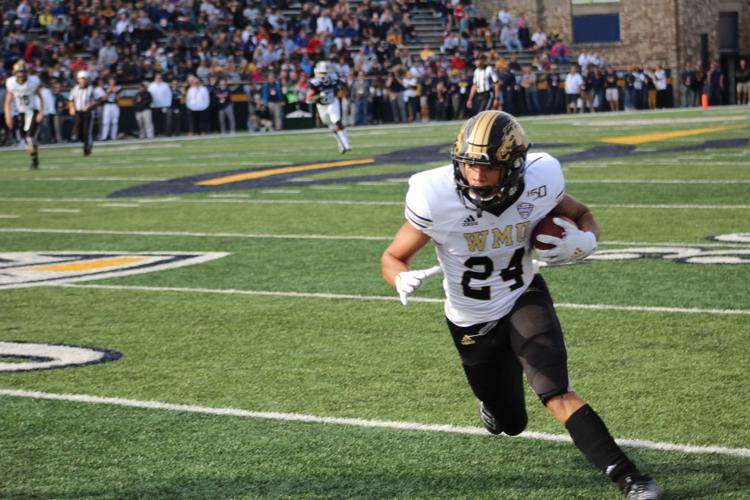 Toledo added a field goal late in the half to make it 24-7. After WMU put together a two-minute drive at the end of the half, kicker Thiago Kapps came up short on a long field goal attempt and Toledo held a 24-7 lead going into the locker room. 
The Broncos would respond in the third quarter when Jon Wassink found a wide-open Jaylen Hall streaking down the sidelines for a 43-yard score to make it 24-14. 
Western's defense would continue to get stops as one of them set up a blocked punt by Kailien Guillory, putting WMU in prime field position. The Broncos however were not able to take advantage as the Rockets chased down Wassink for a big loss on second down, putting WMU out of field goal range.  
That seemed to be the theme of the day for the Broncos offense as if Wassink was sacked in critical situations which killed some drives. 
Overall, Toledo finished with five sacks on the day and Wassink gave the Toledo front credit for getting to him, but knows they missed some opportunities. 
"We've gotta give them credit," Wassink said. They are a good team and they beat us today. But ultimately, we beat ourselves on some of those drives. Whether I missed a throw, or we missed a block or something like that, too many drives kind of halted in their territory when they shouldn't have." 
For the game, Wassink finished with 303 yards passing on 25-of-51 and two touchdowns. 
WMU would eventually get it to a one score game as Thiago Kapps drilled a 34-yard field goal with 29 seconds to go in the third to cut it to a seven-point deficit.  
Toledo would get on the board again in the fourth quarter to go back up two scores when Guadagni took it in from a yard out to put Toledo up 31-17. 
The dual-threat Toledo quarterback had a stellar game, going 14-of-22 through the air with two touchdowns, as well as adding two scores on the ground while running it 13 times for 55 carries. 
Guadgani got some help on the ground with running back Bryant Koback going for 179 yards rushing on 8.4 yards per carry. 
Even down two scores, the Broncos were determined to rally in the fourth, as WMU would take the ball on their next drive and make it a one score game again with 7:56 to go. Running back LeVante Bellamy took a handoff off right tackle and scampered for a 39-yard score, his longest run of the day. 
Bellamy carried in 13 times for 72 yards for a 5.4 average, but for much of the day it was tough sledding for the running game as Wassink was the Broncos leading rusher going into the half. Wassink said that made it tough and that the Rockets challenged their receivers on the outside. 
"It was tough, we couldn't quite get the run game going a lot today," Wassink said. "That kind of forced us to make tough throws and tough catches on the outside because they were playing good man-to-man coverage. They definitely challenged us to do that and we didn't make enough plays today." 
The Broncos defense would come up with another stop to give the offense a chance to tie it up late in the game. Defensively, the Broncos only allowed seven second half points to keep WMU in the game. Toledo finished with 275 yards in total rushing, but the Broncos slowed the attack down in the second half. 
Lester said he liked their energy and the way they bounced back in the second half.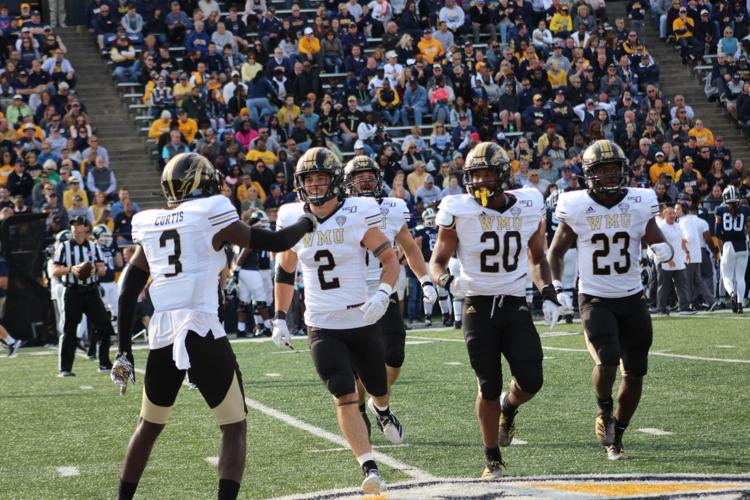 "We tackled better," Lester said. "We were missing a lot of tackles in the first half. Those eight-yard runs became three and that put them in some third-and-longs instead of third-and-one. I thought they did a great job and they kept getting the ball back for us.  
Western drove it down to the Toledo 12 late in the game when Saeed Holt came up with arguably the biggest play of the day, sacking Wassink for a loss of 12 yards.  
Two plays later, the Broncos fell short on a 4th-and-22 play and with that, so did the Broncos comeback. 
Now, the Broncos will have to regroup after losing a tough game on the road against a quality Toledo team. 
Lester thinks his team will be able to bounce back and knows there is a lot of season left. 
"It was a big game obviously and it is extremely frustrating," Lester said. "We've gotta keep playing. I've been in this league a long time. We have six more weeks that we need to handle and let the chips fall where they may. The thing about our league is that every game can go either way. We have to take care of what we can take care of to make sure we are in a position that if Toledo loses, we're the ones." 
Western Michigan will have to regroup on homecoming next Saturday, Oct. 12 against Miami (OH). That game will kick off at noon and be televised by ESPNU.