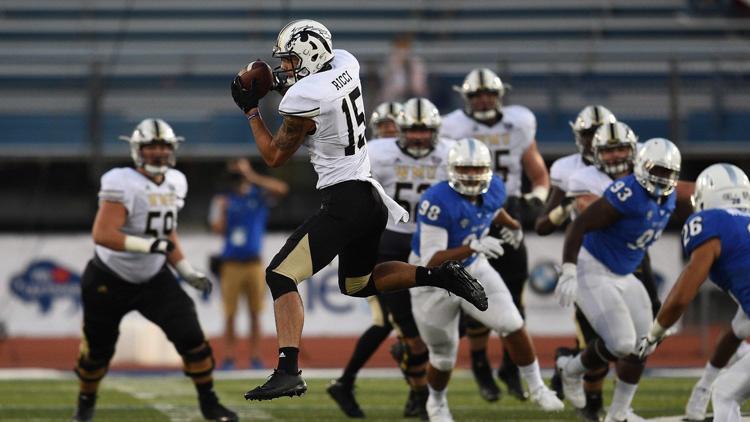 Coming into the 2019-20 season, depth at wide receiver could be one of the biggest question marks for Western Michigan football.
Three wide outs transferred from the program in the offseason. Keishawn Watson transferred to Appalachian State as a graduate transfer. The Broncos seemed to gain a graduate transfer in Cortez Lewis from Wake Forest, but Lewis just recently entered the transfer portal. Finally, Jayden Reed, WMU's top wide receiver last year, left the program for Michigan State in late May.
So, who do the Broncos turn to as a reliable source this season at that position? Head coach Tim Lester spoke about just that at MAC Media Day on Tuesday afternoon. Although young, he likes the depth and the capabilities players on his team have at that position.
"I like our depth," Lester said. "I like guys like Jaylen Hall, guys like Tryon Arnett, and obviously D'Wayne Eskridge. Then we have an All-Conference tight end in Giovanni Ricci who can play out wide. So, we have a ton of guys that have played."
Eskridge is WMU's most accomplished receiver coming into the season having hauled in 38 passes for 776 yards and three touchdowns in 2018. However, Lester has plans to play Eskridge at defensive back as well, and told ESPN in an interview on MAC Media Day that he will see only 10 to 15 snaps per game on offense. 
So, that means some young guys will have to step up within WMU's offense. Lester said he has been excited about the opportunity some of those guys will get. 
"We have some young kids who have some big question marks. Dashon Bussle, who redshirted last year, we thought he has the ability to be kind of like the next Dee Eskridge."
Another one of those young players Lester speaks highly of is sophomore wide out Jaylen Hall. He caught 17 passes for 170 yards and a touchdown last season and showed some upside.
"(Hall) is extremely talented," said Lester. "We have been trying to put some weight on him. He came in at 150 (pounds) and he's at 180 now. He ran a 4.3 40 this summer, and he's 6-foot-3. We are going to move him to the boundary, it's only a matter of time."
The coaching staff has clearly been trying to bulk Hall up so he can shed off defenders and be more of a physical force.
"I told him when he gets to 180 I'll put him into the boundary, which he is at now," said Lester. "In our offense, the boundary receiver is usually the one that gets the most looks. But Jaylen is just going to keep getting bigger. If he can get to 195, he would be really hard to stop."
Lester went on to tell a story about Hall in his first season at WMU. Hall redshirted, so he didn't see the field. He recalls Hall going one-on-one in practice against Sam Beal, a corner who is now with the New York Giants.
"Sam couldn't cover him," Lester said. "As that year went on, he got better and better. We need him to have a breakout season, and he's ready to do it. He just needs the opportunity, and he has to get more balls thrown to him than he did last year."
If players like Hall can take that next step, it will go a long way in determining WMU's success as a team on offense this upcoming season.