The Western Herald was able to reach Andrew Graham, who is the football beat reporter for the Daily Orange, Syracuse's student-run newspaper. Graham gave some insight for this weekend's matchup between Western Michigan (2-1) and Syracuse (1-2) at the Carrier Dome. Here's what Graham had to say as he helped us preview the game. 
Note: WH = Western Herald, AG = Andrew Graham  
WH: Syracuse comes into this game 115th in the nation in total offense. Obviously, former QB Eric Dungey is now gone. Can Syracuse blame the offensive struggles due to losing him or do the issues lie deeper than that? 
AG: The issues are far beyond Tommy DeVito. While he has struggled with turnovers and decision making — especially when on the run — the bigger issue lies in the offensive line. It was known before the season that SU had a lot of work to do up front, replacing two tackles. But giving up 18 sacks through three games is a horrific number, even with eight coming against Clemson. The wideouts and running backs can do more, both in the run game and in further building the passing game. But right now, the biggest issue is up front. 
 WH: QB Tommy DeVito seemed expected to lead a dynamic Syracuse team that started the season ranked. Is there still hope they can get this turned around with their talent? 
AG: I would think so. Even in a blowout, we saw how explosive Trishton Jackson can be as he went for 100-plus yards and two scores against Maryland. DeVito has struggled to get in sync with his other receivers to date, but I'd expect two games against softer competition help the Orange settle into a rhythm passing the ball for the first time this year. The biggest thing SU needs to get going offensively though, as mentioned above, is the offensive line. 
WH: Trishton Jackson has stepped up and has been Syracuse's top receiver so far statistically. What does he bring to the table, and how dangerous is this wide receiving core as a whole? 
AG: Jackson, on paper, is a bit of an in-between guy when it comes to outside vs. inside receiver, especially when you project him to the next level. And the fact that he has a reasonable NFL projection is what probably sets him apart from the rest of SU's receivers right now. SU will continue to play him on the outside, where he can use a blend of speed and size to get downfield for DeVito. But the rest of SU's wideouts, namely Sean Riley, Taj Harris and Nykeim Johnson, are all equally capable of taking any play the distance. Look for Riley in the return game, too. 
WH: Given the inconsistencies in the Broncos defense this season, is there an area that you think Syracuse's offense will really be able to exploit? 
AG: I think the Orange will try to get back to running the ball some more, like it did in the opener against Liberty. Syracuse has struggled mightily to move the ball on the ground this year. The Orange did manage 192 rushing yards as a team against Liberty, but 42 came on one carry from Moe Neal. The last two weeks have been tough sledding, to say the least. Chances were running against Clemson would be tough, but they got no push against Maryland. Again, we come back to the offensive line.
WH: The Orange pass rush seems to be a strength of their defense, with Alton Robinson and Kendall Coleman really being able to get after quarterbacks. How do you see that match-up playing out between WMU's O-line and Syracuse's D-line? 
AG: I'd expect them to play more like they did in SU's eight-sack showing in the opener, less like they have in the past two weeks. A lot of SU's struggles passing rushing are due to replacing Chris Slayton in the middle, who commanded double teams, opening one-on-ones for Robinson and Coleman. But Coleman said yesterday what's been even harder to get around is teams running plays where the ball is out from the backfield in 2 seconds or less. Even against Western Michigan, any success they might have can be tempered by quick passing.
WH: Overall, Syracuse's defense has given up nearly 500 yards per game, which ranks toward the bottom in the nation. What has been the issue there, and who are some of the leaders who can help get that unit back on track? 
AG: The safeties and the linebackers have struggled in the run game, giving up big plays and without a consistent pass rush, the defensive backs have played admirably on the back end. All in all, SU's defense is still probably in a good spot. They shutout Liberty and then had a little baptism by fire against Maryland, when the linebackers and safeties got repeatedly worked over by the Terps RPOs. Against Clemson, they were just outmatched, but held the Tigers to a 17-6 lead late in the third quarter. Plus, they intercepted Lawrence twice. SU's defense is better than the stats might show.
WH: What is the overall attitude of this Syracuse team right now? They had high expectations coming into the season but have been beaten badly in two of three games. Do you still see the potential in this team? 
AG: I think it's OK. Everything you'd reasonably expect this team to do this season is still on the table: 10 wins, finish second in the Atlantic Coast Conference Atlantic Division, go to a bowl game, win the bowl game. At 1-2, with a softer portion of the schedule ahead, this feels like a time when SU can get things back on track and really address some core issues. If it doesn't, they'll keep slipping. But even at 1-2 to start the year, the outlook on SU's season is still relatively bright.
WH: How do you see this game playing out? Prediction? 
AG: I'm very in on this being a very close game. The third quarter of last year's matchup was fun, let's do that for a whole game. I don't think it will be nearly as high scoring, though. In the end, I think SU edges out WMU in sacks and turnovers, riding a strong defensive effort to a 27-23 win.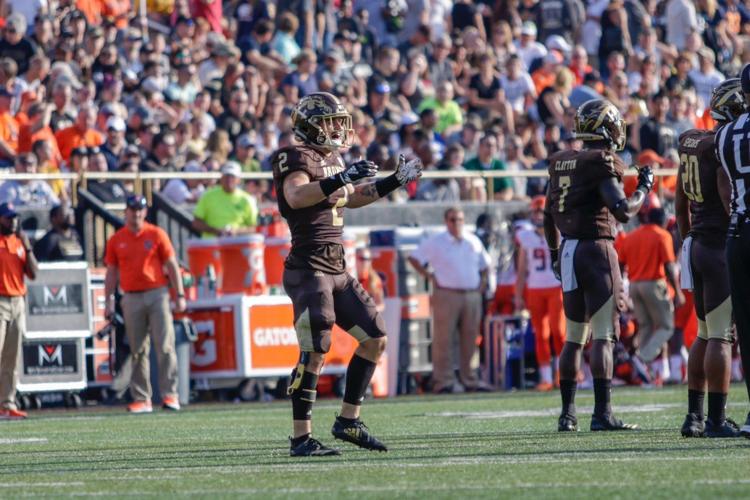 It's interesting that Graham points out Syracuse's offensive line problems several times. One of the most important matchups in this game, if not the most important, is that WMU defensive line against Syracuse's offensive line. 
Last week, Western Michigan was able to get some pressure on Georgia State quarterback Dan Ellington and sacked him multiple times in the backfield. Defensive coordinator Lou Esposito brought several different looks and blitzes, which seemed to confuse Ellington and leave linebackers like Treshaun Hayward free to make plays. 
It will be interesting to see how aggressive Esposito is on Saturday against what is capable of being an explosive offense. If the Broncos blitz and don't get to DeVito, that could leave Western Michigan's corners on islands against a talented wide receiving core, which could be bad news for the Broncos. 
If Western can get pressure on DeVito like other teams have this season, Syracuse's offense is pretty dysfunctional, as we have seen so far. 
Offensively for the Broncos, they will have to deal with a Syracuse pass rush that can be dangerous. Defensive ends Kendall Coleman and Alton Robinson can get after it. Western Michigan's offense comes in with a lot of confidence right now, and they should feel good about the way they were able to get the ball out quickly against a great Michigan State pass rush, as well as how they got their running game going against Georgia State. 
Western's offense also runs a ton of RPOs, which is where Graham said Maryland was able to hurt the Orange in Maryland's 63-20 win against them. 
In the end, I see this as a competitive game. I think Syracuse's offense will be able to get back on track a little bit, but I see the Broncos offense to be able to throw counter punches in a fairly high scoring game. 
Prediction: Syracuse 35, Western Michigan 31 
Special thanks to Andrew for taking the time to give some insight on Syracuse football. 
The game will kick off at noon eastern time Saturday on the ACC Network.