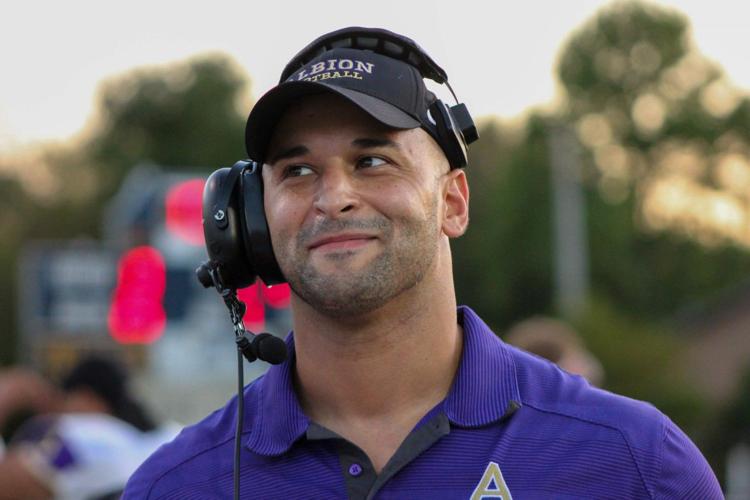 When former Western Michigan linebacker Ameer Ismail was cut by Herm Edwards and the Kansas City Chiefs in 2007, he felt like he had failed himself.
For Ismail, who was a 2006 All-American and Mid-American Conference Defensive Player of The Year, his dream was to have a career in the National Football League. Being cut felt like a setback to him and felt like a low point in his life.
"I almost didn't want to show my face at Western," Ismail said. "I don't know why I thought like that, people of course still wanted to see me. But I had just felt like I failed. A lot of it was because of injury and things like that but it didn't matter, I wasn't there (on the Chiefs)."
But that moment was just the beginning of a long journey for Ismail that included him playing in multiple other football leagues, selling cars, doing some acting and playing SlamBall.
The current head coach for the IFL's (Indoor Football League) Iowa Barnstormers and assistant coach for Albion College went through multiple knee surgeries and a torn achilles to pursue his dream of playing in the NFL.
From his freshman year in college all the way up to his coaching days, Ismail stared adversity in the face several times. And he never shied away from it. 
Scout team hero and Community College star
When Ismail first arrived on Western Michigan's campus in 2002, he was a part of the scout team to help WMU prepare for games on a week-to-week basis. 
That season, as a scout team running back, Ismail was named the Offensive Stallion of the Year, given to the best offensive scout team player on the team.
"That to me was one of the more valuable awards I got because it came at a time where I was working really hard and wasn't getting a lot of credit for it in terms of the public eye," Ismail said. "But the coaching staff valued it. I had the mindset of 'I'm going to be the best scout team running back, that gets us better' and I knew that would help our defense be better on the field."
In that freshman season, Ismail said he struggled in the classroom and went through a bit of a "freshman depression." He said it was tough to stay motivated in the classroom and the only thing he could fake through was practice.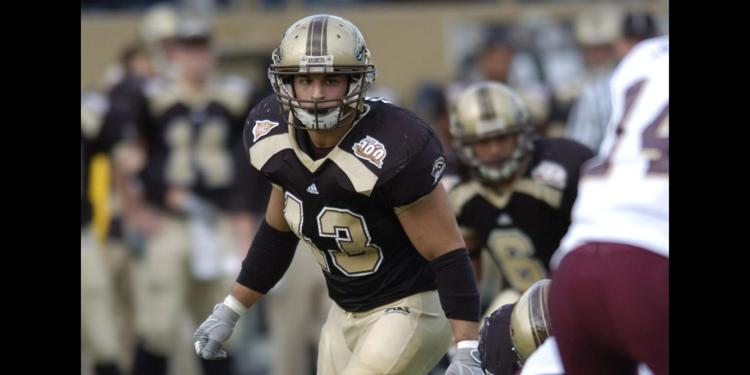 Ismail said he went from a 3.8 GPA in high school to a 1.8 in his fall semester at WMU.
"That was the first red flag," Ismail said. "I had to retake some classes and I did better, but I still wasn't happy."
Ismail knew it was time to make a change and transfer. He had heard from multiple people about Grand Rapids Community College and their football program.
At GRCC, Ismail was converted back to linebacker and earned All-America Honorable Mention in the 2003 season. 
Back as a Bronco
Ismail, who broke his ankle his junior year and tore his ACL in his senior year of high school at West Ottawa in Holland, Michigan, figured he would have a shot to transfer to a Division I program once again. 
He said he had offers from Oklahoma and Cincinnati coming out of the GRCC season but then tore his ACL a second time playing a pick up basketball game at Grand Valley State.
Ismail, after seeing a knee specialist, gave coach Gary Darnell a call to see if Western Michigan wanted him back. Once again, Ismail was a Bronco.
After the coaching staff put Ismail back at running back in 2004, he finally saw the field as a linebacker when an injury to a couple of other players allowed Ismail to fill in and start a couple of games at the position.
The Broncos finished that season 1-10, ending the tenure of Darnell. In 2005, WMU hired Bill Cubit. That is when Ismail began to thrive.
"I wouldn't even say it was Cubit's culture, but the defensive coordinator we had, Scott Shafer (currently as Middle Tennessee State) kind of instilled and brought in his defense. It was this 4-3 attack and react type of defense. He made us play fast, made us believe. Everyone was in the right situation."
Ismail mentioned how lucky he was to have several coaches on that staff to help him succeed in his last two years at WMU.
By the time Ismail was a senior in 2006, he was dominant on the field, leading the nation in sacks (17) and tackles for loss (25.5) on his way to MAC Defensive Player of the Year and helping WMU to their first bowl appearance in 18 years.
At the end of that season, Ismail was at the height of his football career and was poised to continue his football career after college.
Pursuing a SlamBall career
For an athlete with NFL aspirations, Ismail had a tough time knowing where to turn when he was cut by Kansas City.
He decided it was best to finish his degree at Western. Once Ismail completed his undergrad in exercise science and physiology, Ismail said he was just doing some "odd jobs" and making some money around the Kalamazoo area.
Then, he received a phone call from one of his buddies who used to play SlamBall, a hybrid sport that combines some of the physicality of football in a basketball format, with four trampolines in front of each basket for players to jump on.
For Ismail, whose first love in a sports sense was basketball, this was an exciting opportunity, but he was skeptical at first.
"At first I was like I don't know man, you guys are flying high and if I get hurt here that could be the end of my football career," Ismail said. 
But with nothing being offered in the football ranks at the time for Ismail, he figured he would go down to IMG Academy in Bradenton, Florida for a tryout. 
Ismail said Mason Gordon, the creator of SlamBall and a good friend of his now, loved him at the tryouts and that he ended up doing well.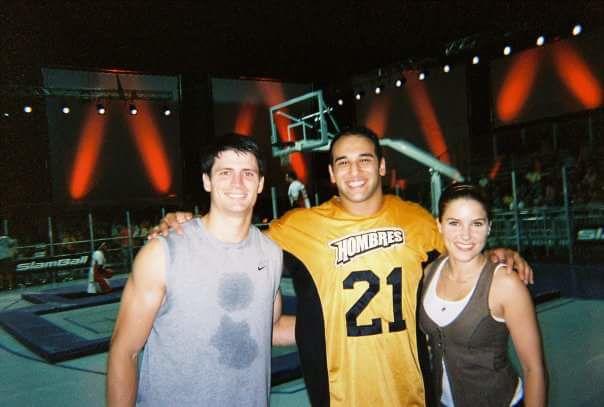 Situationally, Ismail said the money was good and that the organization housed them and fed them well.
"It was phenomenal, Ismail said. Who doesn't want to jump around on a trampoline with a basketball for a living? It kind of ended up being what I wanted to do, I was probably going to give up football to play SlamBall."
But that did not work out, as Ismail said that the league crumbled after about a year and a half. Just like that, Ismail's promising SlamBall career for the Hombres was over and he was left searching for another path.
Ismail's acting stints
Ismail said while playing SlamBall, he made some connections through some producers being invested in the sport at the time.
Through these connections, Ismail received a call from one of the former SlamBall coaches that was connected with one of the producers. 
In that phone call, Ismail was asked if he was interested in being in the film "Red Dawn," which released in 2012.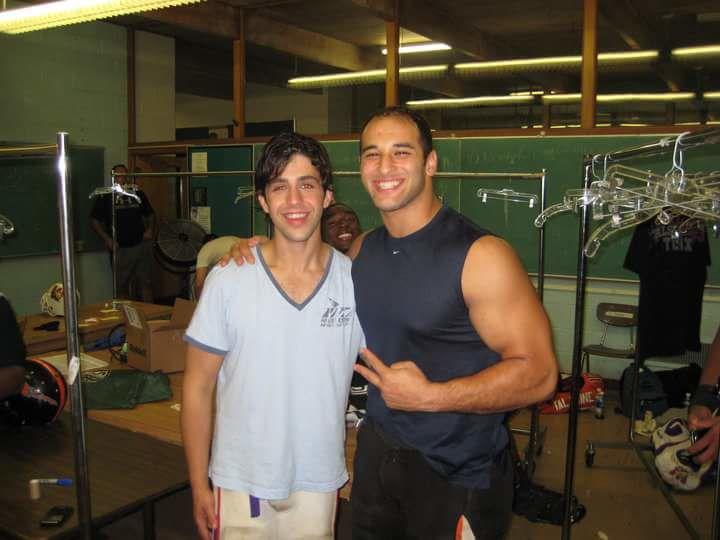 "It ended up working out, Ismail said. "I ended up doing football stunts and I kind of transitioned that gap of playing and doing stunts."
Ismail said he also appeared on the TV show "One Tree Hill" that aired on the channel CW and stopped airing in 2012, where he acted as a SlamBall player in the show and filmed a few episodes in Wilmington, North Carolina.
"It was kind of between doing football stunts for the movie and doing SlamBall stunts, and I thought to myself 'hey, maybe this is my calling, maybe I'll be a stunt man or an actor.'"
But Ismail, who said he also acted in "The Dark Knight Rises," (2012) and the TV show "Unnecessary Roughness" said the parts were very "giggy" and was hard to make a consistent living.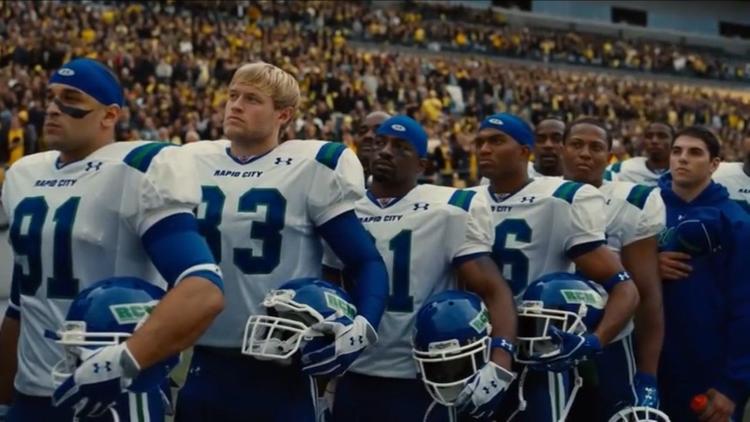 In the midst of the gigs, Ismail decided he wanted to go back to Western and pursue a master's in sports management, which he ended up finishing in 2011.
That is when he received a phone call for another football opportunity.
Chasing his ultimate dream
In 2010, Ismail got a call for an Arena Football League (AFL) tryout. While contemplating the situation, Ismail told himself it was important to "empty the tank" on the dream that he had before moving on with his life.
"A lot of people will try things once and move on," Ismail said. "I felt like I had an advantage over people because they tend to give up too easily and move on too easily. They look at too much rational thinking. That's what I felt like it was still easier, and still is, to be great these days, because people give up too easily."
Ismail was far from ready to give up on his dream of getting back to the NFL. He felt as an athlete, he was still peaking and was still playing at a high level.
He felt that at 6-foot-2, 235 pounds, that was a stereotypical NFL linebacker and wanted to maximize his athletic potential.
Ismail ended up landing with the Jacksonville Sharks and played defensive line and "MAC" linebacker for them.
In the AFL, the "MAC" linebacker was basically lining up two yards from the line of scrimmage and getting isolations on blockers, as Ismail explained.
Ismail said he then started doing his research and realized there were not many linebackers to come from the AFL to make the NFL. That is when Ismail started to look into the IFL (Indoor Football League).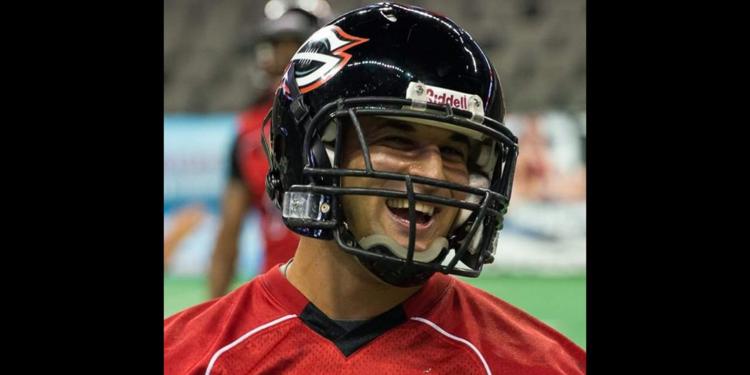 He thought he would be able to showcase his talent more in the IFL as a defensive player and that the game suited him better.
After a stint with the Tri-Cities Fever, Ismail said he started to chase the money a little bit as the AFL wanted him back. Ismail had another brief AFL stint, this time with the Milwaukee Mustangs, before getting a call to play in the CFL (Canadian Football League).
But then, trying to keep in shape at the beginning of 2011, Ismail found himself at Portage's SoccerZone facility, where he was playing a flag football game.
Ismail went to backpedal and make a break on the ball when he felt something snap toward the back of his heel.
That snap ended up being a torn achilles tendon, ending Ismail's CFL opportunity.
"That was devastating," Ismail said. "But I rehabbed my ass off and was able to take that time to finish my masters."
Light at the end of the tunnel
Even after the achilles tear, Ismail was not ready to give in. Ismail said he was back within 10 months of the injury.
In 2012, Ismail knew that this may be his last opportunity for his football career. Ismail, who was 27 years old at the time, realized he was getting up there in football years and knew he had to "do it now."
Ismail realized he needed help to get to where he wanted to go. That help came in Jen Query, who oversees Western Michigan's strength and conditioning program currently for multiple sports. 
"I know how to train, but I knew if I really wanted to take myself to the next level I needed someone else to push me and do things, teach me things and have me do things I wouldn't normally see and do myself," Ismail said.
Ismail said he would train with Query at least a couple days a week, helping him make that final push.
The training paid off as Ismail won Co-Defensive Player of the Year in the IFL for the Bloomington Edge in 2012. 
Ismail said he thought to himself that 'this has to be the moment' he gets a call and gets his final shot in the NFL. But the phone did not ring.
As Ismail waited for his last opportunity, he was back in Kalamazoo, but instead of playing football, he was selling cars at a Seeyle dealership in Kalamazoo. 
Then, Ismail's phone rang again, but from another IFL team, the Chicago Slaughter.
At this point in his career, Ismail said he was not interested in just playing for money. He said his one question to the organization was this: "Can you help me get back to the NFL?"
Steve "Mongo" McMichael, a former NFL defensive tackle who won a Super Bowl with the Bears in 1986, was the head coach for Chicago at the time.
Having a famous NFL star athlete as his coach, Ismail was certain that this was the moment for him.
With Chicago in 2013, Ismail said he finished second in the league in MVP voting and had a successful season.
But he was still waiting for his last shot in the NFL. Finally, an assistant coach on Chicago's staff made a call to the Jacksonville Jaguars.
The Jaguars looked at Ismail's film and decided to invite him into camp in 2013. For Ismail, he said that was all he wanted, was an opportunity.
But before that, Ismail had one more game to play for Chicago. Ismail did not have to play in that game, knowing that any injury could ruin his opportunity with the Jaguars.
Ismail made the decision to play in the final week of the 2013 IFL season in Green Bay and helped his team get a win to end the season.
But when Ismail returned home, he realized he had some pain in his knee. Ismail said he had a microfracture tear in his knee that he suffered in that final game with Chicago.
Ismail had to go into camp hoping the Jaguars would not discover the injury.
"I was trying to hide it. I was telling myself I was just going to rehab it and play with the pain and just grind this thing out. I didn't care, I was just on a mission to prove that I was better than what the NFL had at the time."
Ismail said the Jaguars ended up discovering the tear, ending his opportunity to compete for a spot on the roster.
While that was disappointing, Ismail said he finally felt content about what he accomplished in his football life, as he overcame several obstacles to finally get a call from another NFL team.
"I did everything I possibly could to be the best that I possibly could," Ismail said. "I did it. That wasn't the goal, but it was one of them. I could lay that dream to rest easily because I knew I did everything I could."
Ismail's coaching philosophy
After the book closed on Ismail's playing career, it was time for him to open another chapter in his football career.
In 2014, Ismail started his coaching career in the IFL with assistant roles. He spent time with the Cedar Rapids Titans, Tri-Cities Fever and the Spokane Empire before landing his first head coaching job with the Bloomington Edge in 2017.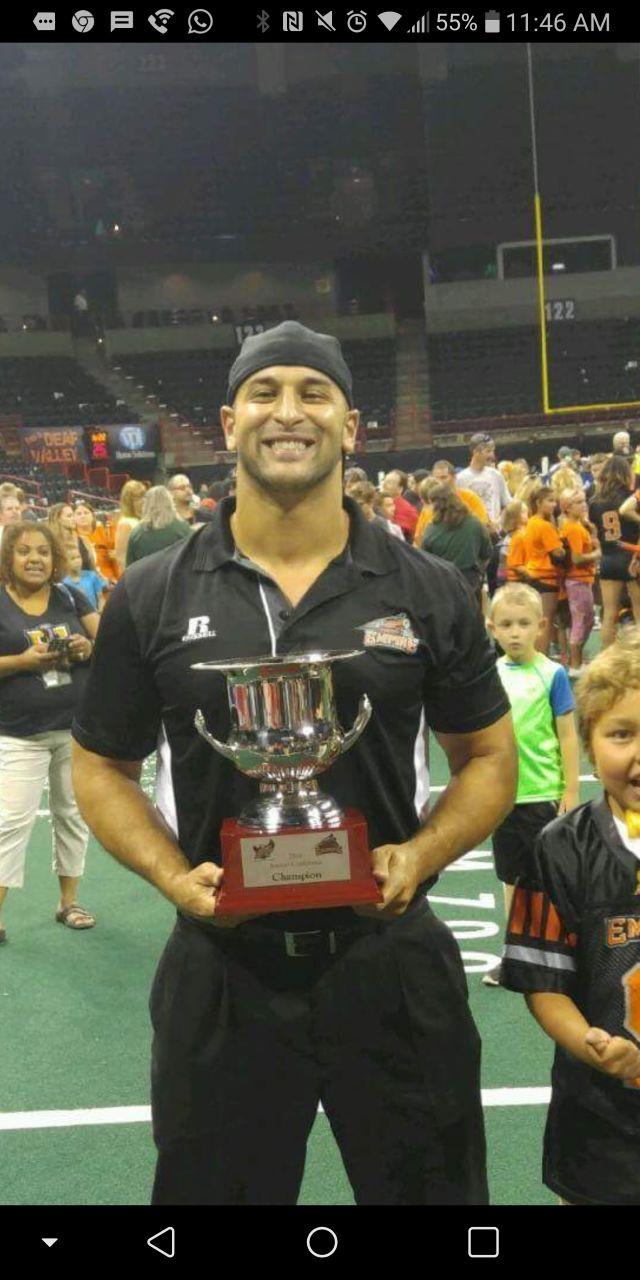 That season, he led the Edge to a 7-6 record and a berth in the Champion Indoor Football League playoffs. 
Ismail used that as a stepping stone to move on to the National Arena League and become the head coach of the Massachusetts Pirates, where Ismail led them to an 11-6 record and won NAL  Coach of the Year.
Recently, Ismail was named the head coach of the Iowa Barnstomers of the IFL after returning home to coach linebackers at Albion College.
Ismail said he uses a lot of the lessons he learned throughout his life to shape his overlying coaching philosophy.
"My whole thing is leading with love," Ismail said. "I think it is important to show your players and other coaches that you are providing them with what they need to be successful. Showing them that love and care is very important and providing that infectious enthusiasm, positive attitude and a strong work ethic."
When Ismail is home in the Kalamazoo area, he said he tries to connect with and stay in touch with the current WMU football program.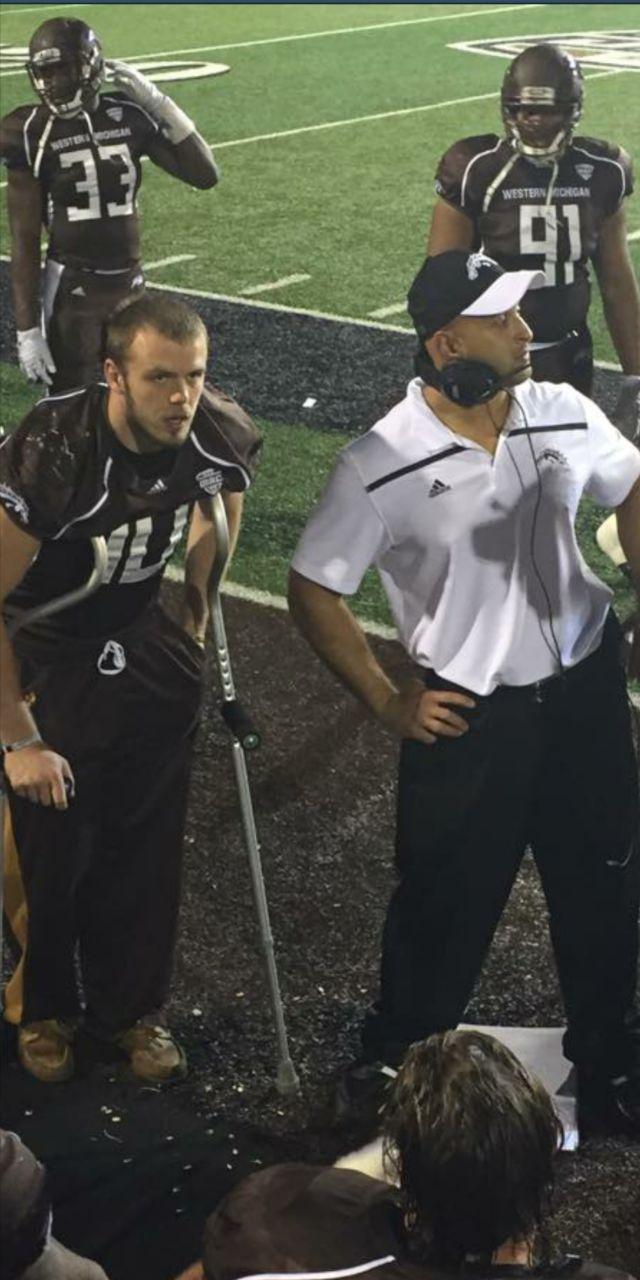 In 2015, Ismail served on the WMU staff and said he volunteers a lot of his free time between coaching positions to attend Western meetings in practice, mostly on the defensive side of the ball with defensive coordinator Lou Esposito.
"Tim Lester and Jake Moreland were both assistants on the staff when I played," Ismail said. "Great guys. Just trying to pick up new ideas and learn new things."
Ismail, who has made stops at just about every place imaginable football wise, said there would be nothing like coming back home to help serve on the Broncos staff.
"It would be a dream come true to be able to coach at my alma mater again," Ismail said.