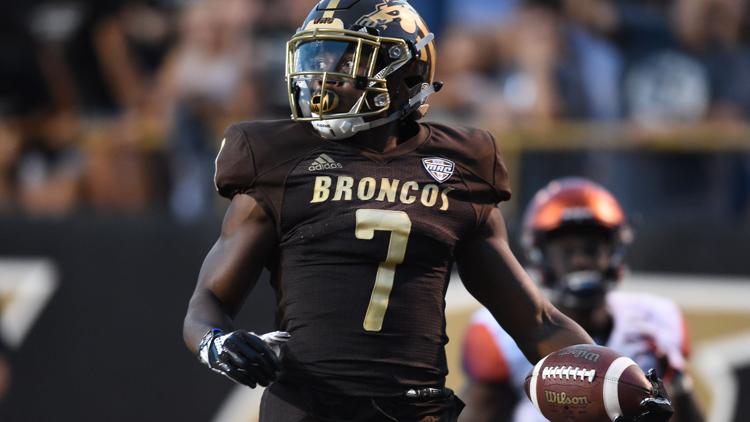 Western Michigan senior wide receiver D'Wayne Eskridge was named to the Biletnikoff Award watch list on Thursday afternoon. The award recognizes the season's outstanding college football receiver.
The Biletnikoff Award is presented by the Tallahassee Quarterback Club Foundation, Inc. (TQC). TQC is an independent, charitable organization that was founded in 1994. 
Eskridge is one of just two players from the Mid-American Conference to find his name on the watch list, joining Ball State wide receiver Riley Miller.
In 2018, Eskridge posted a career-best season, catching 38 passes for 776 yards and three touchdowns. His most notable game was in the season opener against Syracuse, when he hauled in 240 yards receiving and scored twice. The 240 yards and two touchdowns were career highs, and his 240 yards receiving was tied for 12th most in a single-game in MAC history. 
In the spring, Eskridge took numerous reps at defensive back, as the Broncos plan to play him on both sides of the ball in the 2019-20 season. How much action he will see on each side of the ball remains unknown. With the transfer of now Michigan State wide receiver, Jayden Reed, it will be interesting to see if coach Tim Lester's plans have changed at all, considering Eskridge is now the clear No. 1 option at wide receiver. 
Some of these questions could be answered at MAC media day, which takes place at Ford Field in Detroit, MI on Tuesday, July 23.
Western Michigan will open their season against Monmouth University on Aug. 31, with a 7:00 p.m. kick-off time in Kalamazoo at Waldo Stadium.