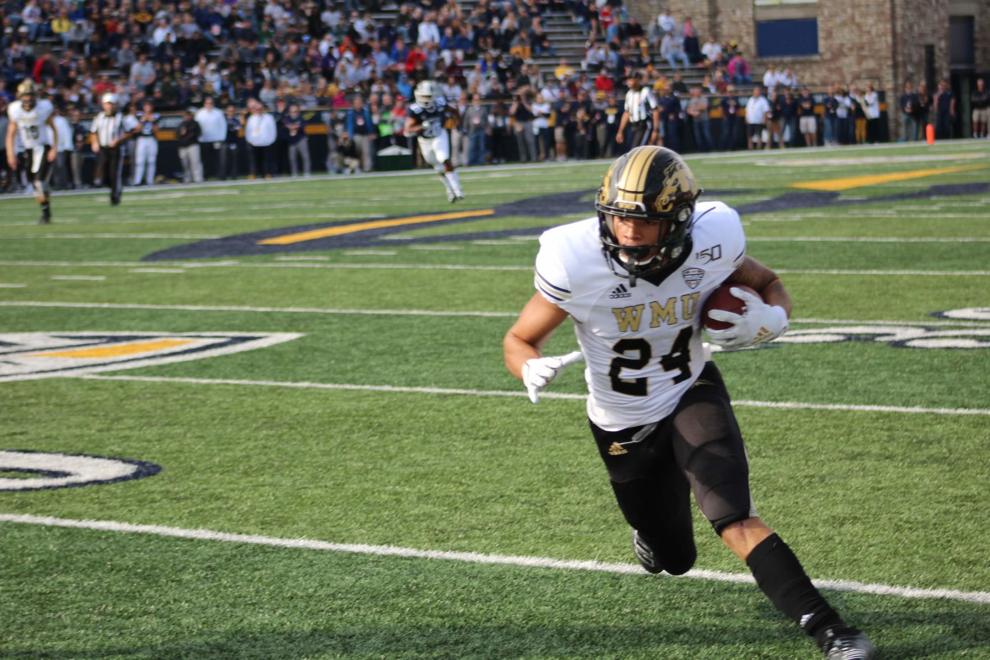 In the weeks leading up to a college football season, fans often ask the question, "how good is my team going to be this year?"
For much of the offseason, those types of questions were tough to grapple with considering the uncertain nature of whether or not schools would be playing this fall amid the COVID-19 pandemic.
Now that the Mid-American Conference recently reversed its initial decision and will go forth with a football season in 2020 starting on Nov. 4, it is time to ask that same question relating to Western Michigan football.
How good can this team be?
That answer will be more clear once the MAC releases the schedule this week and the Broncos take the field against whoever its first opponent may be. But before it does, head coach Tim Lester and the rest of the coaching staff will have several things to be watching for once official preseason camp begins.
Offensive outlook
The major storyline on the offensive side of the ball is how redshirt sophomore Kaleb Eleby will fare as the starting quarterback taking over for Jon Wassink.
Eleby is lauded for his arm strength and physical presence in the pocket and was able to show off some of his potential in his freshman season in 2018, where he filled in for an injured Wassink and completed 92-of-147 passes for 1,092 yards with four touchdowns and three interceptions in WMU's final five games, before redshirting in 2019.
Back in May, Lester said Eleby is fortunate to be able to have those five starts under his belt, and that the coaching staff focused on putting him in as many situations as possible during spring ball, which was halted after eight practices in mid-March because of COVID-19.
"With quarterbacks, there's no replacement for experience," Lester said. "You live through it, you make a mistake, you hesitate and you go through every little nuance while there are like 30 things happening on each play. Every time you live through it and make the mistake, that's how you don't make those mistakes again. We're lucky that he got five games in but we are still working to try to get all of the different nuances in with all of the different defenses he could see."
The offense loses over 3,000 yards of offense between former running backs LeVante Bellamy and Davon Tucker's yardage, along with the loss of tight end Giovanni Ricci and  receiver Keith Mixon, Jr.
But with sophomore First-Team All-MAC receiver Skyy Moore back, along with redshirt senior D'Wayne Eskridge focusing more on the offensive side of the ball this season, Eleby will have plenty of guys to get the ball to with Corey Crooms, DaShon Bussell, Jaylen Hall and Cam Cooper adding to that mix.
Sophomore running back Sean Tyler will have big shoes to fill trying to replace Bellamy, but he will be assisted by graduate transfer Jaxson Kincaide from Nevada to add depth in the WMU ground game.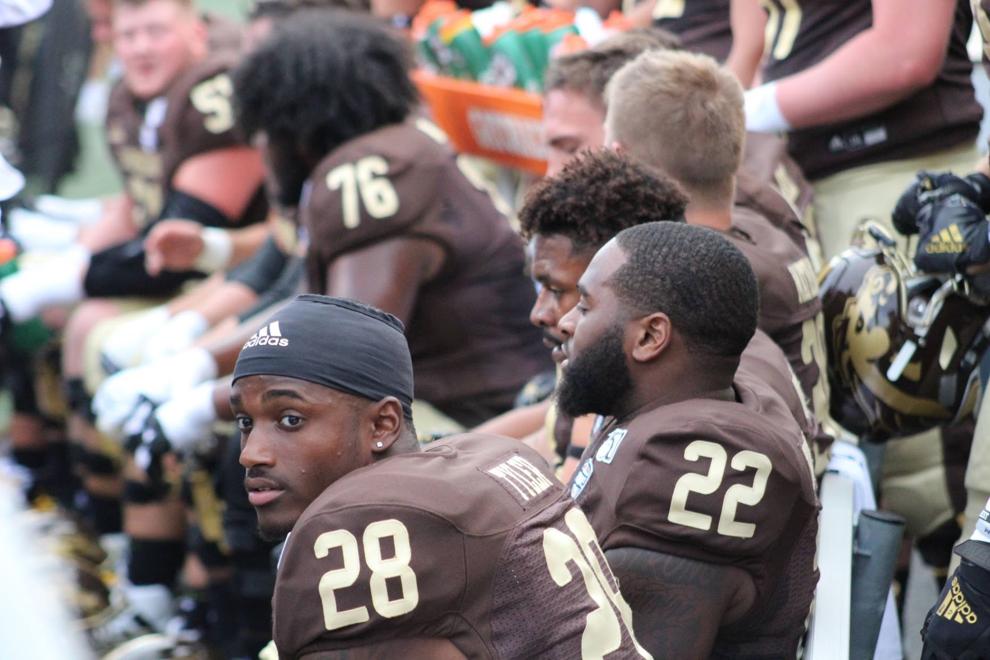 Both the running and passing game game should be helped by an offensive line returning four of its five regular starters from the 2019 squad, only having to replace center Luke Juriga.
Defensive outlook
On defense, WMU made strides on that side of the ball in 2019 in Lou Esposito's first full season as defensive coordinator, but still had inconsistent performances throughout the year.
The Broncos ranked second in the MAC in points allowed per game last season at 25.9, while intercepting teams a total of 13 times and recording 36 team sacks, both of which ranked third in the conference.
WMU ranked in the bottom half of yards allowed per game in the MAC in 2019 at over 419 per game, but creating turnovers, negative plays and holding teams to field goals in the red zone were big points of emphasis for the Broncos and should remain that way this season under Esposito.
Lester pointed to the battle in the secondary in May  as being one of the key areas the coaching staff would keep an eye on going into training camp.
The Broncos lose cornerbacks Anton Curtis and Kareem Ali along with safeties Justin Tranquill and Stefan Claiborne from last season.
Senior safety AJ Thomas provides some leadership and some experience in the back end, with returning All-MAC junior cornerback Patrick Lupro looking to take another step forward in 2020 after a successful 2019 campaign.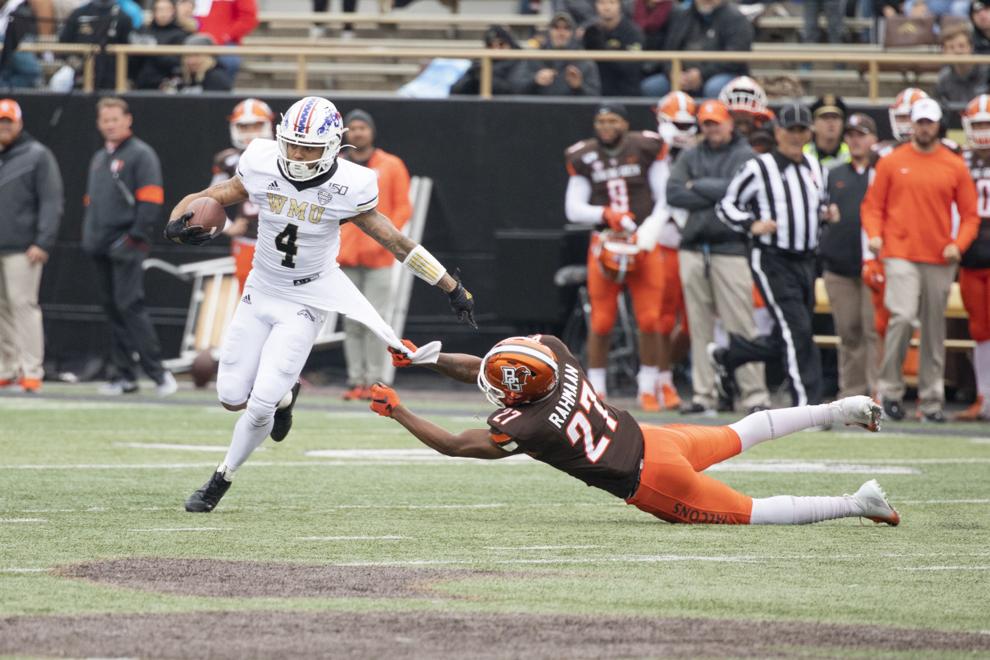 Two Pittsburgh graduate transfers- Safety/cornerback Therran Coleman and safety Bricen Garner, came to the program in the offseason and will look to make an immediate impact as well.
"You have got to figure out who your best four are, then you build your best eight. We have a lot of guys fighting and it was good to bring a senior in from the ACC who has played a ton of football, that helps the back end with experience," Lester said. "Then you have a bunch of guys that have been around and know what they are doing. I don't think any decisions were made but that is one of the biggest things we are going to be watching going into training camp, whatever training camp may look like."
The front seven should clearly be the strength of WMU's defense with MAC Defensive Player of the Year Treshaun Hayward back at linebacker. The senior was third in the Football Bowl Subdivision last season with 142 tackles, with 12.5 tackles for loss to go along with five sacks.
Redshirt sophomore Corvin Moment returns at linebacker in 2020 after missing the entire 2019 season because of academic ineligibility. In 2018, Moment recorded 52 total tackles with six tackles for loss and a sack.
On the defensive line, the Broncos lose Antonio Balabani from last season, but return perennial senior pass rusher Ali Fayad, who has 16.5 sacks in 38 career games in his WMU football career.
WMU will rely on him as well as defensive ends Andre Carter, Kaillen Guillory and Marshawn Kneeland to help pressure opposing quarterbacks this season.
Defensive tackles Ralph Holley (senior) and Braden Fiske (redshirt sophomore) are also guys who can rush the passer and fill run gaps, while Will McCabe (redshirt sophomore) and Ken Aguirre (redshirt senior) specialize more in stopping the run.
Final analysis
This WMU team is intriguing to break down-  mostly because of the pure explosiveness and potential the team has, while simultaneously having gaping holes it must fill on both sides of the ball to have success.
If Eleby can find a rhythm with his wide receivers on offense from Week 1, the passing game has all the makings to give MAC defense headaches. To help the passing game, Tyler and Kincaide need to be able to provide balance on the ground to take some pressure off the passing game as well.
Defensively, it will be about the turnover in the secondary. If the back end can hold up against strong passing teams, the pass rush will do enough to cause havoc to opposing teams' quarterbacks.
On the flip side, if the secondary allows big plays consistently, WMU could find itself in trouble.
This is a team with a high ceiling that is capable of winning a shortened MAC regular season title, but also one that could fall flat due to having to fill too many key positions from 2019.
The past two seasons, WMU has been excruciatingly close to securing a MAC title, but have fallen short in critical games late in the season.
Could 2020 be the year fortunes turn for Lester and the Broncos?