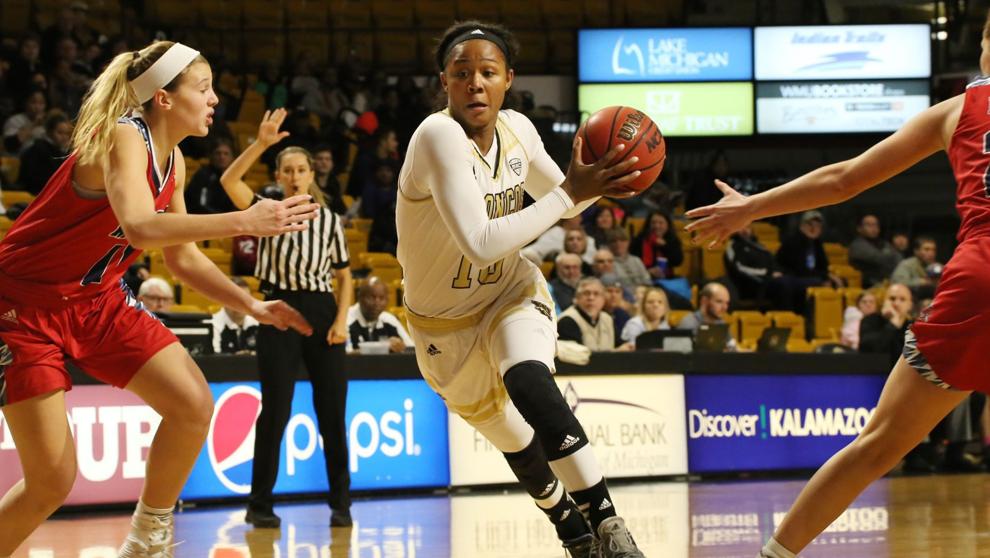 Western Michigan women's basketball enters the 2019-20 season with high hopes after regaining redshirt senior forward Breanna Mobley and redshirt sophomore guard Jordan Walker. 
Mobley missed the entire 2018-19 season due to a pregnancy, derailing an already depleted lineup. After giving birth to her daughter, Mobley is ready to return this season.
The Broncos finished last season with a record of 10-20 and 4-14 in the Mid-American Conference. 
Let's take a look into this year's women's basketball team who are picked to finish sixth in the MAC West preseason coaches poll. 
Meet the Head Coach
Western Michigan is led by head coach Shane Clipfell who enters his eighth season at the helm of the program. Since taking over in the 2012-13 season, he has gradually helped turn the program around. In his first season, the Broncos posted an 11-20 mark, which was their most wins as a program in five seasons at the time, along with advancing to the second round of the MAC tournament for the first time since 2008.
Then just two seasons later, Clipfell led the Broncos to a 20-13 record and was one of the program's most successful seasons in their history. The 20 wins was just one shy of the school record set back in 1978. That team earned a trip to the women's NIT  for just the fourth time in program history. 
The Broncos would pull off four straight seasons of 17 or more wins under Clipfell from 2014-15 to 2017-18. Coming into the 2019-20 campaign, Clipfell ranks third in WMU history in career wins with 104 and his winning percentage is ranked second all-time. 
Key players
Redshirt Senior Forward Breanna Mobley
Mobley returns to the Broncos after missing the entire 2018-19 season due to maternal leave. She was able to receive a medical redshirt and therefore is eligible to return for her last season. The 6-foot-1 forward was named the team's most valuable player in the 2017-18 season. That year, she led the Broncos in scoring at 16.3 points per game while grabbing 8.3 rebounds per game. She shot 55.6 % from the field in that year and scored her 1,000th career point on January 20, 2018 against Miami. Mobley finished with 11 double-doubles and scored in double figures in 27 games. A season before that, she set the WMU record for rebounds in a season with 307. Mobley was named to the preseason All-MAC West team for the second time in her career. Senior Guard Kamrin Reed
The 5-foot-7 senior guard played in a career-high 29 games during her junior season. Reed averaged 8.9 points and 1.7 rebounds a game last season and was fourth on the team with 92 field goals made. She was third on the team in three-point field goals made with 39 and had 14 games where she scored in double figures. Reed is definitely a threat on the wing and can get hot from deep. 
Junior Forward Reilly Jacobson
The 6-foot-2 forward had to sit out last season due to NCAA transfer rules, but is eligible to play this year and could be an impact player for the Broncos. During the 2017-18 season at North Dakota State University, she led the Bison in scoring with 11.6 points per game while also snagging 6.7 rebounds per game. Jacobson earned Honorable Mention All-Summit League Honors that season and shot 48% from the field.
Redshirt Sophomore Guard Jordan Walker 
Walker is another Bronco that had to sit out last season due to injury. The 5-foot-8 guard from Muskegon appeared in all 33 games in her freshman season and started 23 games in 2017-18. She was named the team's Co-Most Improved Player of the Year and just about did it all statistically. She averaged 7.9 points, 3.8 rebounds, 2.0 assists per game. She was second on the team in total assists and steals her freshman season.
Junior Forward Leighah-Amori Wool
Wool, a 6-foot forward from Evanston, Illinois can score from both inside and from beyond the arc. She averaged 12.2 points per game last year and was second on the team in field goals made (126), three-pointers made (54), assists (51), blocks (12) and steals (33). Wool played in 18 games where she scored 10 or more points and scored a career-high 21 points against Eastern Michigan on February 23, 2019.
Key Games
The Broncos open their season with a tough test at the University of Michigan at Chrysler Arena on Friday, Nov. 8. Following their game in Ann Arbor, WMU play a few more non-conference games before tipping off in this year's UTEP Thanksgiving Classic on Nov. 29 and Nov. 30 in El Paso, Texas. On the 29th the Broncos play UTEP and on the 30th will square off against New Mexico State University. 
The Broncos will then leave the country on Dec. 21 and 22 for the Puerto Rico Tournament in San Juan. During the holiday tournament the Broncos will matchup against the University of Denver on the 21st and WMU will finish the tournament against Stony Brook University.
A couple weeks later, MAC play will tip off for the Broncos on Jan. 4, 2020 against Toledo at Read Fieldhouse in Kalamazoo. The MAC season will end on March 7 against Ball State before the MAC tournament begins on Monday, March 9 on campus sites before shifting to Cleveland, Ohio on March 11.
New Freshmen 
The Broncos are introducing Aniya Walker, Sydney Shafer, Ashley Konkle and Taylor Williams to the team. Adding size and speed, Western is hoping to improve on their record last year.
Guard Aniya Walker
Walker is the daughter of Myron and Keyona Walker and comes from an acclaimed basketball family. Her father is the all-time leading scorer at Robert Morris University where he played guard for four years. Her mother is a Maryland basketball alumni and former WNBA player where she played for the Washington Mystics. Walker played her highschool basketball at Ambridge Area where she averaged 21.9 points and 15 rebounds per game. The Pittsburgh native also scored the most points over three years of any other women's basketball player at Ambridge. She led the team in rebounding for three seasons and competed in the USA Junior Olympics 3x3 basketball tournament. Walker is hoping to bring her explosive scoring and high basketball IQ to this new look Broncos team.  
Forward Taylor Williams
Williams is a 6-foot-2 forward who attended Dakota highschool in New Baltimore, Mich. During her time at Dakota, she played four years of varsity basketball and contributed to a 2017-2018 MHSAA Class A district championship. Williams achieved many individual records including breaking the schools single-game rebound record with 22 rebounds as well as being voted BCAM's Best Class A All-State in her junior and senior seasons. In 2018-19, she averaged 14.8 points per game and 12.7 rebounds per game and dominated the defensive side of the ball averaging 3.4 steals and 2.1 blocks per game. During the end of her senior year, she became a top 100 player for her class in the state. 
Guard Sydney Shafer
Shafer is coming to the Broncos off a strong senior campaign at Northwest High in Jackson, Mich. Being a multisport athlete in track & field and golf she is looking to bring her athleticism to help Western play quicker and more fluent. Shafer broke many records in highschool, including being named the all-time leading scorer and holds the record for most career steals. She was named to the All-State First Team during her senior season. Shafer was named MVP of the league during her junior campaign.
Forward Ashley Konkle 
Konkle played varsity basketball for four years at Benet Academy in Lisle, Illinois. There she was a dominant forward and was named rookie of the year her freshman season was named to the All-Area team three times. She also made the all-conference team each year of her highschool career. She holds the schools single-game rebounding record with 19. She ended her highschool career with 1,122 points, 800 rebounds and a career-high of 31 points in a game. Konkle plays big inside dominating defenders in the paint and being a force. She hopes to bring that same energy and tenacity to help the Broncos in the paint. 
Last year the Broncos ended their season on a heartbreaking 70-69 loss in the first round of the MAC tournament against NIU. They ended the season with a 10-20 overall record with key players missing the majority of the season. 
The Broncos averaged 61.8 points per game compared to their opponents 66.7. They also trailed opposing teams in rebounding by a 7.4 margin. The Bronco freshman will most likely have an immediate impact on the team who has struggled to score at times. Last season, Deja Wimbley contributed greatly to the team with 14.2 points per game and will be replaced by Walker as their point guard. Senior captains, Reed and Mobley, will be key to the team's success this upcoming season.  
The Broncos will start their 2019-20 campaign on the road against Michigan on Friday, Nov. 8 with tipoff set for 7 p.m.