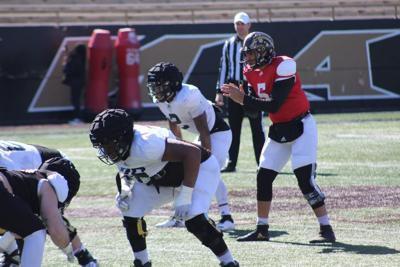 Western Michigan football has announced their official fall camp practice schedule. Along with releasing the practice dates, the program also announced they will be holding a Media Day on Thursday from 1-3 p.m. 
Being made available to the media will be four seniors, including: Running back LeVante Bellamy, center Luke Juriga and linebackers Drake Spears and Alex Grace.  
The Broncos will then hold their first practice of the fall on Friday morning. Western Michigan will continue to practice until Aug. 24 before classes begin on Aug. 28. From there, the Broncos will begin their regular season practice schedule and get ready to host Monmouth University on Aug. 31. 
Western Michigan coaches and select players will meet with the media throughout fall camp in the buildup for the start of the 2019 season.  
Below is the full fall camp schedule.  
8/1/2019: Western Michigan Media Day 
Practices Dates: Aug. 2-7, Aug. 9, 10, Aug. 12-14, Aug. 16, 17, Aug. 19-21, Aug. 23, 24 
First Day of Classes: Aug. 28