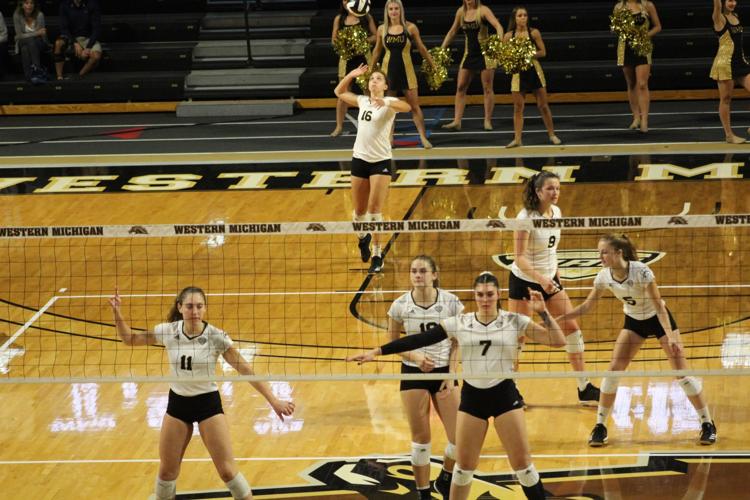 Western Michigan split their second week of the Mid-American Conference play this past weekend by beating Toledo in three straight sets 25-19, 26-24 and 25-21. Then losing to Ball State in four sets 20-25, 15-25, 25-22 and 18-25. The Broncos (11-5) now move to second place in the MAC West standings. 
The Broncos started on Friday sweeping the Rockets in Toledo. The team was led by junior Rachel Bontrager with 14 kills and eight digs and junior Mary Marzo with 24 assists. The Broncos held the Rockets to a .181 attack percentage and doubled the block totals with eight compared to Toledo's four. 
For the Rockets junior Chloe Kleespies had 12 kills and three blocks. With sophomore Megan Beasely recording 29 assists. 
The Broncos looked to ride that momentum into Muncie and defeat Ball State. However they fell short losing to the Cardinals in four sets. The Broncos had three players tally triple digit kills with Bontrager having 17 and redshirt sophomore Charley Andrews and freshman Maggie King having 10. 
Defensively the Broncos recorded a season-high 13 blocks as redshirt sophomore Janell Williams put down eight of them. 
For the Cardinals freshman Allison Hamaker had herself a good day with 19 kills as senior Amber Seaman helped the cause with 48 assists in the victory.
The Broncos will return back to Kalamazoo this week as they host Northern Illinois on Thursday, Oct. 10, and Bowling Green on Saturday, Oct. 12.