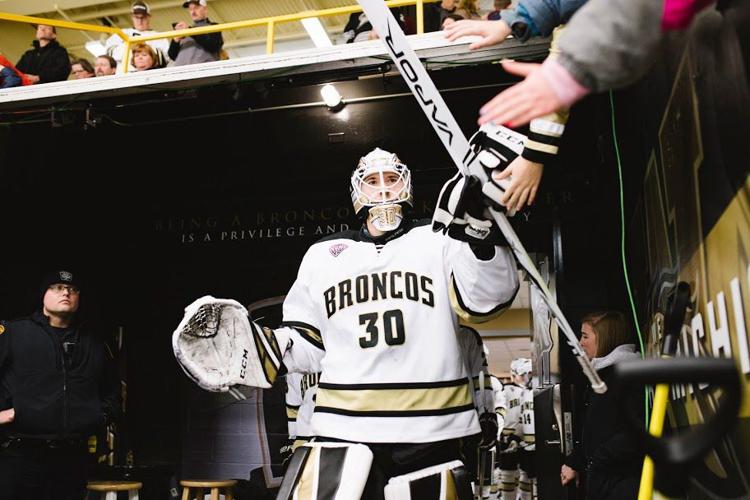 A WMU hockey program record was set on Tuesday as six Broncos were named American Hockey Coaches Association "Krampede All-American Scholars."
Due to the coronavirus pandemic, the criteria for this year's scholars was revised. To qualify for the honor, the student-athlete must have maintained a 3.75 GPA or higher for the fall semester and played in 40% of their school's games 
Redshirt junior defenseman Kale Bennett earned a 3.99, freshman goalie Brandon Bussi earned a 3.89, junior forward Brett Van Os earned a 3.88, sophomore defenseman Jared Kucharek earned a 3.86, freshman forward Jason Polin earned a 3.79, and sophomore forward Drew Worrad earned a 3.78.
Bennett played in 33 games this season while earning a career high eight points on three goals and five assists. Bussi started in 34 games while posting an 18-12-4 record with a 2.65 goals against average and a .910 save percentage. 
Van Os played in a career-high 22 games while earning a career-high in points on three goals and five assists. Kucharek played in 32 games posting five points on one goal and four assists and also finished with a +5 plus/minus.
 Polin had a strong freshman campaign, playing in 31 games while racking up nine points on seven goals and two assists. Worrad finished his sophomore season posting career high 17 points on six goals and 11 assists while finishing with a +11 plus/minus.