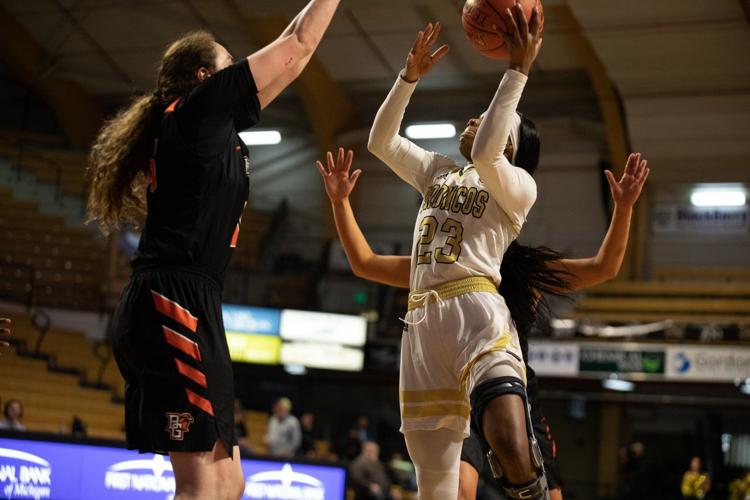 Western Michigan women's basketball (5-seed) took down Bowling Green (12-seed) in the first round of the Mid-American Conference Tournament on Monday night at University Arena by a score of 84-67.
The three-point shot was key in the win for the Broncos, as it knocked down 15-of-34 shots from beyond the arc and had all five starters score in double figures.
Both teams had faced each other twice previously, with the Falcons Green defeating Western Michigan in the first matchup at home. WMU got revenge the next time out on its home court, defeating Bowling Green 69-55 in Kalamazoo.
The win for the Broncos means a trip to Cleveland for a quarterfinal tournament matchup against fourth-seeded Ohio.
"We have a really good shooting team from the arc. Our season stats don't show that, but as you've seen today, you see what we're capable of. If we can string together three more games like that, I like our chances going to Cleveland," head coach Shane Clipfell said.
Western Michigan started the first quarter shooting poorly from the field, starting 4-for-11. But then the Broncos started to heat up, ultimately connecting on six three-pointers in the opening quarter.
Guards Jordan Walker and Chelayne Bailey played big roles in a 24-16 first quarter lead, with each putting up 11 points. Breanna Mobley started the first quarter with a big rebounding effort, coming down with five rebounds.
The Broncos extended its lead to 47-26 at halftime thanks to some more quality three-point shooting in the second quarter. WMU knocked down five more threes in the quarter, giving it 11 for the half.
By halftime, five Broncos had made at least one three-pointer.
The WMU defense also played a part in its dominant first half performance. Western Michigan held Bowling Green to 41% from the field and 2-for-10 from three during the half. The Broncos forced six turnovers as well, while only having two turnovers of its own.
The lights out  three-point shooting continued into the third quarter, as Western Michigan held a 75-46 lead after three. The Broncos made 15 three-point shots in the first three quarters compared to only five for Bowling Green. Walker continued to provide a big spark for the Broncos, adding 11 more points in the third.
Western Michigan's lockdown defense also carried over into the second half, as it forced 11 turnovers and scored 14 points off those turnovers for the game.
The fourth quarter was basically garbage time as the Broncos were up by as many as 30 in the quarter. Both Walker and Mobley achieved double-doubles early in the fourth quarter. 
 Walker finished with 23 points and 10 rebounds while Mobley had 10 points and 13 rebounds. Bailey also had a good night on the stat sheet, scoring 17 points, and had six assists.
The Broncos forced Bowling Green to commit 11 turnovers, with Western Michigan taking advantage scoring 14 points off them.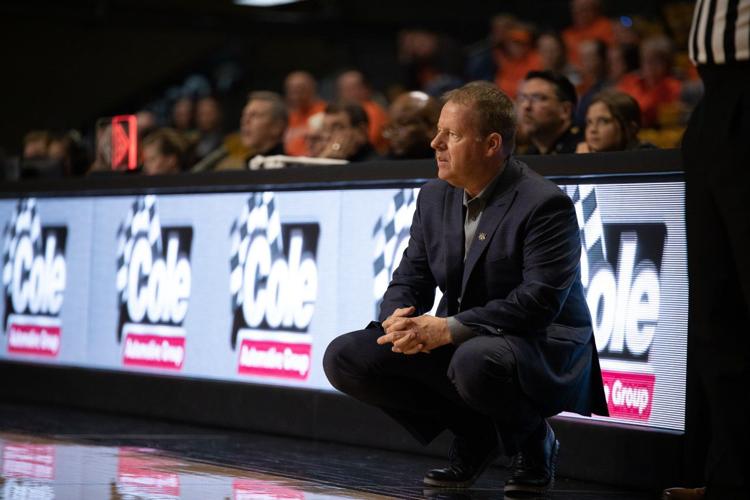 Late in the game, Western Michigan did a full platoon switch and put its bench in the game, including preferred walk-ons Kiana Cencula and Hannah Douglas. Cencula made a free throw for her first career point, a moment that Clipfell enjoyed.
"Her (Cencula) and Hannah are in the same situation, they're preferred walk-ons, they made the team this fall and they're just dynamite kids," Clipfell said. "They do everything and as much as our other players do, yet they don't get the opportunity hardly ever to get out there on the court. It was great for that to happen in the last game of the year here," Clipfell said.
Western Michigan now looks ahead to Cleveland when the Broncos face the Bobcats. It has been awhile since WMU first played Ohio this season (Jan. 15) when the Broncos came away with a 73-72 win. The preparation for Wednesday's game starts right away for the Broncos.
"It starts as soon as I walk out of this room. It was a long time ago that we played them. I haven't seen them at all on film since we played them here and I have a lot of catching up to do," Clipfell said. 
WMU's game against Ohio on Wednesday will begin at approximately 2:30 p.m. on ESPN-Plus.
Follow @berry_seth14 and @joseph_zurek on twitter for full coverage of WMU women's basketball in the MAC Tournament.