Who: Western Michigan (3-2), (1-0) @ Toledo (3-1), (0-0) 
When: Saturday, Oct. 5, 3:30 p.m. 
Where: Glass Bowl Stadium (Toledo, OH) 
TV: ESPN3 
Radio: Bronco Radio Network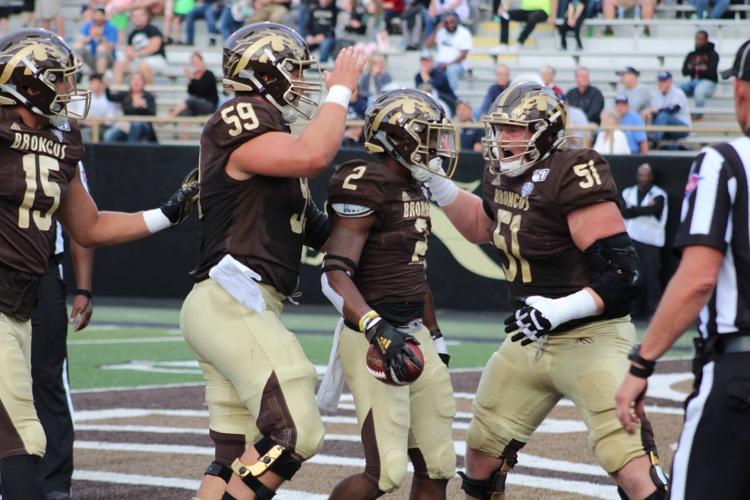 Western Michigan football will travel to Toledo to face the Rockets in the Glass Bowl late Saturday afternoon in a game that will most likely have huge implications in terms of the Mid-American West Conference standings. 
"It's everything you want," Western Michigan head coach Tim Lester said. "They're one of the best if not the best at everything in our league and we get to go play them on Saturday." 
The Broncos come into the game 3-2 (1-0) and are riding high after a 31-15 win at home over rival Central Michigan. 
Meanwhile, Toledo comes in at 3-1 and has momentum after a 28-21 home win last week over BYU. Their only loss thus far has come at the hands of Kentucky, where they lost by two touchdowns on the road in week one. 
This game has all the potential to be a thriller as the No. 1 and No. 2 offenses in the MAC as well as the top two scoring defenses in the MAC square off against one another. Here are some things to know about Toledo and what to watch for on Saturday. 
 Can the Broncos contain Guadagni? 
Western Michigan's defense will have to be up for the challenge against a Toledo offense that ranks second in the MAC (behind WMU) and 28th in the nation. 
Statistically, it will be the best offense the Broncos have faced so far. Georgia State was the next best offense Western has faced statistically and they were able to hold the Panthers 66th ranked offense to 10 points at home. 
However, it has been a different story on the road for the Broncos defense so far this season. In their two road games, they have given up an average of 51 ½ points per game. Those two games were against Power Five schools in Michigan State and Syracuse, but both of those teams have had their share of issues moving the ball at times this season. 
For the first time this year, the Broncos will have to translate their home defensive efforts away from Waldo Stadium. 
It won't be easy against a Rockets offense that features dual-threat quarterback Mitch Guadagni, who has 705 yards passing this season while completing 60% for five touchdowns and an interception. He is the team's second leading rusher with 451 yards with a 6.0 yards per carry average with two scores. 
Guadagni is back after getting injured in the WMU game last season along with Broncos quarterback Jon Wassink. He exited the game early against Kentucky in week one after taking a hit to the head that was ruled targeting but returned for their next game against Murray State. 
Junior Bryce Mitchell has stepped up to be Toledo's top receiver yardage-wise with 11 catches and 246 yards. But the Rockets have had to spread the ball around by committee, with five different players having caught five or more passes this season. 
"They have all brand new wideouts," Lester said. "So those guys are still getting broken in, but they can run and change direction." 
The Rockets had to replace their top three receivers from last season, who caught 27 of the team's 32 touchdown passes last year. They can still air the ball out, but this part of their offense is still a work in progress. 
Aside from Guadagni in the running game, Toledo's running backs can break loose and have played a big part in the Rockets offense so far this season. 
Junior running back Bryant Koback helps lead Toledo's rushing attack, which currently ranks 10th in the nation. Koback has 451 yards on 70 attempts for 6.4 yards per carry and has found the end zone six times. 
Shakif Seymour, also a junior, gets some reps as well. He has 200 yards on the season on the ground with a touchdown on 4.8 yards per carry. 
Lester knows it will take his defense's best effort to be able to slow their ground game down. 
"They have been having more success with the run game," Lester said. "They have always been able to run the ball. They have some exciting running backs and I think they are fifth in the country in yards per rush. Even without the passing game, their runs are big chunk plays." 
Toledo's defense is interesting to say the least. Statistically, they rank among the worst in the nation in total defense, ranking at No. 120 out of 130 FBS teams. 
However, they are 59th in the nation in red zone defense, which isn't all that bad. They are a lot like Western Michigan in the sense that they will give up a lot of yards but find a way to keep teams out of the end zone once they get to the red zone (WMU is 45th in red zone defense). 
The Rockets also have the No. 1 scoring defense in the MAC. So, there is certainly a mixed bag on that side of the ball. 
"Toledo has let people move the ball on them if you look at yards," Lester said. "I'm not a big yards guy but they have given up a pretty good amount of yards. But they don't let you in the end zone." 
Senior linebacker Jordan Fisher is Toledo's leading tackler on their defense with 34 and has an interception on the year. Another player to watch for is sophomore safety Saeed Holt who leads the team with two sacks. 
As a unit, the Rockets haven't been able to generate a ton of pressure on the quarterback as they only have six sacks through four games.  
You could look across college football and have trouble finding two teams as similar as these ones. 
They were projected in the preseason as the top two teams in the MAC West and to little surprise, they come into the game looking like the top two in the division. 
For the Broncos, the challenge will be stopping that Toledo rushing attack. The matchup does not bode well for Western as it is the 10th ranked rushing offense in the nation against the 106th ranked rushing defense. 
However, it will be interesting to see how defensive coordinator Lou Esposito plays his cards. Does he stack the box and try to contain the running game? Does he take any chances in one-on-one coverage against Toledo's new wide receiving core? These are questions that will be answered Saturday. 
On the flip side, you have to like the Broncos offense in this game. They are a little more balanced in the run-pass game and maybe even a little more dynamic overall. If Wassink is given time, which he should have against this defense, WMU should be able to move the ball with relative ease. 
So what does this all mean? Both offenses are explosive, and while each defense can make plays, there are questions with both teams on that side of the ball. 
With the teams having similar philosophies, I think it will be a "red zone" game, meaning 'which defense will hold the other to more field goals when the opportunity presents itself?' Whoever's defense can step up to the challenge of stiffening up in the red zone and forcing more turnovers wins this one, but I think it is a shootout. 
Toledo 42, Western Michigan 38