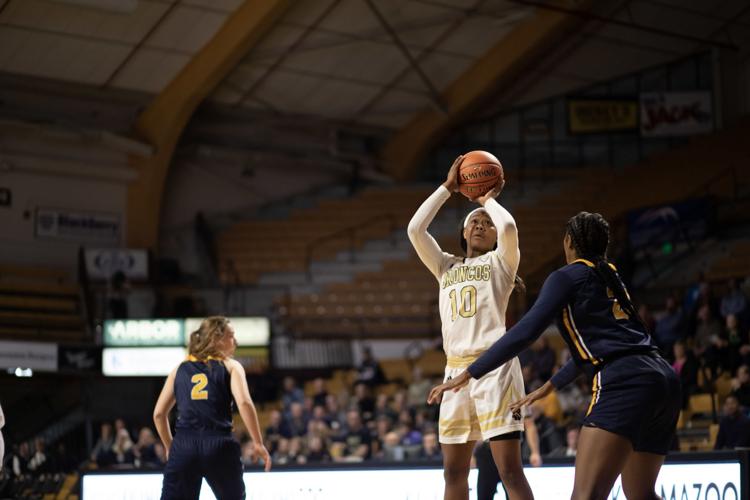 Western Michigan women's basketball pushed their Mid-American Conference winning streak to two games after a 56-51 win at Akron on Wednesday night, who are now winners of five of their last six overall.
The win was sparked by a huge fourth quarter by the Broncos, which included them outscoring the Zips 18-7 in the final frame. In the second half, the Broncos outscored the Zips 31-19. 
The game was a classic tale of two halves for the Broncos, who trailed 30-25  at the intermission.
Going into the locker room, Akron shot the ball at 41.2% as a team. The Broncos locked in defensively in the second half, holding Akron to 27.6% from the field.
The offense for Western Michigan struggled throughout the game, shooting just 28.1% in the first half and 28.6% in the second, including shooting 3-22 from three.
It was the little things that helped WMU stay in the game, as they out rebounded Akron 54-38 on the night while also grabbing 16 second chance points compared to five by the Zips.
The Broncos also shot 19-of-25 from the free throw line as a team to hang around before going on a 15-2 run in the final 5:30 to steal one on the road. 
Leading the charge for WMU was redshirt senior Breanna Mobley, who notched her 11th double-double of the year, scoring 15 points and grabbing 11 rebounds. One of her baskets came with 2:23 left in the fourth to give the Broncos a 50-49 lead that they would not look back from.
Also chipping in for WMU was junior Leighah Amori-Wool, who added 14 points and eight rebounds.
Akron was led by senior Caitlyn Vari, who contributed 13 points and four rebounds for the Zips. Senior Shauny Edmonds added 11 points and two rebounds. 
Next up, the Broncos travel to Kent State on Sat., Jan. 11 at 1 p.m. as they look to improve to 3-0 in conference play.