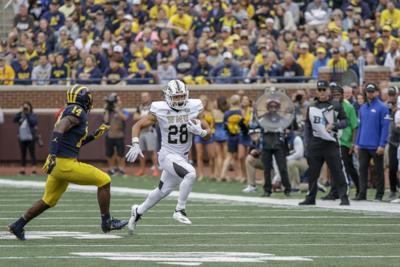 A former Western Michigan running back has found a new collegiate home and reunited with his twin brother in the process.  
Running back Chase Brown, who transferred from WMU back in May, is heading to the University of Illinois, where his identical twin brother Sydney Brown is a safety on their roster. 
Brown was third on the team in rushing last season, carrying the ball 71 times for 352 yards while catching 10 passes for 75 yards. He will have to sit out the 2019 season due to NCAA transfer rules but will have three years of eligibility remaining beginning in the 2020-21 season.  
He was expected to be WMU's No. 2 running back coming into the 2019 season behind Levante Bellamy. Now, the Broncos will look to senior Davon Tucker to fill that role, a bruising back who has 102 carries for 439 yards in his career. 
Football season is now in full swing as the Broncos started their fall camp on Aug. 2. The team is hard at work in preparation for their home opener on Aug. 31 against Monmouth University.