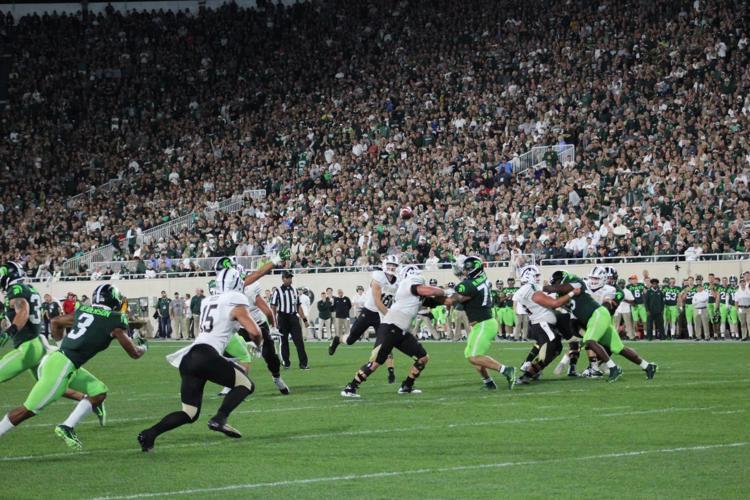 Western Michigan football had their first big test last Saturday when they traveled to East Lansing to face the Michigan State Spartans. 
The Broncos ultimately did not pass that test, particularly on the defensive side of the ball. The defense allowed a suspect Michigan State offense to rack up 582 total yards, including 331 in the air and 251 on the ground. 
Western's offense did find ways to move the ball against a stout MSU defense, but ultimately missed too many opportunities close to the end zone and didn't score enough to stay in the game. 
Let's have a look at some of the things the Broncos executed well last weekend, as well as some things to be concerned about going forward. 
Things the Broncos can build on 
Western Michigan's offense, especially early on, was almost moving the ball at will against the Spartan defense. Even after Michigan State took the quick 21-0 lead, WMU came right back and scored on a touchdown pass from Jon Wassink to Giovanni Ricci to make it 21-7. 
Wassink did well in terms of getting the ball out of his hands quickly, making reads and delivering accurate balls. In fact, Western Michigan's 352 yards of offense are the most allowed by Michigan State's defense since Oct. 20 of last season when they surrendered 395 to Michigan. So, there are clear building blocks there for Western's offense. 
On the flip side, Wassink threw two interceptions, one being in the end zone and the other in MSU territory. As good as Wassink was against that unit, Western Michigan coach Tim Lester knows his senior quarterback can be better. 
"He made about four bad plays out of the 68," Lester said. "Two of them were picks and two of them were incompletions that if he read them better, we would have had first downs. Against that group, he played well, but not well enough." 
Ultimately, when opportunities are missed against a top 20 team, you aren't going to beat them, as Lester pointed out after the game Saturday night.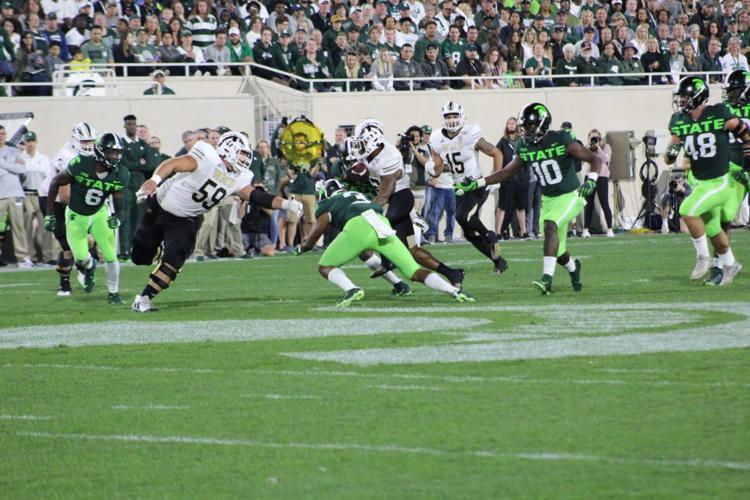 But the offense did a lot of things right against one of the best defenses in the nation. There's no reason to think this unit couldn't put up points on any team in the Mid-American Conference, let alone any opponent they play. 
The defense looked confused from the opening snap against the Spartans. Michigan State had receivers running open all night long, particularly Darrell Stewart, who racked up 185 yards receiving. 
The run defense wasn't much better, giving up 251 yards on the ground (192 to Elijah Collins) and allowing Michigan State huge holes to run through. 
Lester said communication and tackling were the unit's two biggest issues against MSU and knows they must clean that up. 
"We've gotta tackle lower," Lester said. "They're 230-pound running backs. We're not gonna face a lot of 230-pound running backs, but when you do, you've gotta sweep tackle. We came in high a couple times and they broke some tackles." 
The one positive for the defense was the two takeaways they were able to come away with. In the second quarter, the Broncos were finally able to get some pressure on Lewerke and made him force the ball into traffic. D'Wayne Eskridge tipped the ball, while linebacker Najee Clayton came up with the interception.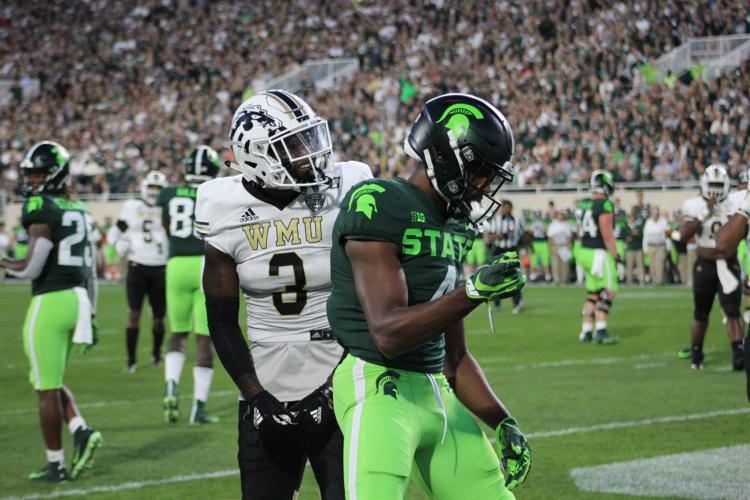 Then, also in the second quarter, the Broncos forced a fumble deep in Spartan territory, and in the second half Lewerke nearly threw another interception as Eskridge nearly came down with one in the end zone on a pass thrown across Lewerke's body. 
If WMU can get their communication issues figured out, it seems as if they have the athletes to make plays. They just have to be in a position to make them. 
Western Michigan kicker Thiago Kapps is known for having a strong right leg. He does struggle at times with consistency, however, and that showed up a little bit on Saturday night. 
The first field goal he attempted, from 48 yards out, had plenty of leg, but he pulled it left after a decent opening drive by the Broncos. 
Then, in the second quarter, he pushed a 27-yard field goal attempt wide in a critical moment when the Broncos had an opportunity to get back in the game. 
Lester, however, wanted to show he still had confidence in Kapps. Late in the game, when the outcome was all but decided, Lester ran him out for a third try. And Kapps put it through from 31 yards out. 
Lester said he thought that was important for his confidence. Maybe it will be something Kapps can build off going forward. 
If not, Lester may have to turn to Gavin Peddie, who battled Kapps neck-and-neck throughout camp and continues to compete against him. 
Western Michigan will welcome in Georgia State, who is 2-0 with a win over Tennessee, to Waldo Stadium on Saturday night at 7 p.m. 
We'll see which questions are answered in week three as the Broncos inch closer to Mid-American Conference play.