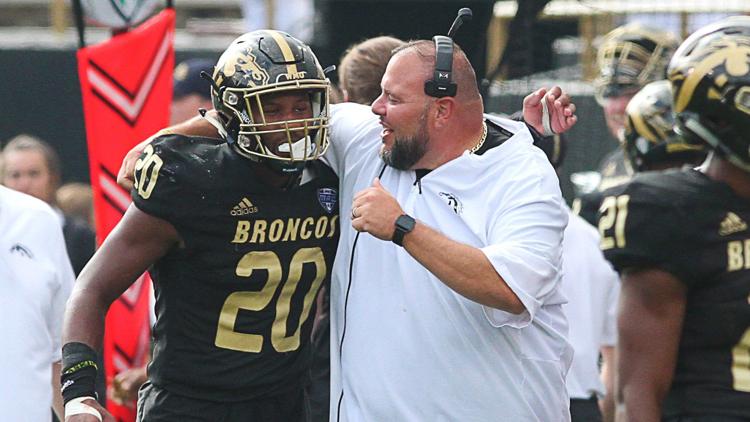 Western Michigan football's Lou Esposito is in his first full season as defensive coordinator. While there is an unknown as to how successful he will be at the position, one thing about Esposito is well-known: He is going to bring energy to the team every day he shows up for work. 
When you come out to watch a Bronco football game this year, you will surely see Esposito jumping around and "chest bumping" his players when his defense makes a big play. And the players love that about him. 
Senior linebacker Najee Clayton, who was at MAC Media Day at Ford Field on July 23, even went as far to say that it's "the most fun experience he has ever had playing football" while playing under coach Esposito. 
"I don't think I've ever enjoyed football this much," Clayton said. "I think the last time I can say I truly enjoyed the game before coming to Western was in high school. My last destination (Rutgers) didn't feel fun for me, it felt more like a job you had to go to every day." 
Alex Grace, also a senior linebacker, expressed some of the same opinions about the first-year defensive coordinator. Grace said that Esposito never runs out of energy, but at the same time connects with them on a personal level. 
"He's such a relatable guy," Grace said at WMU Media Day. "He's that coach who is jumping around and yelling, but he's also that guy when you're not practicing you can just go upstairs and talk to for an hour. He will always set aside time for his players, and you can tell he truly cares about us." 
Esposito, aside from the x's and o's, wants to establish a healthy culture at WMU. He said he wants to make sure he forms excellent relationships with his players. 
"We want to make sure they feel comfortable talking with us or hanging out with us and doing things with us that have nothing to do with football," Esposito said at WMU Media Day. 
Esposito also explained how he didn't like the saying of "kids just aren't the same anymore." He doesn't think that narrative is accurate about kids in college athletics today. 
"That's not true," said Esposito. "You just have to build relationships. There has to be trust, like any relationship. And I think if there is trust between us with clear expectations, the sky is the limit." 
Esposito also stressed how important it is to be positive, and why coaching kids is so exciting to him. 
"I'm a glass half full guy," said Esposito. "At the end of the day, you can look at things however you want. I'm going to look at it as positive as I can. As long as I do that, I get excited to be a part of this." 
That positivity allows Esposito to enjoy all the aspects of coaching. He said this isn't like a job to him because he enjoys doing it so much. 
"People say to look for something to do to keep you young," said Esposito. "This is what keeps me young." 
Bronco fans will hope that youthful energy will translate into an improved defense in 2019, where depth and experience will be prevalent for the Broncos.