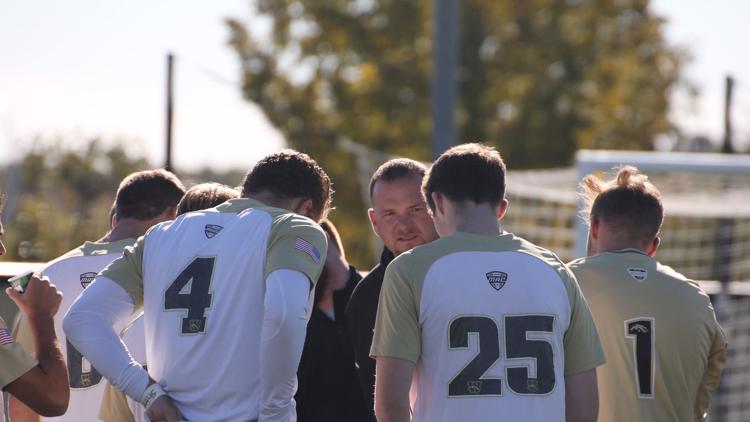 Western Michigan men's soccer suffer a loss in their season opener on the road against Butler. A late penalty kick sealed the fate for the Broncos as they fell 2-1 to the Bulldogs.
The Broncos came out of the gate fast as they controlled the run of play in the first half. Sophomore Eric Conerty created a great chance in the first ten minutes but his shot ricocheted off the crossbar. The Broncos outshot the Bulldogs in the first half three to two.
Graduate transfer, Sam Biek, scored the first goal of the contest in the 25th minute. Biek ripped a free kick into the top right corner and gave the Broncos the 1-0 advantage. This was Biek's first goal of his Bronco career.
Butler took control of the second half as they found the game tying goal in the 51st minute. Jack Haywood slipped a ball past the Bronco defense and found Brandon Guhl who placed his shot past Lukas Von Lienen.
"Give Butler credit," head coach Chad Wiseman said. "They played harder than us on the day and deserved to win. If we're rating the 90 minutes overall, we were not as sharp as I would have liked to see. Player selection for the road trip and match is on me. I did not get that right tonight. We have a few days to reevaluate before our home opener."
Butler goalkeeper, Gabriel Gjergji, would come up big with some key saves for the Bulldogs in the second half. Giuseppe Vitale, Conerty and Mike Melaragni all forced Gjergji into some huge saves as the second half moved along.
The deadly blow came in the 86th minute as the Bulldogs were awarded a penalty kick. A foul was called on Von Lienen which lead to the pk. Wilmer Cabrera Jr. stepped up for Butler and placed his shot into the right corner giving the Bulldogs the 2-1 advantage.
The Broncos tried to find the tying goal in the final minutes of the game but were unable to break down the Bulldog defense. Butler finished the match with 12 shots with four shots on goal compared to the Broncos nine shots and six shots on target. Von Lienen tallied two saves while Gjergji finished with five saves.
"I was disappointed in some of our more experience players' performances tonight," said Wiseman. "We looked immature, lacked toughness and discipline at the most important times of the game."
WMU hosts Niagara in their home opener on Monday with a 3 p.m. kickoff. The game will be their annual soccer fan fest with lots of pregame activities for fans to enjoy.