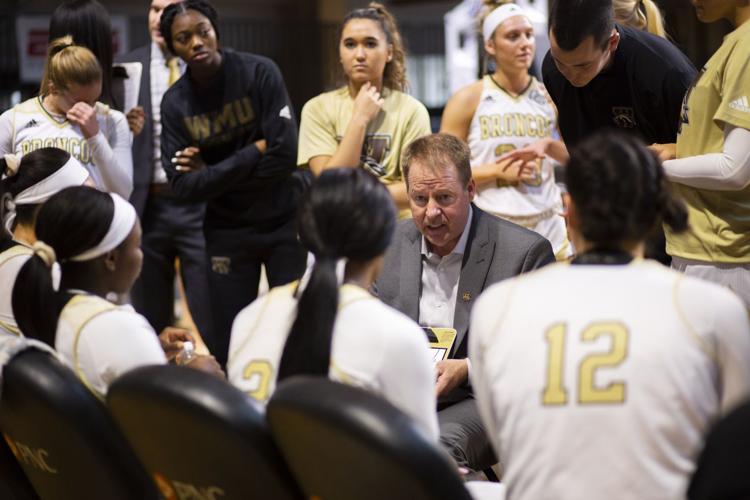 Western Michigan women's basketball won 74-62 on Wednesday night over Mid-American Conference foe Buffalo. Picking up the Broncos first win after a three game losing streak. 
The game started fast for the Broncos as they quickly jumped out in front on five quick points. WMU had the game in control for most of the time, out gaining the Bulls in the time with lead 37 minutes to only seven. Head coach Shane Clipfell attributed that lead to planning by the Broncos.
"You don't want to change a whole lot obviously, we changed the defense a little bit and kinda changed with about a three item offensive package," Clipfell said. 
The bench played a big role in the game for WMU as the Bronco bench outscored Buffalo bench 24-18. The added depth and consistency by WMU has encouraging signs for Clipfell and the team as they get ready for a late season run. 
"It gave us a good chance to rotate our people way better than we have been in our past," Clipfell said. 
The three point shot helped propel the Broncos to the victory, shooting 9-28 from beyond the arc, helping lead that charge was redshirt sophomore Jordan Walker, scoring 18 points, including four three pointers. 
"We did talk about being able to get the ball into the paint and kicking it out to get people open," Walker said. 
Also contributing for the Broncos was junior Reilly Jacobson, who had 15 points and four rebounds, while redshirt senior Breanna Mobley got another double double, with 13 points and 10 rebounds, pushing her season total to 15 double doubles. 
The Bulls were led by senior Theresa Onwuka, who contributed 17 points to the team, who shot 37% on the night. While also committing 15 turnovers compared to the Broncos 11. 
Next up for WMU they look to ride this momentum into Dekalb as they take on the Northern Illinois Huskies on Feb 15 at 2 p.m. as they make a late season push into the conference tournament.