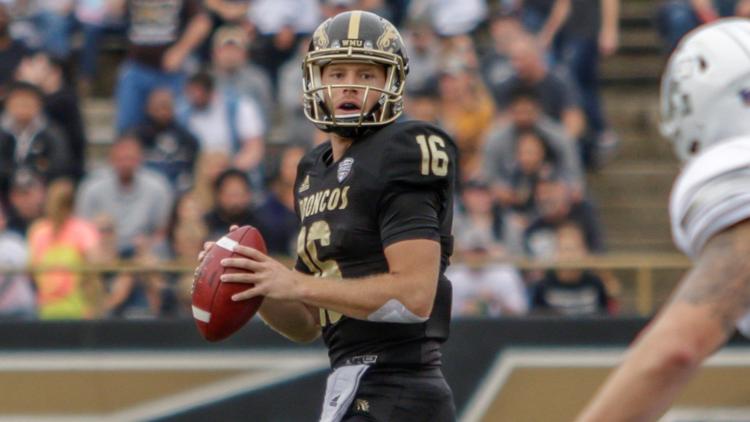 Last year the Broncos ranked 35th in the nation in total offense according to NCAA.com, and a big part of their success was the quarterbacks. In 2018, WMU had to use two quarterbacks to get through the season, redshirt junior Jon Wassink and true freshman Kaleb Eleby.
Wassink looks to be the starter as the 2019 season approaches but there are five other Broncos that will fill out the quarterback depth chart as fall camp continues. 
Here's some analysis on each quarterback and what they can bring to the program.
John Wassink
The last two years Wassink has shown extreme promise and has all the talent a team would want in a quarterback, but his seasons were cut short due to injuries.
During the 2018 season, Wassink was at the top of the MAC leading the Broncos to a 6-2 record through eight games. However, Wassink went down with a season ending foot injury against Toledo and the Broncos went on to lose four of the final five games.
Wassink ended the 2018 season with 1,994 passing yards, throwing 16 touchdowns and six interceptions.  
Now entering his final year of eligibility, Wassink is determined to stay healthy and help lead his team to a MAC title. If Wassink can play a full season healthy, he can definitely help lead the Bronco offense to success. He has a good arm and can also move the chains with his legs if needed.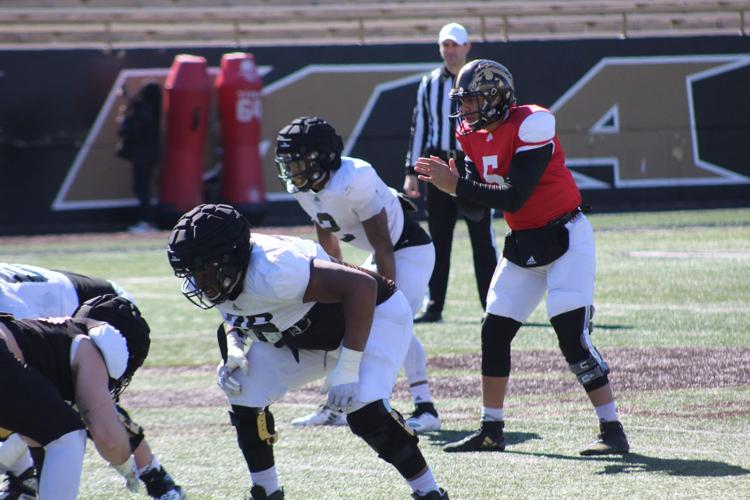 Kaleb Eleby
Kaleb Eleby was a standout football player in high school, showing he can excel at the sport. Out of high school, Eleby was ranked the ninth best player in Missouri and the 19th best dual threat quarterback according to ESPN. He also played football at the varsity level all four years and was the captain of his team for three seasons. 
In the 2018 campaign Eleby was called on to quarterback the Broncos as a true freshman for the last five games of the season. Eleby showed spurts of talent, but did have his struggles as expected, being a true freshman.
Eleby put up 1,092 passing yards while throwing four touchdowns and three interceptions and started four of the five games he played in. With a long offseason, Eleby has had plenty of time to improve his game and become a better athlete. If called upon again, he will for sure be able to get the job done.
Griffin Alstott
Griffin Alstott was a redshirt freshman last year at Purdue and sat out for the entire season. Soon after his freshman year, he decided to leave Purdue and become a Bronco and make Kalamazoo his new home. 
Alstott also comes from football royalty as his father, Mike Alstott was a dominant full back at Purdue and with the Tampa Bay Buccaneers in the NFL. Mike Alstott was a six time pro bowler and a Superbowl champion in 2003. 
Griffin dominated the quarterback scene in high school. In his senior year he threw for over 2,400 yards and 31 touchdowns with eight interceptions.
Griffin's father was his high school coach, so there's no doubt that he possesses a wealth of football knowledge.
Chris Riddle
Riddle redshirted his freshman season in 2017 and is now in his second year of eligibility, he will be ready to go if the Broncos ever need to call on him.
He was named to the Florida All-State team and threw 1,800 along with 18 touchdowns his senior season of high school. Riddle was also a North Florida All-Star selection back in 2015.
Eric Wenzel
Wenzel is a homegrown talent who attended Hackett Catholic Prep High School.
Entering his freshman season, Wenzel looks to have a lot of talent and Bronco fans can be hopeful about the future with him as a quarterback on the roster. Wenzel holds numerous achievements and accolades at the high school varsity level.
Wenzel was the 2017 and 2018 Kalamazoo Gazette player of the year, was a Michigan High School Player of the Year Runner Up and was named First Team All-State by AP.
As a senior, Wenzel threw for a MHSAA state record 56 touchdowns while racking up 3,624 passing yards. He finished second in MHSAA career history with 110 career passing touchdowns and 8,654 passing yards.
Nick Kargman
This is another Bronco hopeful who could be a future star, Kargman is entering his freshman season.
Like Wenzel, Kargman also holds some considerable achievements. He was ranked the 45th best player in the state of New Jersey and ranked top 50 nationally as a dual threat quarterback. Kargman also made the USA Today First Team All-State.
Kargman threw 8,136 passing yards and 86 touchdowns in 38 career games and holds a state record by throwing 500+ yards and eight touchdowns in a single game.