College basketball is back in Kalamazoo. 
Following the 76-56 exhibition win over down-the-road foe, Kalamazoo College, Western Michigan men's basketball is hoping to make a splash this regular season. The Broncos, who went 8-24 last year and 2-16 in conference play, are looking to preseason All-MAC guard, junior Michael Flowers for points and leadership this season. 
The young Broncos, who couldn't keep promising guard Bryce Moore, who transferred to Xavier earlier this year, finished fifth in the last week's MAC West coaches poll. Athlon Sports have head coach Steve Hawkins' team finishing fourth in the MAC West, and named redshirt junior forward Brandon Johnson to its second team All-MAC. 
With a non-conference schedule including battles with Oklahoma State and Michigan State the Broncos will try to move on from last year and make a name for themselves in the conference. 
Plagued by the injury bug a year ago, the Broncos were obviously disappointed, according to Hawkins, saw some positives. After three of the starters on the 2018-19 roster went down with injuries, key freshmen like now-sophomore William Boyer-Richard recorded solid playing time that will grow into this season.
"We had three guys get hurt and they were all veterans, the bad news for last year was we had to play a lot of our young guys, freshman," Hawkins said. "That's the good news for this year though because they got a lot of experience last year."
With the play of Flowers, who averaged 15.7 points per game and 3.9 rebounds, the Bronco offense can score. Flowers is coming off an offseason where he rehabbed an injured knee, but after scoring 34 points against Michigan in WMU's 70-62 loss to the Wolverines, expectations are high.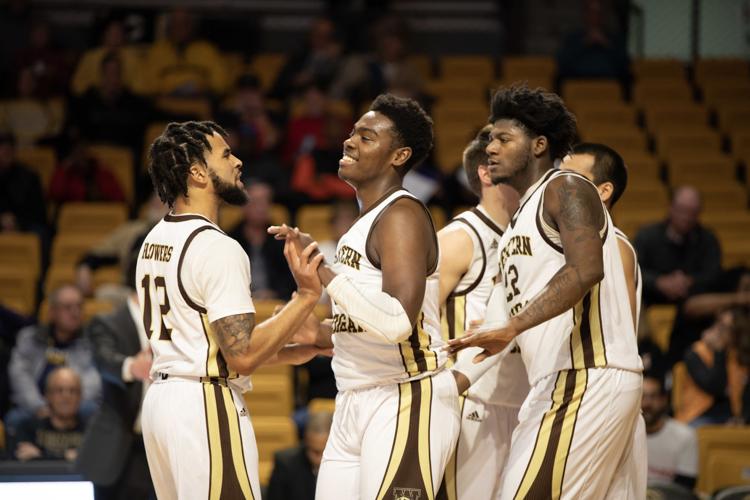 "We are more balanced, we are deeper and we are improved. I think Mike is gonna look better this year than he was last year because he is not gonna have to do as much," Hawkins said.
The Broncos get back one of their big men, redshirt junior forward Brandon Johnson, who had to take a medical redshirt last year due to a torn meniscus. Johnson over his career so far has an average of 8.6 points per game and will help the Broncos become more dynamic on the offensive side of the ball. 
"He can play the four and five, and he's experienced he has already had success at this level, he can score from many different levels," Hawkins said. 
Helping out the team and still finding their own roles will be the new freshman class, led by three-star forward, freshman Chase Barrs. Barrs is accompanied by freshman guard B. Artis White and freshman big man Titus Wright. With productivity, the talented trio have an opportunity to make a name for themselves this season and put Western Michigan on the map for years to come, regardless of their team's success this season.
"They are going to play, and they are going to be in the rotation for us," Hawkins said. "We are a young team, but we are experienced."
The focus for this season is on conference play rather than anything else on the schedule. As a whole, Hawkins continues to take it one game at a time, never letting his team look past an opponent. However, Hawkins acknowledged the quest to a MAC championship are always lingering in the back of their minds.
"Come January everybody will be 0-0 in conference play, and now we are playing for a title and we fully expect ourselves to be there and be competing," Hawkins said. 
Although the young team has had some players shine for them last year, the ones that did not get minutes from injury are the real surprises with fans this year. Johnson and redshirt sophomore Jason Whitens will return to the court after seeing no minutes a season ago. 
"(Whitens) wasn't big on stats, still won't be big on stats this year but he is the dirty work guy," Hawkins said. 
The word connect sticks out for the Broncos as a word to take into every practice and every game they play. Unlike some team mantras this one is simple, everyone just needs to connect and be a team. This is very evident at practices when the team is relaxing and bonding over their warm-up routines. 
"We talk about connecting all the time, you will see us in huddles everyone will have their arms around each other and they will touch one another on the back," Hawkins said.
Connect being the key word around this team for the year, the main phrase for the program as a whole has been next possession. The phrase, seen on all social media platforms, has been around the program for a while and has meanings extending past the basketball court.
"Whether it be life or basketball, it's about winning the next possession," Hawkins said.
Many teams would like to forget a year like the Broncos had last season where they won only eight of their 32 games, but not Hawkins and his crew. The team is using that down year as motivation to pursue great things this year. 
"I don't want to forget last year, and I don't want our guys to.  I want them to remember every second of every game, every practice, I want them to remember all of it because it needs to fuel them over this year," Hawkins said. 
The new-look Broncos start the 2019-20 season at home on Wednesday, Nov. 6 against McNeese State with tip-off set for 7 p.m. inside Read Fieldhouse.