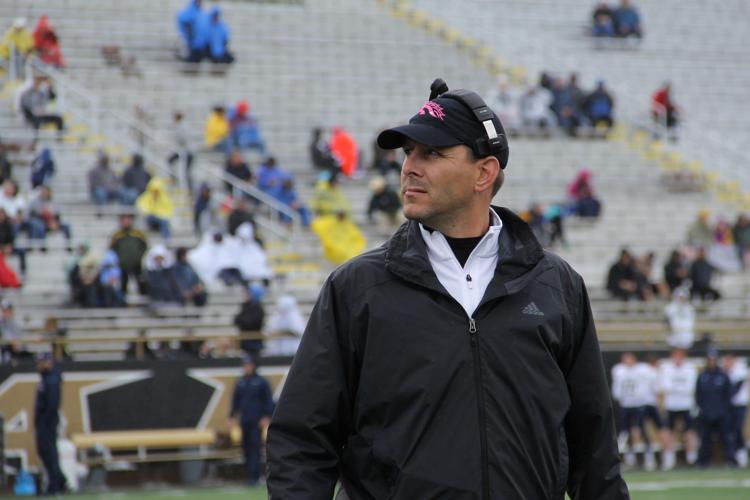 Western Michigan football had destiny in its own hands to begin the night. A win at Northern Illinois meant a Mid-American West Division championship and a trip to Ford Field.
That opportunity slipped away in a 17-14 heartbreaking loss at Northern Illinois on Tuesday night, with their only hope of getting to Detroit now having to come in the form of a Central Michigan loss versus Toledo on Friday.
In the first half, the Broncos could not get out of their own way as a catastrophe of errors led to getting shut out  to a short handed Northern Illinois team, who was without star running back Tre Harbison due to entering the transfer portal and without quarterback Ross Bowers due to injury.
On the Broncos first possession of the game, they were able to put together a nice drive of 11 plays and 43 yards that took just over five minutes off the clock. But as WMU got deep into NIU territory, a holding penalty by center Luke Juriga pushed the Broncos back and forced them to settle for a field goal try.
Kicker Gavin Peddie lined up for a 34-yard try to attempt to put WMU on the board first, but the Broncos missed a blocking assignment as NIU came in free to block the kick and return it to the WMU 44.
The Broncos defense would then have to step up to the challenge and they were able to do just that. Braden Fiske came up with a fumble recovery at the WMU 41 to keep the score at 0-0.
WMU's offense however could not take advantage of the takeaway, and on the Huskies next drive they were able to get on the board first with a field goal to make it 3-0.
The score stayed that way as both teams struggled to move the ball until the Huskies converted on a rather strange play midway through the second quarter.
Marcus Childers completed a screen pass to Tyrice Richie and he was spun down by cornerback Anton Curtis for what appeared to be a short gain. But as Curtis spun him, Richie landed on top of Curtis and kept running to burst in for a 71-yard score to put NIU up 10-0 with 2:15 to go in the half.
The Broncos would put together another drive late in the first half, but after getting deep into NIU's territory again, the Huskies would force a strip sack on Jon Wassink to preserve the 10-0 halftime lead. Despite out gaining NIU in the half, WMU found themselves in a hole going into the locker room.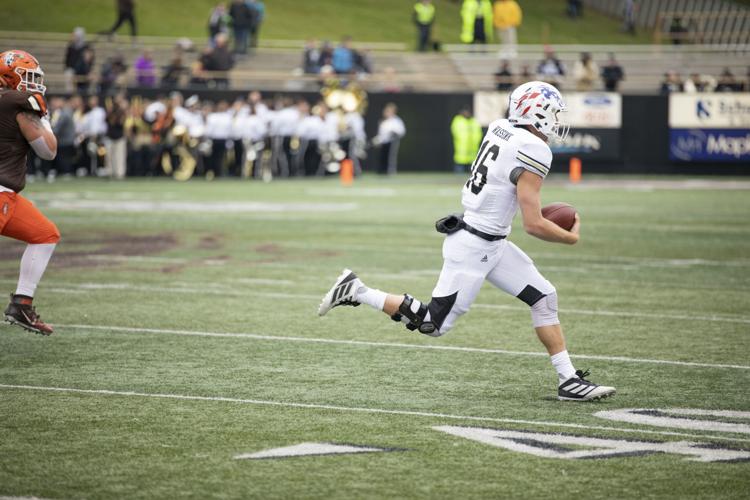 Coming out of halftime, the Broncos seemed to regroup. On their first drive coming out of the locker room, WMU was finally able to get their star running back going. LeVante Bellamy was featured on a five-play, 81-yard drive that ended with a Bellamy 16-yard score to make it 10-7.
The Broncos defense would continue to get stops to keep them in the game as they did a nice job shutting down the Huskies running game. The defensive line found themselves in the NIU back field for much of the game as Ali Fayad, Ralph Holley and Antonio Balabani combined for 18 total tackles, seven of them for loss, and a sack.
While the defense was doing its part, the Broncos offense just had trouble finding consistency on a night where the conditions made it difficult to throw the ball. The Broncos would have to punt the ball on their next four possessions after the quick third quarter touchdown.
NIU was finally able to extend their lead early in the fourth quarter. After WMU had to punt the ball from their own end zone after Wassink took a sack at the two yard line, the Huskies started their drive with good field position at the WMU 30.
They would take advantage as the Huskies brought out some trickeration to extend their lead to 17-7. Receiver Michael Love got the ball on a reverse play and drew the defense up to defend the run, leaving a wide open Mitchell Brinkman for a 7-yard touchdown pass to extend their lead to double digits with just over 10 minutes to go.
The Broncos offense would respond in a critical situation, putting together a six-play, 75-yard touchdown drive capped off by a Bellamy 16-yard run for his second touchdown of the game. At 17-14 with over seven minutes to play, it seemed like the Broncos had new life and was gaining momentum.
The defense would get another stop and give the ball back to the offense, but the offense could not drive down to take their first lead of the game.
NIU would get it back with 3:13 left with WMU needing a stop to get the ball back. After getting one first down and moving the ball into Broncos territory, quarterback Marcus Childers took a draw play on third-and-2 and ran for a first down on a play in what looked like would seal the game. But Childers fumbled on the play and Fayad recovered, giving WMU one last hope.
But that hope would not last long. Wassink found receiver Dashon Bussell on a seam route with just over two minutes to play around midfield. It looked like the Broncos were about to be in business, but as Bussell turned to run and tuck the ball into his body, it was knocked loose by NIU's  Dillon Thomas. The Huskies recovered and just like that, the Broncos saw the division title potentially slip right through their fingertips.
Western was led on the ground by LeVante Bellamy, who went for 128 yards on 21 carries and the two touchdowns. Wassink was 17-of-33 passing for 185 yards and one fumble lost. Receiver Skyy Moore had another big game, hauling in nine passes for 125 yards.
For NIU, Childers was just 6-of-11 for 86 yards and a touchdown and rushed for 54 yards on 11 carries. Marcus Jones had nine carries for 42 yards before leaving with an injury at halftime. Receiver Tyrie Richie had the one catch for 71 yards and the score.
The Broncos outgained the Huskies 348 to 250 and held NIU to 1-of-13 on third down. WMU also had 16 first downs in the game to NIU's nine. But the mistakes down in the red zone cost the Broncos in this one, even on a night where the defense gave a solid effort.
Western Michigan will now await their fate on Friday. Central Michigan will play Toledo at noon in a game where the Broncos need a Rockets win to get to the Mid-American Conference title game.
If CMU wins, the Broncos will await their bowl game announcement, as a 7-5 overall record will surely earn WMU a bowl bid.