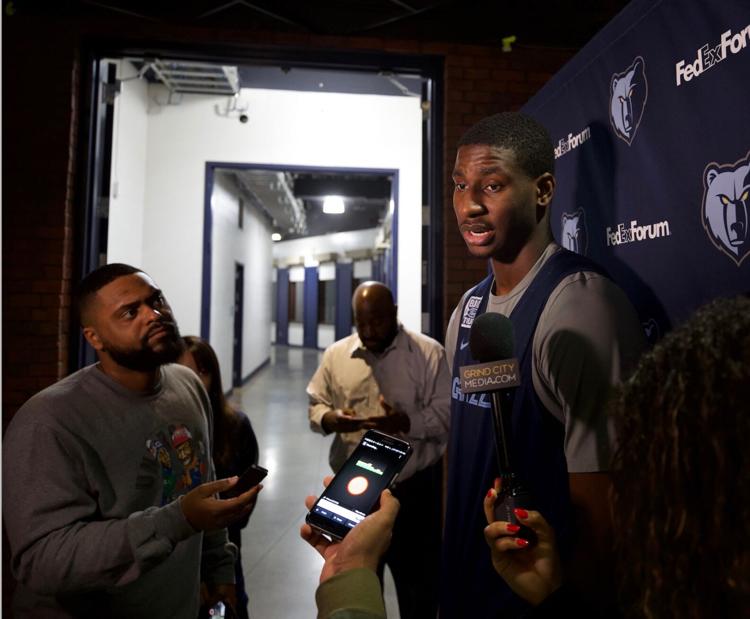 When Eric Woodyard was just 19 years old and enrolled at Western Michigan University, he would take nearly 2 1/2 hour road trips down I-94 in his 1997 red Cavalier after his classes were done for the day. But unlike many students who are in college, these road trips from Kalamazoo to Auburn Hills, Mich., weren't to spend a weekend with friends. Woodyard would travel to the Palace of Auburn Hills to cover NBA games for SLAM Magazine as a reporter while covering sports for the Western Herald and being a full time student- all while bringing in a total of $0 to do something he loved and still loves to this day.
"I was just grinding," Woodyard said. "I was also writing for my hometown paper, the Flint Journal, I would write for the Western Herald, then I got connected with SLAM Magazine. I was reading the magazine all the time and I just took a shot out of the dark and emailed the editor. I would drive all the way from Kalamazoo to the Palace of Auburn Hills after school and I was doing all of this stuff for free, but I was getting experience."
That experience Woodyard gained in college has certainly paid off, as the Western Herald alum now works for ESPN as an NBA reporter.
Woodyard started making connections early in his college career through the multiple outlets he was writing for at the time. He said at SLAM Magazine, being at NBA games allowed him to get connected with other sports reporters while being able to interview NBA stars like Allen Iverson, Kobe Bryant and Ray Allen while he was still in school.
Woodyard said those connections early on helped him gain an edge in the field.
"I think being fearless in the process of just meeting new people and not being scared," Woodyard said. "I was a teenager when I got my first credential to an NBA game, which was Iverson's first home game against the Celtics as a Piston. That was great getting those opportunities and doing all the free stuff I could and building the name and network for myself and not limiting myself to one thing."
Woodyard said when he covered that Pistons-Celtics game, he was star struck for the first time in his life and was in awe of everything happening around him.
"It's funny looking at it now because I didn't know what the hell was going on," Woodyard said. "We're literally in the cafeteria arguing about basketball one day and going to play basketball at the rec, and the next day I'm literally in the locker room with Allen Iverson. I was there super early, I was the first one to get there. I called my Mom and I'm like 'I can't believe this is Allen Iverson here.' Then, after the game, I went over to the Celtics side and Ray Allen was calming me down along with Kendrick Perkins. I was telling them this was my first time being in there and they were just like 'man, you'll get used to it, just keep being yourself.' They were kinda giving me advice."
Woodyard said he got more comfortable as time went on and eventually got to interview Kobe Bryant.
"Once I knew I could talk to Kobe, it was like, 'I'm not scared to talk to anybody else at that point.' It was intimidating initially but you learn, and I'm glad I got a chance to learn young."
Networking has been a key part of Woodyard's journey. He said becoming a member of the National Association of Black Journalists (NABJ) allowed him to meet prominent reporters in the sports reporting business to allow him to get his name out there.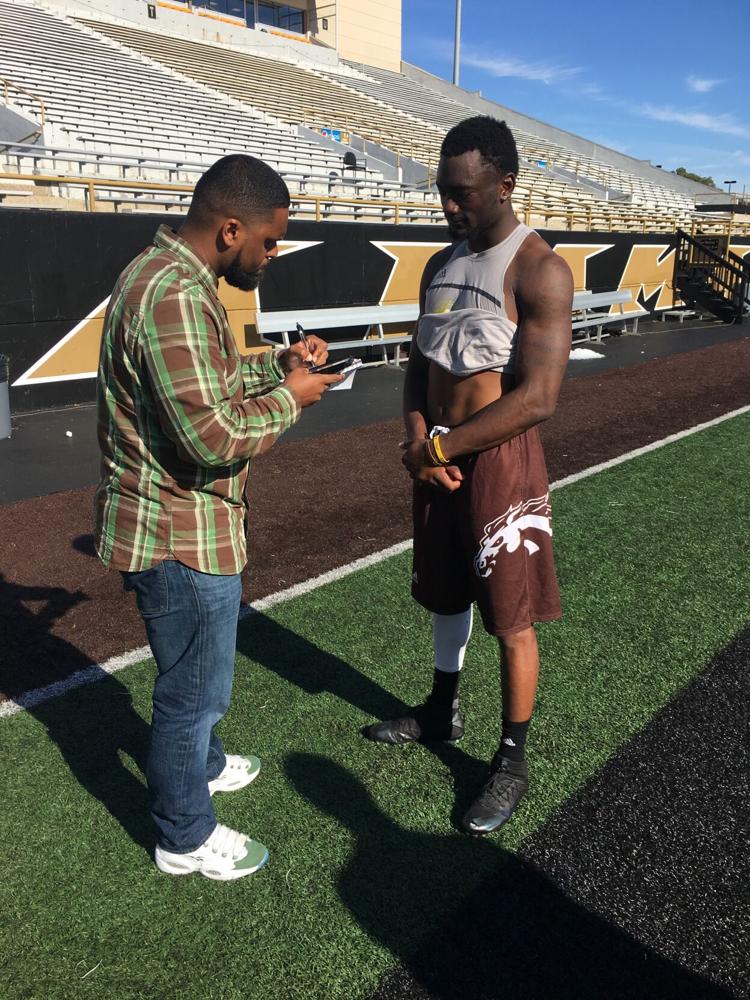 Coming out of WMU in 2010, Woodyard gained enough experience to give him options in the job market. Woodyard could have been at ESPN much earlier in his career, as he was offered a job there as a production assistant out of college. He also had an opportunity to go back to his hometown in Flint to work for MLive. To get help on the decision, Woodyard turned to Fox Sports reporter Chris Broussard, who he connected with through NABJ, to give him advice on what to do.
"I talked to Chris Broussard, who used to work for ESPN, and I asked him 'what should I do? ESPN is a big name, should I do that or go back to my hometown?' He's like 'man, go back to your hometown and if you do good enough, ESPN is going to come back and talk to you,' and sure enough, 10 years later I'm in this position now."
Woodyard worked as a sports reporter for MLive in Flint before taking maybe the biggest leap in his career prior to getting hired by ESPN.
In 2017, Woodyard received a job opportunity in Salt Lake City, Utah, to cover the Utah Jazz as a digital sports reporter. Before taking the job, Woodyard had to consider leaving his city for a place that is much different from Flint, along with leaving his three-year-old son at the time. But Woodyard, who had been turned down for several NBA jobs before the Deseret News took a chance on him, knew this was the opportunity he had to take.
"People thought I was crazy, all my friends were like 'you're going to Salt Lake City? You're really going there?' And Gordon Hayward was leaving, they didn't have any marquee names. So I took that opportunity and that was the best decision I ever made in my career. I got a chance to see another rising start in Donovan Mitchell and Rudy Gobert and I just gave it my all, man. I really did, I put my all into it. It was a big sacrifice leaving my son back in Flint. But, they were really good with letting me come back and visit home and just gave me all the resources to tell great stories and put money behind me. They let me go spend three days with Karl Malone and I got to do a great story with him. Just all these great opportunities with getting to travel and experience every NBA arena. I have just appreciated every single step."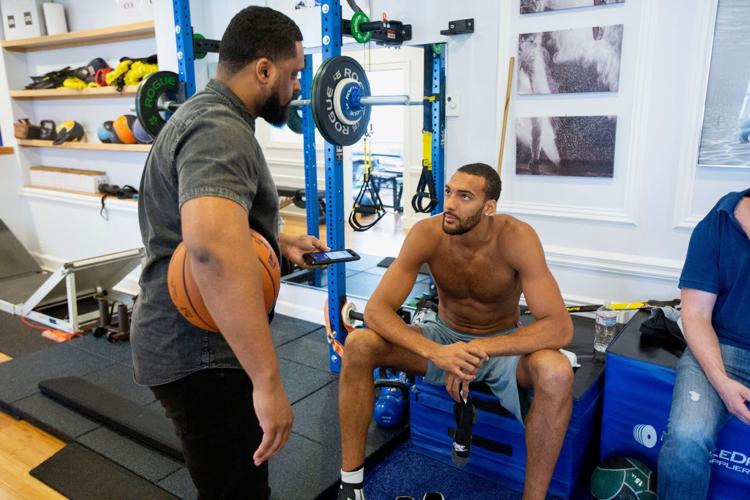 In September of 2019, Woodyard landed the job with ESPN and currently still holds that position. 
Through Woodyard's journey from the Western Herald and his other college experiences, to his time in Utah and now at ESPN, Woodyard offered some pieces of advice for young writers who aspire to break into the competitive field of sports journalism.
"I would say to be authentic to yourself and always believe in yourself. It sounds very cliche, but develop your own style," Woodyard said. "Find something that makes you valuable that nobody else is doing. I would read other writers and seek advice, but ultimately, I was always trying to create my own style, trying to create my own lane. I think once you find yourself and find your voice and once you become valuable to a company because you're bringing something to the table, then they want to come reach out to you. They were telling me the same things-'newspapers are dead, journalism is dead', all of this stuff , and that was 10 years ago and it's still going on. People will always need journalists' voices."