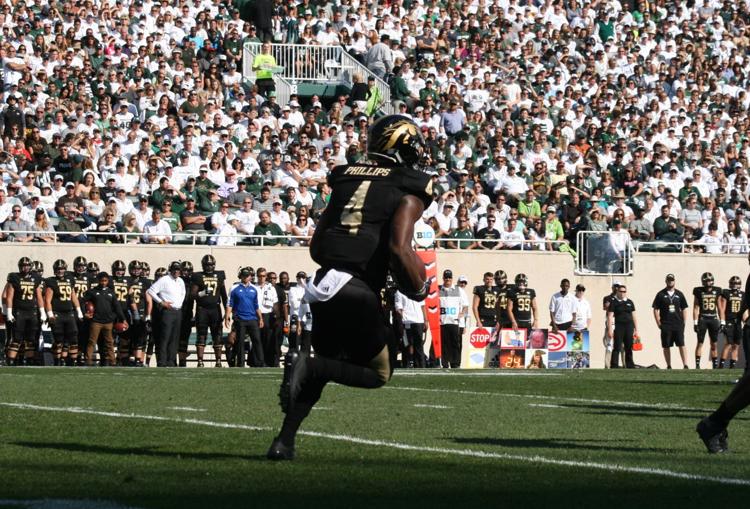 Last Friday, the Western Herald revealed the "WMU football madness" bracket for the top 32 players in Western Michigan football history.
Fans voted on twitter to decide on the first round matchups for four different regions and on Tuesday evening, the polls closed to wrap up the first round as fans decided which players would move onto the Sweet 16.
Here is a quick rundown of how the first round turned out.
Offense/Special Teams Region 1
(1) Greg Jennings (WR) defeated (8) LeVante Bellamy (RB), 82%-18%.
(4) Tim Hiller (QB) defeated (5) Jerome Persell (RB), 68%-32%.
(6) Chukwuma Okorafor (OL) defeated (3) Tom Nutten (OL), 67%-33%.
(2) Jarvion Franklin (RB) defeated (7) Alex Carder (QB), 91%-9%.
In the top half of the region, a Greg Jennings-Tim Hiller matchup should be fun for fans to vote on, especially considering the two were teammates in 2005 when Hiller was throwing touchdown passes to Jennings.
Hiller was named MAC Freshman of the Year that season as Jennings was the MAC Offensive Player of the Year in what was his senior season.
In the bottom half, it will be another pair of teammates going at it in the second round as Okorafor pulled off the upset against super bowl champion center Tom Nutten while Franklin secured a convincing win over Carder.
Offense/Special Teams Region 2
(1) Corey Davis (WR) defeated (8) Tim Lester (QB), 93%-7%.
(4) Taylor Moton (OL) defeated (5) Robert Sanford, 61%-39%.
(3) Zach Terrell (QB) defeated (6) Jordan White (WR), 54%-46%.
(2) Tony Scheffler (TE) defeated (7) Dale Livingston (K), 93%-7%.
In region two, the "teammate vs. teammate" round two matchups remains consistent as Corey Davis and Taylor Moton moved on to the Sweet 16.
With Moton's win over Robert Sanford, that means Franklin is the only running back out of the four in the bracket to make it to round two.
The Zach Terrell-Cody White matchup was a good one, with Terrell just coming out on top to face tight end Tony Scheffler in the next round.
Terrell is the leading passer in WMU history at 12,104 yards while Scheffler sustained an eight-year NFL career.
Defense Region 3
(1) John Offerdahl (LB) defeated (8) Terry Crews (LB/DE), 70%-30%.
(5) Ameer Ismail (LB) defeated (4) Mark Garalczyk (DT), 73%-27%.
(6) Drew Nowak (DL) defeats (3) Dion Powell (DL), 56%-44%.
(2) Joel Smeenge (DE) defeats (7) Vern Davis (CB), 88%-12%.
The second round for this region will feature an interesting matchup between linebackers in Offerdahl against Ismail. 
Ismail dominated in his final two seasons at Western Michigan while also earning a MAC Defensive Player of the Year award in 2006. Offerdahl is WMU's all-time leading tackles leader, second in forced fumbles and is also a five-time NFL Pro Bowl selection.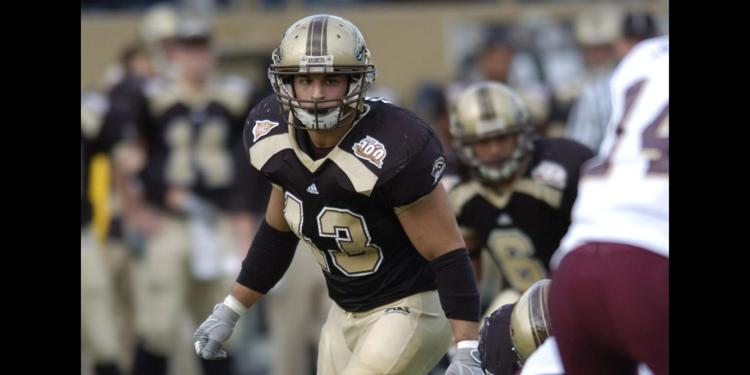 In the bottom half, a pair of defensive linemen will dual it out in round two as Smeenge secured a convincing win over Davis while Nowak defeated three-seed Dion Powell.
Defense Region 4
(1) Jason Babin (DE) defeated (8) Louis Delmas (S), 54%-46%.
(4) Bernard Thomas (DT) tied with (5) Sean Mulheran (LB), 50%-50%. Thomas advances on tiebreaker.
(3) Darius Phillips (DB) defeated (6) Keion Adams (DE/LB), 95%-5%.
(2) Bob Rowe (DT) defeated (7) Dough Kraus, 69%-31%.
The top half of this region consisted of two tight matchups, with Louis Delmas nearly pulling off the big upset against Jason Babin, but Babin prevailed. Bernard Thomas and Sean Mulheran tied at 32 votes apiece, but after a 10-minute poll extension, Thomas came away with more votes to move on.
Darius Phillips won decisively over Keion Adams in the bottom half of the region, the most convincing win of round one.
That sets up an interesting matchup between Phillips and Rowe, who are from two totally different eras yet have both have a ton of success.
Rowe spend 10 years in the NFL with the Arizona Cardinals while Phillips currently plays for the Cincinnati Bengals.
Entire Sweet 16
Offense/Special Teams Region 1
(1) Greg Jennings (WR) vs. (4) Tim Hiller (QB)
(2) Jarvion Franklin (RB) vs. (6) Chukwuma Okorafor (OL)
Offense Special Teams Region 2
(1) Corey Davis (WR) vs. (4) Taylor Moton (OL)
(2) Tony Scheffler (TE) vs. (3) Zach Terrell
Defense Region 3
(1) John Offerdahl (LB) vs. (5) Ameer Ismail (LB)
(2) Joel Smeenge (DE) vs. (6) Drew Nowak (DL)
Defense Region 4
(1) Jason Babin (DE) vs. (4) Bernard Thomas (DT)
(2) Bob Rowe (DT) vs. (3) Darius Phillips (CB)