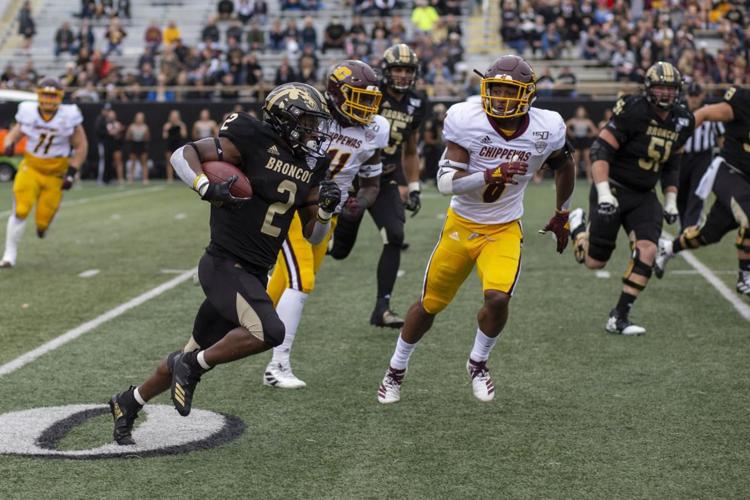 Western Michigan(3-3, 1-1 MAC) 
The Broncos traveled to Toledo to take on the Rockets in a game that had big implications in terms of the Mid-American Conference West standings. Unfortunately for WMU, it was the Rockets who came away with a 31-24 victory, dropping the Broncos to 3-3 on the season and 1-1 in the MAC. Wassink finished 25-of-51 for the Broncos with two touchdowns. LeVante Bellamy had 13 carries for 70 yards and a touchdown on the ground. WMU will next face Miami (OH) on Sat. Oct. 12 at noon. 
Kent State (2-3, 1-0 MAC)  
The Golden Flashes will be glad to see non-conference play come to an end. They have taken trips to Arizona State, Auburn and Wisconsin and were outscored 133-23 in those three games. Their last defeat came through the hands of Wisconsin as they were beaten 48-0 by the Badgers. Wisconsin running back Jonathan Taylor made easy work of Kent State's defense, going for five touchdowns on 19 carries and 186 yards. The Golden Flashes didn't have much going on offense either, as they combined for just 124 yards of total offense. Luckily it gets much easier for KSU next week as they travel to Akron to face the winless Zips. Game time for that one will be at 3:30 p.m. 
Central Michigan (3-3, 2-1 MAC)
Central Michigan faced off against Eastern Michigan this past week, dominating them with a score of 42-16. The Chips scored 14 points in two quarters and seven in the first and fourth, they also shutout the Eagles in the second quarter. Central ended the game with 589 total yards with 310 rushing yards. Jonathan Ward carried the team with 132 yards on 12 carries.  Now sitting at 3-3 and 2-1 in the MAC the Chips turn to their last non-conference matchup. They face New Mexico State this upcoming Saturday at 3:00 p.m. on ESPN3. 
 Bowling Green (1-4, 0-1 MAC)
Facing off against the No. 9 ranked team in the country, Bowling Green couldn't get it done against Notre Dame. The Falcons lost the contest 52-0 were dominated by the air attack led by Ian Book and Phil Jurkovec. BG quarterback Grant Loy went 13-for-25 passing with 106 yards. He also ended the game with one interception.  The Falcons are currently last in the MAC East standings sitting at 1-4 and 0-1 in conference.  Bowling Green resumes MAC play against Toledo on Saturday at 12:00 p.m.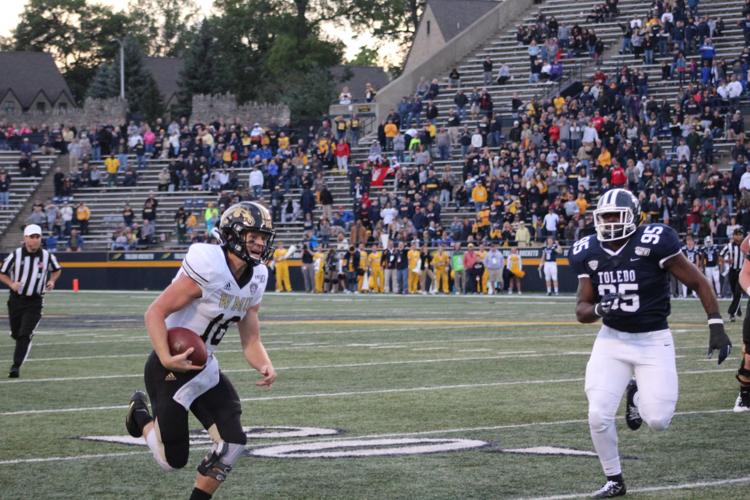 Buffalo (2-4, 0-2 MAC)
The Buffalo Bulls lost a thriller to the Ohio Bobcats on Saturday by a score of 21-20 in overtime. O'Shaan Allision performed well for the Bobcats rushing for 96 yards and two touchdowns. The Bulls made it down the field in overtime and scored a touchdown, but missed the extra point. Bulls running back Jaret Patterson ranks third in the MAC for rushing yards with 598 averaging 5.2 yards per carry. Buffalo will be on a bye this week before traveling to Akron to faceoff with the Zips. 
Eastern Michigan (3-2, 0-1 MAC)
 The Eagles kicked off MAC play this past Saturday on the road against Central Michigan. Eastern Michigan did not come out to play and suffered a 42-16 loss against the Chips. Mike Glass III had another big game passing for 193 yards completing 19 of his 33 passes and threw for a touchdown. Mathew Sexton had a solid performance for the Eagles catching five passes good for 56 yards and a touchdown. Despite those big offensive performances, the Eagles couldn't put up a fight against the Chips. EMU welcome Ball State this Saturday in their second MAC game of the season. 
Akron (0-5, 0-1 MAC)
Akron was on a bye this week, with an overall season record of 0-5, using this week to regroup and get recharged for the upcoming conference schedule. So far on the year junior quarterback Kato Nelson has been a bright spot on the team with 1,065 passing yards and eight touchdowns, putting him sixth in the conference in passing. On the ground the team has been struggling averaging only 50 yards per game, but the bulk of the rushing yards so far has been thanks to senior Deltorn Sands, with 88 yards and one touchdown on the year. Defense has been another not so great part of the team, giving up 450 yards per game. The Zips will continue their MAC season at home against Kent State on Saturday, Oct 12th. 
Northern Illinois (1-4, 0-1 MAC)
Northern Illinois lost a hard-fought game against Ball State this past weekend by the score of 27-20 moving the season record to 1-4 and 0-1 in conference play. The Huskies started the game out fast jumping to a 17-3 lead going into halftime, then came out of halftime flat being outscored 24-3 in the second half. Senior quarterback Ross Bowers had a good game going 21-for-43 with 241 yards and an interception. While junior running back Tre Harbison had all the team's touchdowns with two in the first quarter. Harbison finished the game with 22 carries for 146 yards and two touchdowns. Northern Illinois will try to get back in the winning column Saturday, Oct. 12 when they travel to Ohio University to take on the Bobcats. 
Miami (OH) (2-3, 1-0 MAC) 
Miami (OH) had a bye this week, sitting at 2-3 this year and 1-0 in conference play. Which gives a chance to break down some stats from the team. Freshman quarterback Brett Gabbert has been taking the reins in his first year and putting up decent numbers with 649 yards and three touchdowns so far on the year. On the defensive side of the ball sophomore defensive back Sterling Weatherford has put up a team high 33 tackles so far this year. The Redhawks are looking to stay undefeated in conference play as they travel up to Kalamazoo to take on Western Michigan on Saturday. 
Ball State (2-3, 1-0 MAC) 
Ball State had a tough matchup at Northern Illinois this weekend, coming home with a 27-20 win, moving them to 2-3 on the season and 1-0 in the MAC. Ball State had a huge second half where they outscored the Huskies 24-3 after trailing 17-3 at halftime. The Cardinals had a huge outing from junior running back Caleb Huntley as he posted 157 yards on 35 carries and two touchdowns. Junior quarterback Drew Plitt went 4-for-14 with 34 yards and an interception. Next week the Cardinals come up north to face Eastern Michigan at 2 p.m.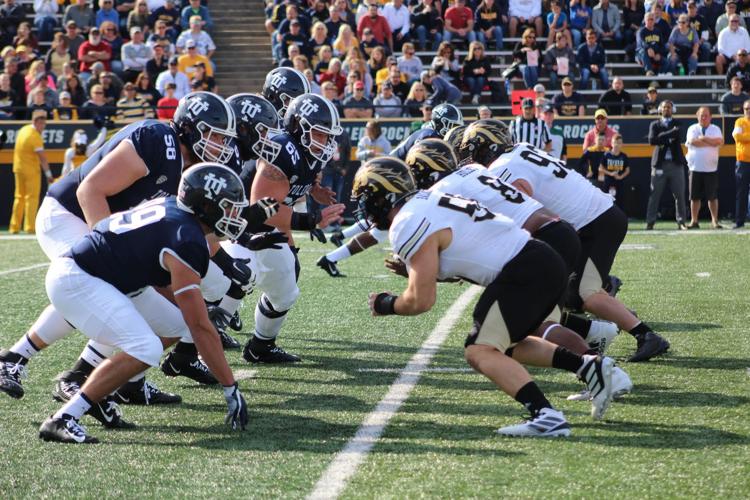 Toledo (4-1, 1-0 MAC) 
Toledo defeated Western Michigan 31-24 and are in 1st place in the MAC West and has a record of 4-1 on the season. Quarterback Mitchell Guadagni was responsible for four touchdowns in the game, two in the air and two on the ground. Guadagni is fourth in the MAC with a 152.2 passer rating. Running back Bryant Koback finished with 177 rushing yards in the game. Koback is third in the MAC with 451 rushing yards. After taking a commanding 24-7 lead at half, Western fought their way back but a 1-yard touchdown by Guadagni closed the door on a Rockets victory. Toledo's next game will be away on Saturday against Bowling Green. 
Ohio (2-3, 1-0 MAC)
Ohio defeated Buffalo in overtime 21-20 to get its first MAC win of the season and improve its record to 2-3 on the season. Ohio won the game in overtime after Buffalo got the first possession in overtime, and scored on a Kyle Vantrease 3-yard touchdown run but a missed extra point by Jackson Baltar opened the door for Ohio to score on its first possession of overtime with a 5-yard touchdown run by O'Shaan Allison and an extra point by Louie Zervos won the game for the Bobcats. O'Shaan Allison not only had the game tying touchdown, he had another touchdown earlier in the game along with 96 yards in the game. Ohio's next game is at home against Northern Illinois on Saturday.