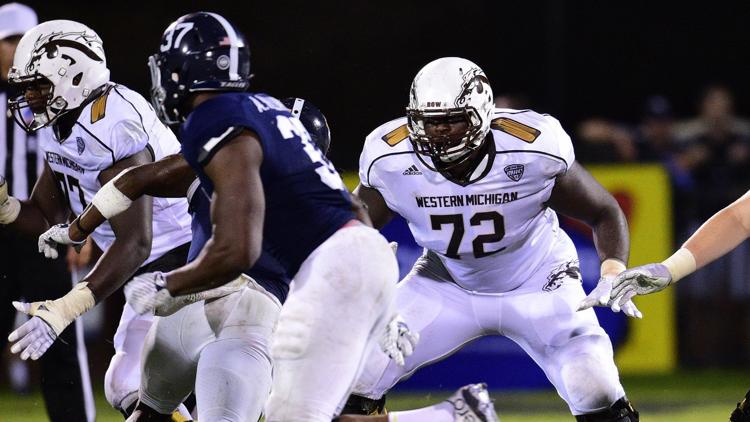 Anyone who has followed Western Michigan football over the past three seasons knows head coach Tim Lester is an optimist.
He has said many times in the past that he chooses to approach situations with a positive mindset.
Although the coronavirus pandemic has diminished much of what WMU can do as a program right now, it has also opened up some new opportunities and teaching points that Lester may not have been able to use with his team during normal circumstances.
Lester, looking to the positives, said he and his team have had some time to take a step back and prepare in more unique ways than ever before.
"Every time we meet, we normally are watching film from yesterday and you're putting things in that we are doing tomorrow," Lester said last week in an interview with the Western Herald. "There's always something on the horizon that you're preparing for. So it's been awesome to not have that."
Lester said he and his team have been able to also study film of some NFL greats while in quarantine.
"I can get on a virtual call with (Kaleb) Eleby or (Nick) Kargman or any of the quarterbacks and we can just watch film. We can study Tom Brady and we can study Peyton Manning," Lester said. "I was in the wide receivers (virtual) room the other day and they were studying DeAndre Hopkins and in terms of running routes, he is one of the best in the world."
Not only have WMU's players gotten an opportunity to study film from NFL greats, but they have also been able to talk to some current guys in the pros to pick up on some tips.
"I was in the offensive line (virtual) room and (Taylor) Moton is on there," Lester said. "He's talking to the guys about college and the things he did well, things he wishes he would have done better and what it's gonna take to get to the next level."
Moton played at WMU from 2012-16 and was drafted by the Carolina Panthers in the second round of the 2017 NFL Draft. He is now the starting right tackle for Carolina.
Lester said Luke Juriga also joined the offensive line meeting to talk to the players. Juriga just signed with the Philadelphia Eagles as an undrafted free agent.
At the time of the interview, Lester also mentioned Titans wide receiver Corey Davis and former Green Bay Packers wideout and Super Bowl champion Greg Jennings were scheduled to make appearances as well.
"There are so many things we're able to do right now," Lester said. Sometimes during training camp, when I was a quarterbacks coach, we could find some time to do some of this other fun stuff. But right now that's all we're doing and that is the positive. Our wideouts are watching some of the best in the world and we have time to do some of these other things that are pretty unique."