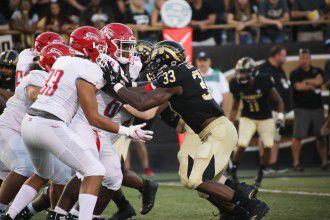 Western Michigan coach Tim Lester has stated numerous times how much he likes his depth on the defensive line coming into the 2019-20 season. 
That depth should be put to the test now, as they have had a couple of their defensive tackles go down to injuries during fall camp.  
Coach Lester announced after practice on Tuesday that senior Wesley French sustained a season-ending injury early in fall camp during an individual drill. French had 22 tackles and 1.5 tackles for loss last year and was expected to play a key role up front again this season. 
Junior Ken Aguirre is the other defensive tackle to sustain an injury early in camp. Luckily for Bronco fans, his isn't as severe, as he will be out 6-8 weeks. Still, that would cause him to miss at least the season opener against Monmouth University, if not more games. 
So, the Broncos will have to rely on that depth coach Lester talks about. They do return Ralph Holley at defensive tackle, who had a career-high 7.0 sacks last season and their leading sack getter, junior Ali Fayad at 7.5, is back. 
Here is a full breakdown of what to expect on the Broncos defensive line this season:  
Fayad was a key force for the Broncos in 2018. He started in 12 of 13 games, sacking quarterbacks 7.5 times while making 12 tackles for loss and forcing four fumbles. Fayad thinks he can get to the QB even more this year. 
"Now I've set myself a baseline," Fayad said. "Now I've got to get better than that, even try to double that number." 
As a true freshman, Carter gained some experience last season, appearing in five games. The Detroit native made seven tackles in those games, including seven for loss. With the experience he gained, it will help, but the snaps he sees remains to be seen with the depth at that position.  
Collins is a fifth-year transfer from Tennessee Tech. He recorded a total of 139 tackles, 16.5 tackles for loss and seven sacks in his career. Defensive coordinator Lou Esposito mentioned him at Media Day as one player that he thinks will really help their defense and that he has fit in with the team well. 
Marshawn Kneeland (Freshman) 
Kneeland is a freshman who set records at Godwin Heights for tackles, tackles for loss, and sacks. He also was a regional champion in track in the 400m run, speaking to his athleticism. He will be surrounded by veteran presence at his position, which is always good for a young player. 
Guilorry is another guy who has seen a lot of snaps on the defensive line. Last year as a sophomore, he appeared in 12 games, recording eight tackles and a sack. He is another good depth guy who can rotate in and make a play. 
Joseph Salisbury (Freshman) 
Salisbury is another in-state product, hailing from Gross Pointe Woods, MI. He is another freshman who should benefit from the veteran presence around him to help him grow. In 2017, he was a First Team All-Conference player in high school at Grosse Pointe North. 
Holley started in 11 of 13 games as a sophomore. He finished second on the team with seven sacks and totaled 9.5 tackles for loss. He will need to man the middle again in 2019 for the Broncos defensive line to be what they want it to be as the defensive tackle position has thinned out over the last week due to injuries. 
Braden Fiske (RS Freshman) 
In 2018, Fiske appeared in two games, making his debut against Ball State, while also seeing some action in the bowl game at the end of the season. It seems entirely possible he will see more action in 2019 with French out and Aguirre being out temporarily.  
French suffered a season-ending injury early in fall camp. Lester said it was the same injury quarterback Jon Wassink suffered late last season. The loss is a blow for the Broncos, as Lester admitted he would be difficult to replace after French totaled 22 tackles last season. Lester did say he expects French to be granted another year of eligibility by the NCAA next season. 
Williams is a JUCO product who totaled 31 tackles and 6.5 sacks as a sophomore. In 2017, he attended WMU and was on the scout team. 
As a sophomore last season, Aguirre played in a career-high 10 games. He was announced being out 6-8 weeks on Aug. 1, so it's likely he could miss the beginning portion of the season. When he returns, the coaching staff will hope last years' experience will help him build into even more production in 2019.  
In 2018, Smith played at Central State University, recording 19 tackles with a sack and a fumble recovery. He is another in-state product, playing high school ball at Cass Tech High School.  
Misak is a 6-foot-3, 260-pound freshman from Mattawan High School in Michigan. As a senior, he recorded 78 tackles, 15 tackles for loss and eight sacks. 
Will McCabe (RS Freshman) 
McCabe redshirted in 2018, but he played in the maximum four games last year while still being able to redshirt. Defensive coordinator Lou Esposito pointed him out as a player who has really stepped up this offseason. McCabe could surely be a guy to make an impact at tackle.