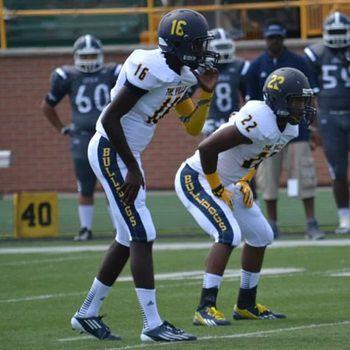 After the 2018 season concluded, the Broncos ranked 59th in the country in passing yards allowed, allowing 2,870 total which equals out to 220 yards per game according to NCAA.com. There were some corners and safeties that played at a high level, but collectively they were not in sync. If the Broncos hope to make a run and take a Mid-American Conference title, the cornerbacks along with the rest of the secondary will need to step it up.
Here we take a look and see what the current cornerbacks can bring to the defense in hopes of a better season overall.
Anton Curtis
Last year in his redshirt junior season, Curtis contributed well to the Bronco defense. He ended the 2018 campaign with 24 tackles, three pass breakups and two interceptions.
Some of his better games last season include his performances against Miami, Bowling Green and the bowl game against BYU. In the 40-39 thrilling win against Miami, he recorded five tackles. Curtis had his two interceptions in the win over Bowling Green. In the Idaho Potato Bowl loss, Curtis had three tackles.
Patrick Lupro
In 2018 as a true freshman, Lupro played in 12 games while recording 12 tackles and one fumble recovery. He made his college debut in the second game of the season against Michigan.
During his high school tenure, the Belleville native, was a three star recruit and named the 25th best player in the state by Rivals.com. Lupro was also an honorable mention All-State by Daily Tribune and was named to the Detroit Free Press All-West team.
Keni-H Lovely
Lovely is entering his first year of eligibility as he redshirted last year entering his freshman season. 
The Florida native was a standout player in high school having a total of 15 division one offers along with many accomplishments. Lovely was first team all-conference and a second team all-state player. He recorded 80 tackles along with four forced fumbles and played in a state championship game.
Calin Crawford
During his redshirt sophomore campaign in 2018, Crawford appeared in nine games making his college debut against Michigan.
Crawford recorded his first career tackle against Bowling Green and had two tackles in the contest against Toledo.
Keith Jones Jr.
As Jones enters his freshman season for the Broncos, fans and coaches have a lot to be excited about this player. In high school, he was a Missouri first team all-conference and second team all-district selection.
Crawford had 76 total tackles and was also a track and field state champion, so he has the legs to keep up with the fastest of receivers.
Ginial Isma
During his freshman campaign, Isma appeared in 11 games in 2018 making his college debut in the kickoff game against Syracuse. Isma recorded his first tackle against Michigan finishing the season with three tackles total.
In high school, the Florida native was named to the second team All-Broward county team. Isma recorded 106 total tackles along with three interceptions that he ran back for touchdowns.
As Isma continues to mature and become a better athlete, he maybe a lethal weapon for the Bronco defense.
Kareem Ali
Ali is a fifth year transfer from Temple, he played two seasons for the Owls while battling injuries. He played in a career high four games during the 2016 season. During his high school career in New Jersey he earned All-Conference, All-State and All-County honors.
K.J. Anderson 
During his redshirt freshman season in 2018, Anderson made his college debut against Michigan.
While in high school, the Georgia native helped lead Buford High School to a regional title and its tenth consecutive state championship in school history. Anderson was a three star recruit by Rivals.com.
Zonterio Weekley
A true freshman coming into 2019, Weekley is born and bred in Kalamazoo, attending and playing football for Kalamazoo Central High School. During his senior season, Weekley had 33 tackles while breaking up six passes, he was also named Second Team All-Southwestern Michigan Athletic Conference.