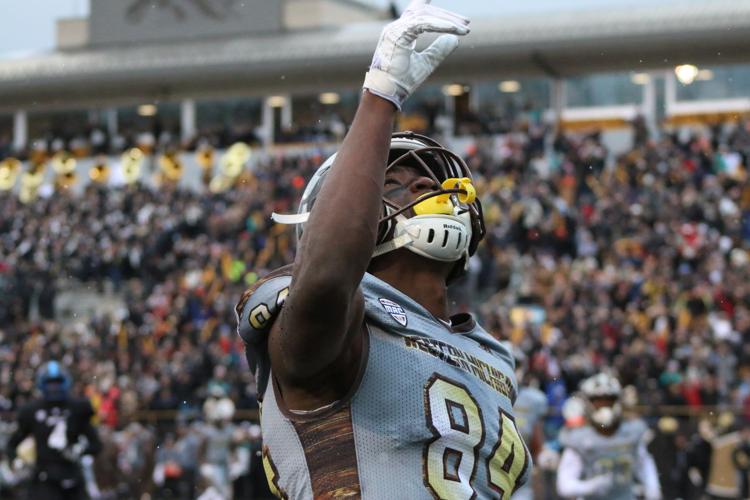 While there will be no NCAA men's basketball champions crowned on Monday due to the coronavirus pandemic, a champion was decided by fans on twitter in the WMU Football Madness tournament.
One-seed Corey Davis defeated three-seed Darius Phillips convincingly in the championship round as the poll ended on 5 p.m. on Monday.
Davis dominated the 32-player tournament created by the Western Herald that began on March 20. Davis defeated (8) Tim Lester in the first round, 93%-7%, (4) Taylor Moton in round two, 96%-4%, (2) Tony Scheffler, 94%-6% in the Elite Eight, edged out (1) Greg Jennings in the Final Four, 57%-43% and won convincingly over Phillips in the final, 82%-18%.
Jennings, a WMU great and super bowl champion, was the only former Bronco to threaten Davis in the polls, who emerged out of "Offense, Region 1" to reach the Final Four.
Current Cincinnati Bengals cornerback Darius Phillips was a teammate of Davis' while winning a Mid-American Conference championship and reaching the Cotton Bowl in 2016 together.
Phillips defeated one-seed and WMU legend John Offerdahl (linebacker) in the Final Four before falling to Davis in the title matchup. Phillips had cruised up to that point as he clearly had tons of fan support in the tournament as well.
Davis, currently with the NFL's Tennessee Titans, is the all-time WMU football leader in receptions (332), touchdown receptions (52), yards (5,285) and touchdown receptions in a season (19 in 2016).
In 2013, Davis showed his skill as a freshman, hauling in six touchdowns for 941 yards on the season. Then, in his final three years, he ascended as a player, catching 46 touchdown passes in his last three seasons as a Bronco while racking up 4,337 more yards after his freshman campaign.
Davis has plenty of memorable moments in a Bronco uniform, including his 272 yards receiving in a game against Ball State in 2016 (a WMU record), his three touchdown receptions in the 2014 Famous Idaho Potato Bowl and a touchdown reception against Wisconsin in the 2016-17 Cotton Bowl.
As a Titan, Davis has 142 receptions and six touchdowns in three seasons with the team, while also hauling in a touchdown pass against the Kansas City Chiefs from running back Derrick Henry in last season's NFL playoffs.
The Titans drafted Davis fifth overall in the 2017 NFL Draft, the highest any former WMU football player has ever been selected in the draft. Davis has one year left on his four-year, $25,394,688 deal.