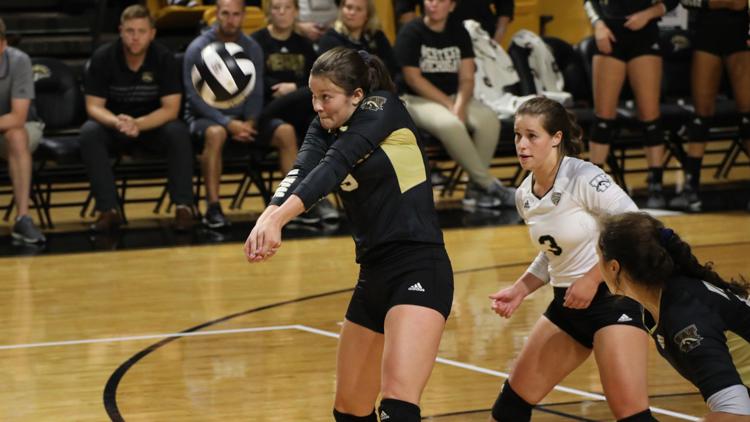 Western Michigan started the first day of the Delta Hotel by Marriott Conference Center Tournament at University Arena with a come from behind victory against IUPUI, winning in five sets by the scores of 22-25, 19-25, 25-19, 25-15 and 15-13. 
Junior Rachel Bontrager had record breaking day, during the third set of the match she earned her 1,000th career kill. Bontrager is now the 23rd member of the 1,000 kill club at Western Michigan.
The Broncos were led by a pair of double-doubles from Bontrager (16 kills and 15 digs) and junior Mary Marzo (34 assists and 15 digs). Defensively for the Broncos redshirt sophomore Charley Andrews helped the Broncos hold IUPUI to a .103 attack percentage with five blocks.
The Jaguars had an offensive explosion thanks to a double-double by sophomore Hannah Oehlberg with 12 kills and 12 digs. While on the other side freshman Corrissa Remter helped the Jaguars with five blocks. 
The second game of the tournament was a hard fought match that ultimately led to a three set loss to Auburn by the scores of 26-28, 20-25 and 18-25. Although the Broncos got swept they fought hard and kept a team attitude of never giving up.
For the Broncos, Bontrager took control of scoring with 12 kills during the game, with Marzo racking up 23 assists. Andrews helped on defense with two blocks. 
The Tigers were led by junior Chesney McClellan with 12 kills and junior Morgan Kull contributing with 32 assists. McClellan also helped the Tigers hold the Broncos to a .108 attack percentage. 
On the second day the Broncos were looking to get back to their winning ways against Michigan State. The Broncos fought hard but fell in three straight sets against the Spartans by the scores of 19-25, 24-26 and 14-25. 
The trio of Bontrager, Meredith Phillips and Maggie King helped offensively with double digit kills. Bontrager lead the group with 12 while Phillips and King added 10 each. Defensively Andrews led again with three blocks. 
Spartan sophomore Molly Johnson put up double digit kills with 10, and senior Maggie Midgette contributed with 20 assists. On defense, sophomore Naya Gros led the team with four blocks. 
The Broncos next game opens up Mid-American Conference play at home on Friday, Sept. 27 at 7 p.m. against Eastern Michigan.