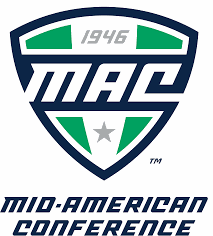 On Aug. 8, the Mid-American Conference was the first to make the decision to postpone all fall sports amid the coronavirus pandemic.
Despite the Big Ten reversing its original decision in August and announcing it would start a football season on Oct. 23-24, MAC commissioner Jon Steinbrecher said in a statement on Wednesday the conference has "no plans" to play a fall season in any sport.
"Currently there are no plans to play a fall season in any sport," the statement read. We are focused on providing our fall student-athletes meaningful competitive experiences in the spring."
When the MAC made the decision to postpone fall sports, many thought that would be the first domino to fall and other conferences would eventually follow suit.
But that was not the case, as the Big Ten's decision on Wednesday now makes seven of the 10 conferences in the Football Bowl Subdivision that will be playing football in the fall, with many games having already started and several others postponed or rescheduled.
With the PAC-12 and Mountain West still sitting out the fall season, the MAC doesn't stand alone- but from a regional standpoint, the conference is now on an island with the Big Ten going forth with a football season (announcements on other sports will be coming soon from the Big Ten).
The clear focus for the MAC is to play in the spring. On Tuesday, the Toledo Blade reported one of the options being discussed by the conference is a Feb. 20 start with an eight-game season, but that the situation is still fluid.
WMU football coach Tim Lester is one of the coaches on the MAC's spring football committee and told the Herald in late August that he thinks a spring football season in viable for the conference.
Currently, all WMU athletic teams are on a pause due to nine positive COVID-19 tests across four sports that were announced last Thursday. 
In a media statement from the football program, practices are suspended until "the full extent of transmission can be assessed."