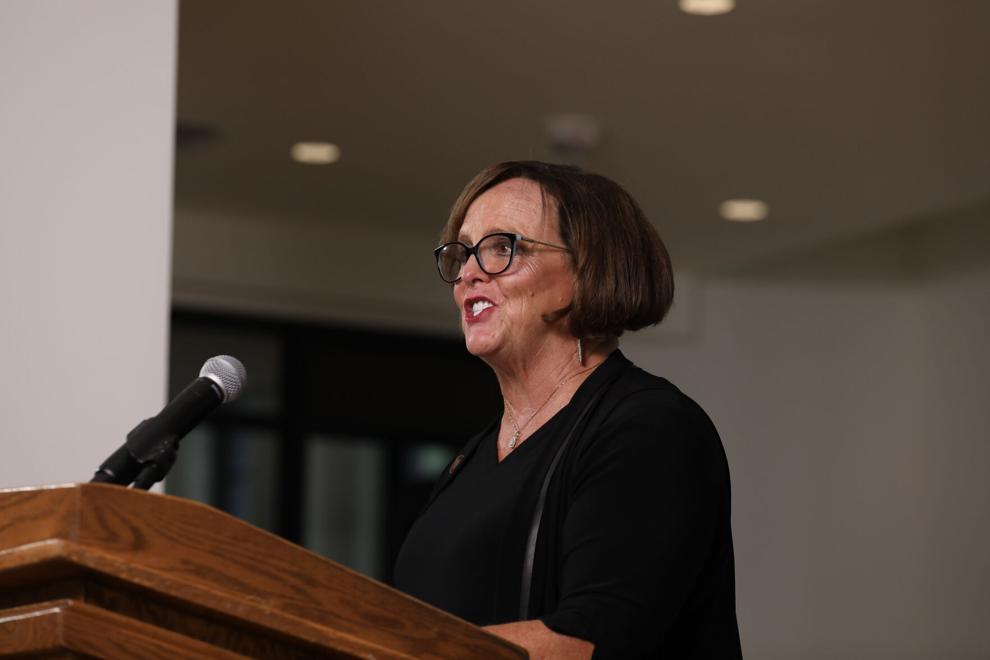 This article is the first in a five-part series on the legacy of Kathy Beauregard at WMU.
Former Western Michigan Director of Athletics Kathy Beauregard retired after over 40 years in WMU athletics on Dec. 31, 2021. Beauregard has served under five different presidents at the helm of the athletic department, and compared working under each during the final month of her career.
Diether Haenicke, WMU's fifth president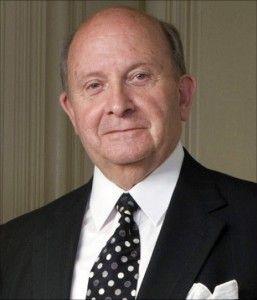 Diether Haenicke was president of WMU from 1985-98, during which time Beauregard transitioned from the head coach of WMU gymnastics into an administration role within athletics.
"I didn't move directly into the AD job so actually I started out, I did all the other things in the athletic department at the time," Beauregard said. "We were going through some turmoil with the president in those days."
Beauregard added that the turmoil had to do with the athletic department rolling through several different athletic directors in the '90s including Dan Meinart being asked to resign after not following proper procedures with department funds.
Beauregard said that she enjoyed working with Haenicke and praised the work he did in constructing new buildings at WMU. Haenicke publicly received praise for helping grow WMU into a nationally ranked institution from a small, regional state school.
"My relationship with him was very good, he was definitely known as a no-nonsense, very serious president," Beauregard said. "He had come from Ohio State, himself, and actually his first years here (he) did many -- I think he built like 13 buildings in his time here, so it was a huge time for growth."
Late in his tenure as president in 1997, Haenicke hired Beauregard as director of athletics at WMU. Beauregard said she immediately felt great support from the community upon being named the head of Bronco athletics.
"When I was hired (as director of athletics), community response was out-of-this-world," Beauregard said. "(From) the university, the staff, the student-athletes, it was the opportunity of a lifetime."
Haenicke also placed Beauregard in his cabinet, which had not been done by previous presidents, something she continued with future presidents at WMU.
"President Haenicke started that, which was new in his day," Beauregard said. "He was very active in the MAC, as the presidents are, but also put me on the cabinet, which I retained that through every president (since)."
Beauregard continued: "I would probably say this because it's my area but its very true in our country, that you (as an athletic director) have to have a one-on-one reporting relationship with the president. You never know when you're going to need them."
Elson Floyd, WMU's sixth president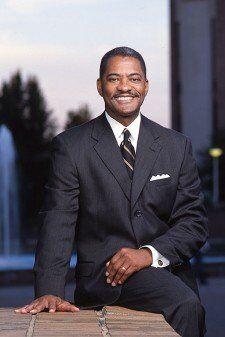 During the interview process for WMU's next president when Haenicke retired, one of the candidates, Elson Floyd, invited Beauregard to go to the University of North Carolina. That was where he worked, and Beauregard thought several administrators were being offered an opportunity to see him in action.
"He offered me an opportunity to come to North Carolina, which I thought all the administrators at that time were getting the chance to do," Beauregard said. "It was an incredible experience to get on the inside of North Carolina's athletics department and learn and spend time with President Floyd."
Beauregard added: "What I found out later was I was the only administrator that he had do that. One of the tricks of the trade that I didn't know was he was really having his athletic director and the staff that he trusted down there get a read on me."
Floyd was the first Black president of WMU, and evidently got a positive reading on Beauregard from the athletics staff at UNC as he kept Beauregard on and committed to athletics under her leadership. Beauregard said that Floyd being Black brought unique challenges in spite of his popularity with students.
"We had an incredible relationship, very unique because he was the first African-American president (at WMU), took a lot of negative criticism when he was hired here about being (an) African-American male leading the university," Beauregard said.
Beauregard added that the hateful actions directed at Floyd doubled onto what she had received being a woman running an athletic department.
"There were also many letters and conversations and publicity about 'who would hire a woman, she's never played football, she can't lead a team, what could she do,'" Beauregard said. "So actually President Floyd and I, it got piled on when we were both here, a woman and an African-American leading two major parts of the university."
Floyd ultimately only served at WMU for roughly four and a half years (1998-2003) before leaving to become the president at Missouri, where he continued to be popular with students. They showed that in ways including making buttons that read "I heart E Flo" before he moved again to Washington State.
Judith Bailey, WMU's seventh president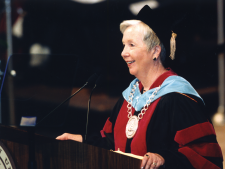 Bailey was hired by WMU after serving as president at Northern Michigan, where Beauregard said several people were happy to see her go.
"Judy Bailey, from the moment she was hired, my phone rang from everybody at Northern Michigan thanking us for taking her from (them), that's how that hire started," Beauregard said. "It was not a popular decision here, necessarily, which I don't know if that was totally fair, except what her decisions were at Northern Michigan were, they were definitely ready for a change."
Bailey, who served as president at WMU from 2003-06 was the first woman to serve as president at WMU, and Beauregard said there was initial excitement about that but her hopes for the relationship ultimately went unfulfilled.
"I was excited about being able to work for a female president, which I thought would be a great opportunity," Beauregard said. "It did not turn out, it actually turned out not what you would like a female-to-female relationship to be… There was definitely tension between us as we worked."
Bailey oversaw many budget cuts at WMU, including the decision to stop sponsoring men's cross country and indoor and outdoor track and field. Bailey ultimately left WMU after the board of trustees voted for her removal in August 2008 due to dropping enrollment.
"Finances were difficult, and (WMU athletics) also went through probably one of the hardest decisions we made in those days and that was, we had to drop sports," Beauregard said. "I've told every AD in the country, 'never take a job if you know you're going to have to drop sports, make sure they've already done it.'"
Bailey, now 75, has never again served as a university president. She has continued to work with colleges through her work with the American Association of State Colleges and Universities.
John Dunn, WMU's eighth president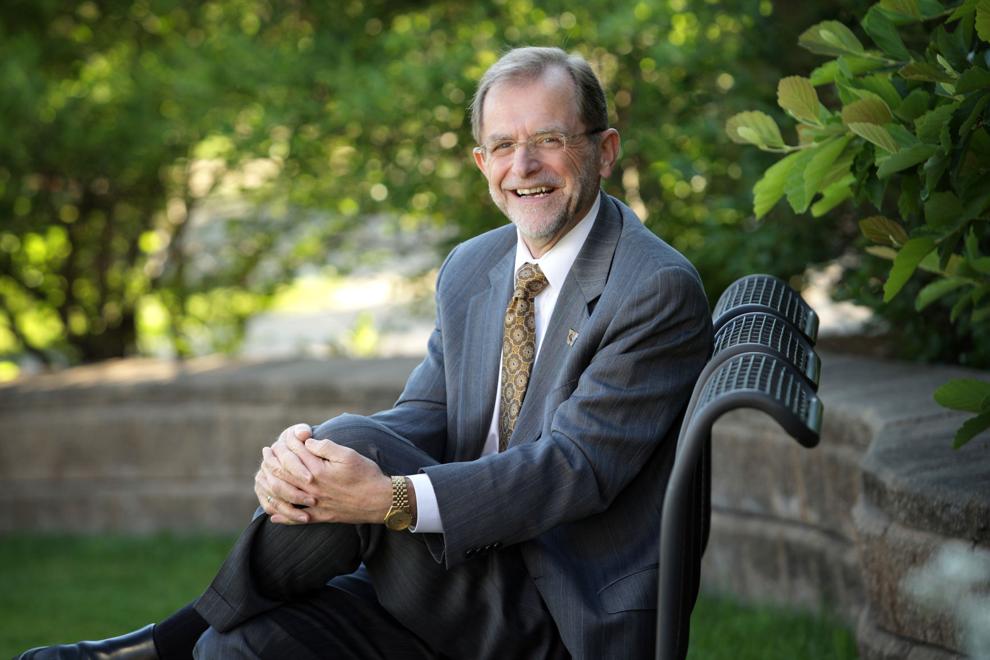 After Bailey and a year under Haenicke again as an interim president, WMU once again found a president beloved by students in Dunn. Beauregard also appreciated the passion he showed for athletics.
"He was, by far, a student president. He came to every sport he could come to, he knew the athletes, he knew the sports," Beauregard said. "He had no problem expressing his displeasure with (officials), at times I even had to text the (MAC) commissioner on press row saying, 'our president might be tossed (ejected) tonight for showing his emotions at the game.'"
Dunn's tenure, from 2007-17, was measured by great expenditure on improving infrastructure, establishment of a private medical school and partnering with a private law school.
"(President Dunn was) passionate for this university," Beauregard said. "There was a lot of growth that we had during his time. He definitely believed strongly in what athletics brought to the university."
Edward Montgomery, WMU's ninth president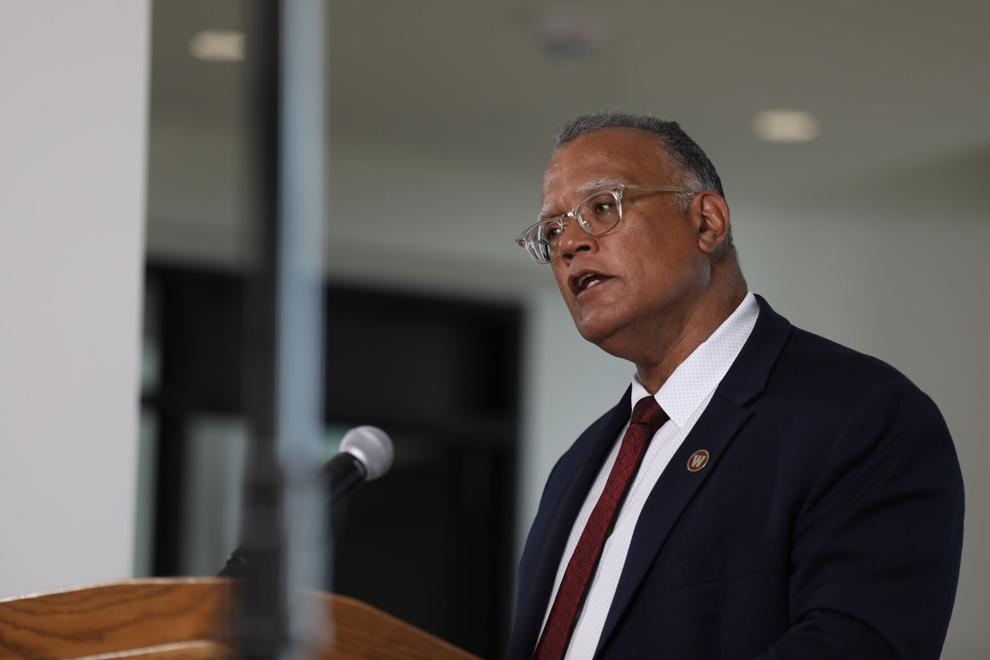 With budget deficits in site, WMU hired Montgomery in search of a president with business acumen. Montgomery served as chief economist of the US Department of Labor under William Clinton, and later was part of the auto task force formed by Barack Obama.
"Obviously he came in at a time where -- it's been tough," Beauregard said. "Every president has their own issues, but coming in and dealing with a budget (reduction), dealing with the enrollment decline, (now) dealing with COVID, dealing with just a lot of things that weren't necessarily things that you could always make the popular choice."
Beauregard believed Montgomery understood the opportunities WMU could provide to students and student-athletes that not every university could.
"His commitment to the university, the passion we've had as a cabinet, the ability to always keep the student first," Beauregard said. "(Committing to) student-athlete welfare, wellbeing, being able to come to Western Michigan, love this opportunity that we are a first-generation school that we were bringing students in a lot of cases that might have had a chance to come to college."