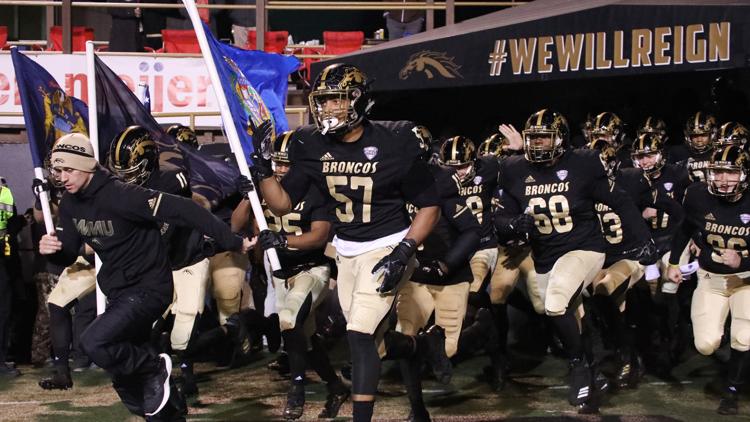 What: Western Michigan (0-0) vs Monmouth (0-0)  
Where: Waldo Stadium, Kalamazoo, MI. 
Radio: Bronco Radio Network, 96.5 FM 
Western Michigan football will kick-off their season this Saturday night, under the guidance of third-year head coach Tim Lester. 
The Broncos will welcome in an FCS (Football Championship Subdivision) program in the Monmouth Hawks.  
Even though Monmouth is a smaller school with an enrollment short of 5,000 students, they have had a solid football program over the last several seasons. Last year, the Hawks finished 8-3, exiting in the first round of the playoffs. 
They bring back a senior quarterback in Kenji Bahar, who has passed for over 6,000 yards in his career. And their coach, Kevin Callahan, is in his 28th season with the program. 
The Broncos will certainly have to come ready to play, as in the last five years alone, there have been 43 "FCS over FBS" results in college football. 
Here is a preview of what to expect from Saturday night's game. 
Monmouth's senior quarterback Kenji Bahar is the straw that stirs the drink for the Hawks' offense. In 2018, he threw for 2,626 yards while completing over 60 percent of his passes and throwing for 20 touchdowns and just six interceptions. 
Broncos head coach Tim Lester said he thinks it's exciting for his new-look secondary to be challenged early in the season. 
"It's good to be tested immediately," Lester said. "There aren't going to be any easy weekends. If there's one big time player on this team it's the quarterback, which is going to be a good challenge for our defense, because we need it." 
Bahar will have to find some more help in the passing game with Reggie White Jr., their No. 1 receiver last season, taking his talents to the NFL. The Hawks may have to lean on guys such as Terrance Greene Jr. and Brandon Batts, who combined for 346 yards and a touchdown last season for a receiving core that is now mainly unproven. They do have a 6-foot-8 tight end in Shawn Clark, who is back after missing most of last season with an injury.  
The area on offense where the Hawks are proven is their rushing attack. Running backs Juwon Farri and Pete Guerriero combined for nearly 2,000 yards and 16 touchdowns on the ground last season. Bahar did rush for three touchdowns last year, but only averaged 13 yards per game on the ground himself. 
Outlook: The Broncos should be able to wear out Monmouth's offensive line up front, and if they contain the running game and make Monmouth one dimensional, it will be a long night for the Hawks. 
Western's revamped secondary will be tested by Bahar but should be able to hold their own against Monmouth's wideouts. 
The Hawks defense gave up 31.5 points per game last season, which was 82nd in the FCS. They return seven starters including their leading tackler and best cornerback Tymere Berry, as well as top negative-yardage guy Anthony Budd. 
WMU senior center Luke Juriga said he has seen some impressive things from Monmouth's defense on film. 
"Overall I think they're a solid defense," Juriga said. "Their defensive line has a lot of good moves and some good twists that they'll definitely show against us." 
Juriga was especially impressed with Berry, who anchors the Monmouth defense. 
"He seems like a really talented guy. It's going to be really exciting seeing our wide receivers go against him," Juriga said. 
Outlook: Juriga may be impressed with Monmouth's defense on film, but the Hawks didn't generate much of a pass rush last season, and it's hard to see them generating one against an experienced WMU offensive line. Wassink should get plenty of time to throw in the pocket. 
The Broncos' bread and butter is their running game, so they'll surely get Bellamy and Tucker involved. But the most interesting match-up will be who the Hawks line Berry up against and whether Wassink stays away from him. 
This game should serve as a nice tune-up game before the Broncos week two matchup with Michigan State in East Lansing. 
Monmouth is good enough to test WMU in some areas, but an upset seems very unlikely. 
Final Score: Western Michigan 45, Monmouth 21