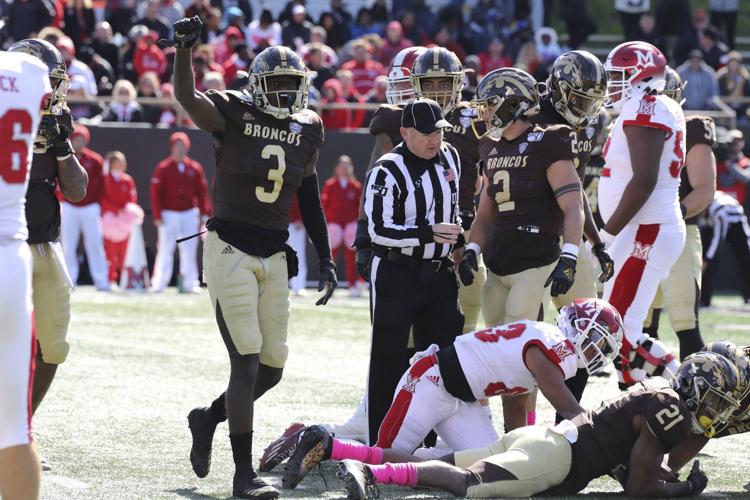 Who: Western Michigan (4-3), (2-1) at Eastern Michigan (3-3), (0-2) 
When: Saturday, October 19, 7 p.m.  
TV: ESPN3.com
Radio: Bronco Radio Network 
While Western Michigan football has enjoyed a 4-0 record at home this season, road games have not been nearly as kind to them. 
The Broncos come into their game Saturday against Eastern Michigan with an 0-3 record and have dug themselves big holes early in each of those games. 
Head coach Tim Lester said on Tuesday that the preparation has been good but did say he has a list of things he will change come "travel time" in order to try to break the Broncos out of their road woes. 
"We will change a couple things. I have a list of six or seven things I wrote down after the last game of things we can change come travel time," Lester said. 
Here is what the Broncos should expect from Eastern Michigan as they look to go into Ypsilanti and come out with their first road victory of the season.  
EMU's defense 
The Eagles program has been predicated on their defense the last couple of seasons under head coach Chris Creighton, but this year, they have taken a step back on that side of the ball. 
As a unit, they rank No. 106 in college football when it comes to total defense. They are allowing 447.8 yards per game and 6.25 yards per play. 
They have been hurt by the big play several times this season, especially in their 42-16 loss at Central Michigan a couple of weeks ago. 
Still, when Lester watches Eastern on film, he sees a solid EMU team despite their slow start in Mid-American Conference play. This is a team that did win at Illinois out of conference, so Lester knows they can be dangerous. 
"The film looks great. If you watched the film of the Central and Eastern game you would not have thought Central blew them out," Lester said. "Central had four to six huge plays in the game, but in the other plays in the game Eastern looks great." 
For the Eagles defense to have any success against the Broncos offense, they are going to have to avoid giving up too many big plays and contain the WMU rushing attack.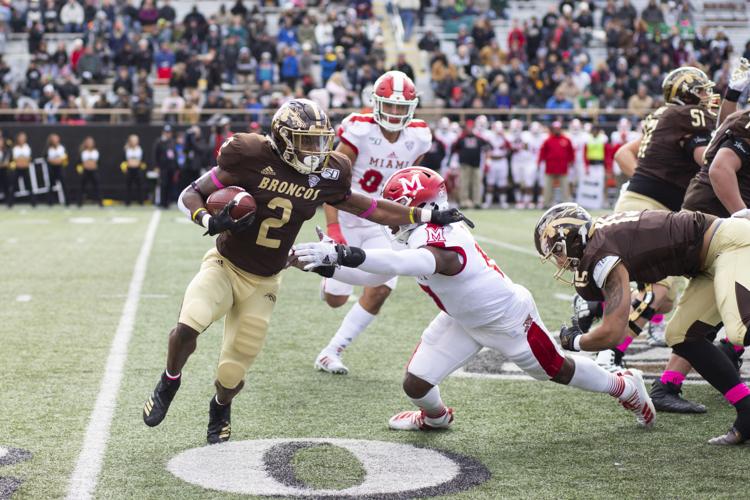 Eastern, for the most part, has struggled against the run this year, ranking 94th in the nation in rushing defense and allowing 4.66 yards per carry. Going against a dynamic running back like LeVante Bellamy could pose major issues for EMU. 
Against the pass, Eastern has also been vulnerable in giving up some chunk plays as they are allowing 11.13 yards per completion against their opponents. 
Their secondary can make some plays on the ball, however, as six different players have come up with an interception for the Eagles. Defensive back Vince Calhoun has been a ball hawk, as his 57 tackles leads the team. 
But the most dangerous aspect of EMU's defense could very well be their pass rush. Defensive lineman Turan Rush has come up with five of Eastern's 13 team sacks. 
How often WMU's offensive line can keep a clean pocket for Jon Wassink to throw is going to be key. 
EMU's offense 
On the season, the Eagles rank 98th in the nation in total offense and produce 364.5 yards per game.  
Their offense is patrolled by quarterback Mike Glass III, who has aired the ball out all season long and uses his legs, as he is EMU's leading rusher. On the year, Glass is averaging just over 36 pass attempts per game. 
Lester has been extremely impressed with Glass and knows what a dangerous player he can be. 
"Glass is playing better than he ever has and he is throwing the ball better than he ever has, and he can do everything," Lester said. 
With the high number of pass attempts per game, that naturally comes with more risks when it comes to interceptions. That has been the one downside to Glass's game as he has thrown eight picks in six games. But he also has 14 touchdown passes on the year and it is completing nearly 66% of his passes to go along with four rushing scores. 
He does not get a ton of help in the running game and a lot of that has to do with Eastern just being a pass-heavy team. Glass has 60 carries this season and the next highest amount of carries on the team comes from running back Willie Parker with 36 carries. Parker averages just 3.4 yards per carry. 
Throwing the ball, Glass has plenty of playmakers to get the ball to. They have four wide receivers with at least 249 yards receiving on the season, including top receiver Arthur Jackson III, who has 285 yards on 17 receptions and three touchdowns. 
Prediction 
I fully expect this to be a challenging game for the Broncos. First off, the game is at an incredibly awkward time. I cannot see the 7 p.m. start being a huge draw to fans in the Ypsilanti area, especially with the Michigan-Penn State game starting at 7:30. 
Therefore, in an atmosphere that may not be all that lively, sometimes it can be hard for both teams to find that added energy. 
All of that aside, it is an intriguing matchup. The Broncos have struggled more on the defensive end against quarterbacks with more ability to air the ball out, so the Broncos will need to limit the big plays down the field in that regard. 
To counter some of that, if the Broncos can run the ball with success, it will help in keeping EMU's offense off the field and chew some clock with longer drives.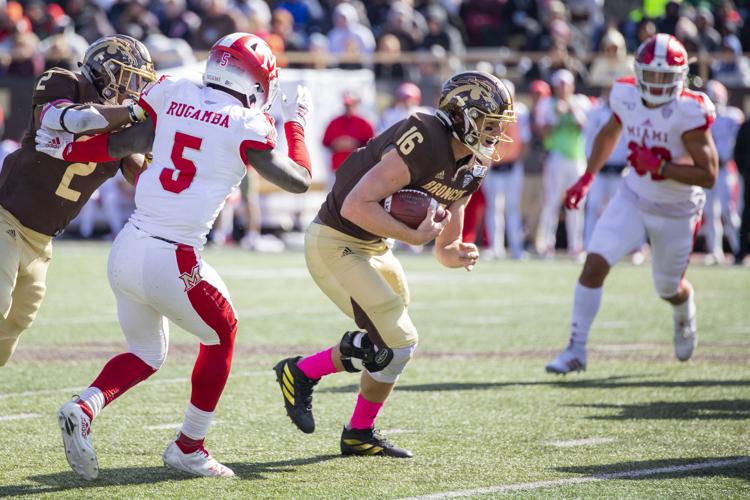 But as we have seen in the last couple of games, we have seen defenses start to man cover the Broncos wide receivers in order to slow WMU's running game down and put added pressure on Wassink. 
The risk to that style of defense is that you are vulnerable to giving up big plays if your corners get beat in man. With the amount of big plays Eastern has given up this season, it will be interesting to see if they insert that style. 
Overall, it should be a hotly contested MAC game, but in the end, I think Western Michigan just has a bit too much for the Eagles. 
WMU 31, EMU 27