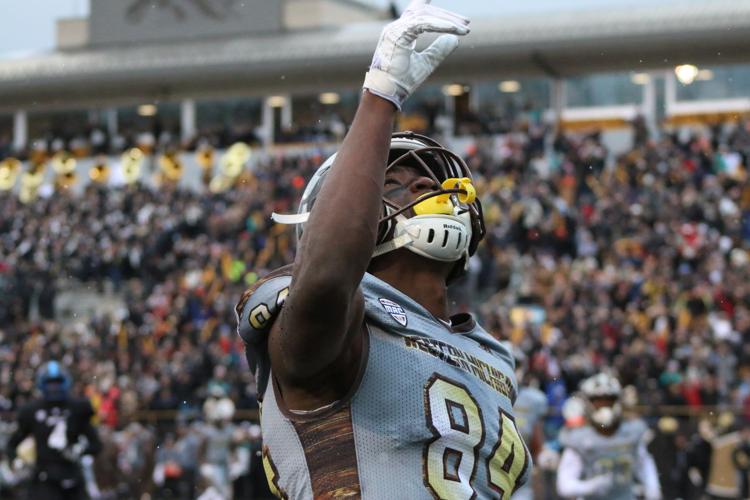 Coming into a contract season, Titans wide receiver Corey Davis took his opportunity to show his worth on the national stage in Tennessee's 16-14 win over the Broncos on Monday Night Football.
The fifth overall pick from 2017 out of Western Michigan hauled in seven receptions for 101 yards in the win, both of which were game highs.
The effort was good enough for Davis to receive the game ball from head coach Mike Vrabel in the Titans postgame locker room.
"It just felt good to get the game ball, Davis told senior Titans writer Jim Wyatt after the game. "It was a long road for me personally, so to have coaches and players believe in me all the way through, it meant a lot. Personally, I felt good going out there. Me and Tanny were clicking, and I'm happy we got the W."
Davis was listed as questionable coming into Monday night with a hamstring injury.
Vrabel admitted he doesn't think Davis was 100% healthy when he was out there, but admired his toughness and willingness to compete.
"I'm really proud of his effort to get himself to this game," Vrabel said. "I think admittedly, he's probably not at 100-percent, but I was happy to present him with a game ball in there in front of the team for his effort, toughness and competitiveness."
Being fully healthy coming into the 2020 season was something Davis was looking forward to after undergoing offseason toe surgery, causing him to miss the beginning of training camp.
In his rookie season in 2017, Davis missed five games with a hamstring injury. Between 2018 and 2019, he missed just one contest last season because of a hip ailment while also dealing with the foot injury.
Although Davis came into Monday's game with the sore hamstring, it did not seem to bother him much at all based on his performance on the field.
Quarterback Ryan Tannehill looked for the 25-year-old early and often, as Denver's defense lost him a few different times over the middle of the field off of play action passes.
Davis did a nice job of creating separation all night long against the Broncos , but even against tight coverage he was finding a way to haul passes in.
Right before halftime, Davis went up for a ball along the sidelines and was able to get one foot down while dragging his other heel in bounds just before he went out of bounds. Initially, the pass was ruled incomplete, then overturned after it was reviewed.
On the Titans last drive in the fourth quarter, Davis made a catch in double coverage against defenders Justin Simmons and Bryce Callahan to help set up a Stephen Gostkowski game-winning 25 yard field goal, who was 0-for-3 on field goal attempts with a missed extra point before that kick.
While that catch was Davis' most timely of the night, he created some social media buzz with just over two minutes to go in the second quarter.
Standing at his own goal line, Tannehill delivered a ball to Davis in stride over toward the left hash mark. Davis then turned up field and when he approached the sideline, he sent Broncos safety Kareem Jackson to the turf with a stiff arm before stepping out of bounds.
COREY DAVIS THREW HIM(via @thecheckdown) pic.twitter.com/PLT23bMhXK

— SportsCenter (@SportsCenter) September 15, 2020
Whether or not the hamstring issue continues to persist for Davis remains to be seen, but Monday was a good start for a guy who had his fifth-year option on his contract denied in the offseason, making him a free agent after the 2020 season.
Davis will look to build off his Week 1 success when his Titans host the Jacksonville Jaguars at home this coming Sunday.