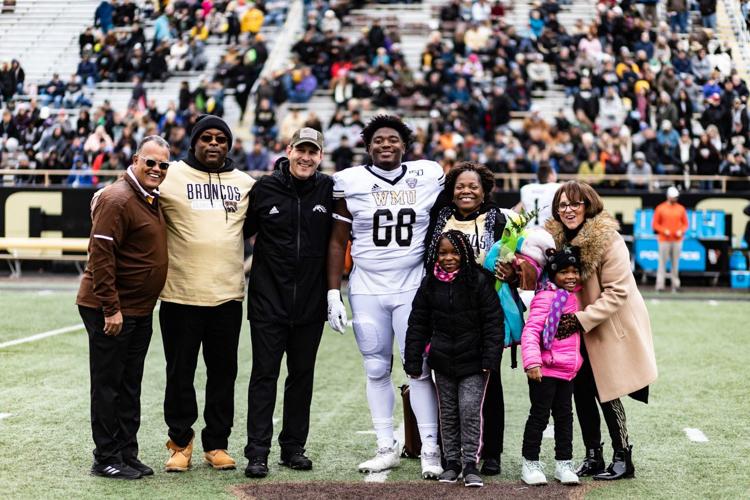 Former WMU defensive tackle Jamal Williams was killed by a security officer at a hospital in Munster, Indiana, on Tuesday.
NBC Chicago reported that officers were called to Munster Community Hospital at 901 McArthur Blvd., for a report of shots fired and a "physical disturbance between a patient and staff," according to a statement from Munster police.
ABC 7 Chicago reports Williams, a psychiatric patient, was allegedly beating a nurse when two security officers responded. As the situation progressed, Benny Freeman, one of the officers, fired two shots hitting Williams in the face and the other officer, identified as Ryan Askew, in the arm, killing them both.
Both of the security officers involved were retired police officers.
Williams' sister said on Twitter that she will "never forgive" Freeman for what happened.
A retired cop just killed my little brother today. And shit not adding up! My brother was in the hospital to get help because he was having a breakdown from all the craziness that's going on right now. And look what happened to him?! I will never forgive Benny Freeman! pic.twitter.com/daXzGhETsY

— PLUR Queen (@GIVEMEPLUR) June 16, 2020
WMU defensive coordinator Lou Esposito shared a quote on the unexpected loss after the news broke.
June 17, 2020
 WMU football's Twitter account shared a quote from head coach Tim Lester, along with some photos of Williams.
"The loss of life is tragic. Today is a sad day. Our thoughts are with everybody involved," @CoachTimLester pic.twitter.com/E5yhp3uQet

— WMU Football (@WMU_Football) June 17, 2020
Former WMU wide receiver and current Michigan State receiver Jayden Reed said "check on y'all people" in his reaction to the news on Twitter.
Check on yall people. Rest easy Mal 💔👼🏾 https://t.co/PWLPpZ6m7Y

— j.reed5💂🏾 (@JaydenReed5) June 16, 2020
Former WMU running back Jarvion Franklin, Williams' second cousin, shared the story of how they found out they were related in a Twitter post.
A lot of people don't know this but Jamal was my second cousin.. we found out litterally during a conversation in the lockeroom when I brought up one of my funny family members which he knew exactly who I was talking about lol still makes me smile.. 🙏🏾📈🆙 https://t.co/6ut5QUpMCx

— Jarvion Franklin (@JarvionFranklin) June 17, 2020
 Another former Bronco, quarterback Zach Terrell, took to Twitter, saying it was a "sad day for all those involved in this unfortunate incident."
A sad day for all those involved in this unfortunate incident. Especially sad, for all @WMU_Football alums. Jamal was a beloved team member. Praying for everyone impacted by this. https://t.co/Na4MrH0mwI

— Zach Terrell (@Zach_Terrell11) June 17, 2020
Current Cincinnati Bengals cornerback and former Bronco star Darius Phillips said Williams was "one of a kind."
RIP my dog. You will be missed fasho one of a kind. pic.twitter.com/wUaMRTlacO

— Darius Phillips (@4DariusP) June 17, 2020
Current WMU football strength and conditioning coach Grant Geib tweeted that he will always remember the joy Williams brought to the room.
Still trying to process, still trying to find words. We love you Jamal, and we will all miss you. I will always remember the joy you brought into the room. Gone to soon. RIP 💔 pic.twitter.com/LI9pmyiYJq

— Grant Geib (@G2Geib) June 17, 2020
Many other friends, family and teammates have expressed their heartbreak at the news of Williams' death on social media, with WMU running back Ra'Sean Davie saying simply, "I love you bro."
I love you bro @RealJWill_ 💙👼🏽 pic.twitter.com/Tp05ywm85J

— Gotti (@Chub_gotti23) June 16, 2020
Fly high brother we always going to remember yoour spirit and how you turned anybody day from bad to good with one joke Love you #68 👼🏾🙏🏾🖤 pic.twitter.com/uHcPGynfXo

— Ernest Allen lll "Trae" (@AllenTrae) June 16, 2020
My brother they took my brother....

— 🐻Ω (@HolleyRalph) June 17, 2020
For what we've know you to be!! We won't allow the media (who is trying to demonize you) change who we know you truly were as a person. You were the light of the party, the smile activator, the mood changer..Overall a free/positive spirit who wrote his own story and made it out🕊 pic.twitter.com/RCu3Flv4C6

— SL1️⃣M-JXMM1️⃣ (@Jay_Hall19) June 17, 2020
We was just planning to take another trip for next year. We was so T'd on spring break, all you wanted to do was make it out and you was so happy when you got your degree. Cant lie this one hurt. You forever a legend in my books G 🖤 #LongLiveMal @RealJWill_ pic.twitter.com/qm56fUTHrU

— Calin (@CrawCalin) June 17, 2020
Williams played for WMU from 2017-2019 after playing at the College of Dupage in 2016. He was 22 years old.