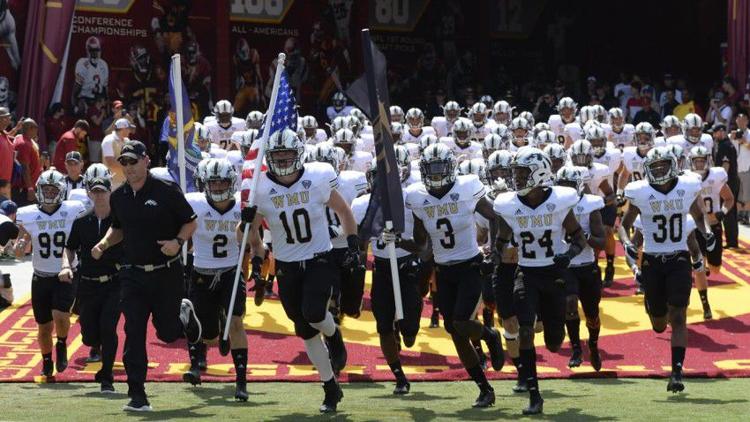 Throughout the offseason in college football, programs and conferences have scrambled to adjust its fall schedules in hopes to be able to play a season as safely as possible amid the coronavirus pandemic.
Now, being roughly a month away from the games being scheduled to begin, adjustments are still being made from decision makers throughout the sport.
Western Michigan football has already had its non-conference schedule impacted a couple times this offseason. On Wednesday, that seems to be the case again for WMU as the Atlantic Coast Conference announced an 11-game schedule for each of its conference members, with each team being allowed only one out of conference game.
The decision from the ACC affects WMU's Week 4 game against Syracuse as the Orange were set to travel to Waldo Stadium on Sept. 26. The ACC announced that the lone nonconference matchups for each member school has to either be a home game or an in-state matchup, which would all but axe the WMU-Syracuse game.
"Today's decision was made after months of thoughtful planning by numerous individuals throughout the conference," ACC commissioner John Swofford said in a statement. "The Board's decision presents a path, if public health guidance allows, to move forward with competition. Our institutions are committed to taking the necessary measures to facilitate the return in a safe and responsible manner. We recognize that we may need to be nimble and make adjustments in the future. We will be as prepared as possible should that need arise."
Western Michigan's Week 3 matchup at Notre Dame also may be in jeapordy with the ACC's announcement, as the Fighting Irish will join the conference for this season and play a 10-game ACC schedule while being eligible for the conference championship game.
Under the ACC's guidelines, the WMU-Notre Dame game scheduled for Sept. 19 could still take place since it is an Irish home game. 
Notre Dame's only other out of conference home game is scheduled for Sept. 12 against Arkansas. Regionally, the WMU contest would make more sense for the Irish to go forth with as the Broncos only have to travel 68 miles to South Bend, as opposed to Arkansas, where it is an over 700 mile trip for the Razorbacks. Conferences seem to be trying to focus on limiting travel during the COVID-19 pandemic.
If the game in South Bend is canceled, it could cost the Broncos big time from a financial perspective, as WMU is set to receive $1.175 million from Notre Dame for that game. Amid the pandemic, it is unlikely the Irish would have to pay out based on two stipulations in the cancellation cause of the contract, obtained by MLive.
According to the clause, neither party will be considered to have breached the contract in the event of a cancellation under the circumstances of: "an act of God, national emergency, natural disaster, war, terrorism, civil unrest, or court order," or "the party becomes obligated, as a condition of athletic conference membership or affiliation (for football), to play a greater number of regular season football games against conference-designated opponents than it is currently obligated to play against conference-designated opponents in the regular season of the cancelled Game, where Notre Dame is currently obligated to play 5 football games each regular season against conference designated opponents as a condition of its affiliation with the Atlantic Coast Conference for football…"
Both of those clauses seem to fall under current circumstances and would seem to be a disastrous situation for a Western Michigan athletic department that already announced a $6 million budget cut in May, along with head coach Tim Lester taking a voluntary 25% cut. 
WMU's Week 1 game against Colgate was already canceled earlier this month. The program then replaced Colgate with Stony Brook before that contest was canceled after the Colonial Athletic Association called off its fall sports seasons amid the COVID-19 pandemic.
No official announcement has been made on the cancellation of WMU's Week 4 game against Syracuse, but it seems only like a matter of time before that announcement comes from both programs due to the ACC's policy. WMU nor Notre Dame have yet confirmed what will happen to the Week 3 contest either.
WMU's Week 2, Sept. 11 game at Cincinnati could be the only nonconference game the Broncos end up playing in 2020, although nothing can be assured living in these current times.
The Mid-American Conference have not announced any recent updates on how it will proceed with its fall season.
Western Michigan is scheduled to open its season against the Bearcats on Friday, Sept. 11 on the road.