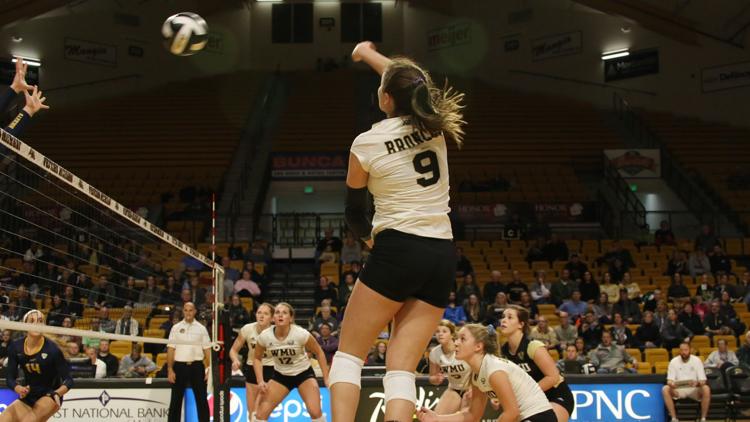 Western Michigan volleyball started their season on the right foot after winning the Purdue Fort Wayne Invitational tournament.  The Broncos start the season 3-0 for the first time since 2011 when they defeated Virginia, Western Carolina and South Carolina-Upstate. 
The team started the tournament by playing the South Alabama Jaguars, where they won in three sets by the scores of 25-11, 25-14 and 25-16.  Leading the offensive charge for the Broncos was junior Rachel Bontrager with 14 kills, six digs, two assists, two service aces and a .357 attack percentage.  Defensively the Broncos had a surge by sophomore Janell Williams with four blocks.  
South Alabama was led by senior Kelley Hartman with six kills, and one dig. Defensively the Jaguars were also led by Hartman with four blocks. 
In the second game Western Michigan played Purdue University Fort Wayne. WMU won the match in five sets by the scores of 25-19, 25-23, 20-25, 23-25 and 15-12. The Broncos were led in points again by Bontrager with 17 kills and three service aces.  
Purdue University Fort Wayne was led by freshman Sidney Schiller on the offensive side with 12 kills and six digs.  Defensively the Mastodons were led by junior Sydney Boerst with nine total blocks. 
The Broncos fought through this match by winning the first two sets, then losing the next two. With the match on the line they pulled off a close victory in the fifth set with Purdue Fort Wayne cutting their lead to one point at one time in the set.  Sophomore Charley Andrews nailed a kill down the left side of the court for the Bronco victory. 
Going into day two, the Broncos were looking to put the nail in the coffin and come out of the weekend victorious and undefeated.  They were matched up with Northern Kentucky who fought hard and kept every set close with the final scores of the five set match being 25-22, 25-23, 16-25, 23-25 and 15-8. 
Bontrager kept her tremendous weekend going by putting up 21 kills and nine digs in the last match. With Andrews leading again on the defensive side with 6 blocks. Bontrager, Andrews and senior Kathleen Reilly were all named to the all-tournament team, with Bontrager earning MVP honors. 
Northern Kentucky was led by senior Laura Crawford with 20 kills on offense. While on defense the Norse were led by sophomore Natalie Hardig with three blocks. 
The Broncos face Montana State, Loyola Maryland and Loyola Chicago on September 6th and 7th in the Rambler Challenge in Chicago.