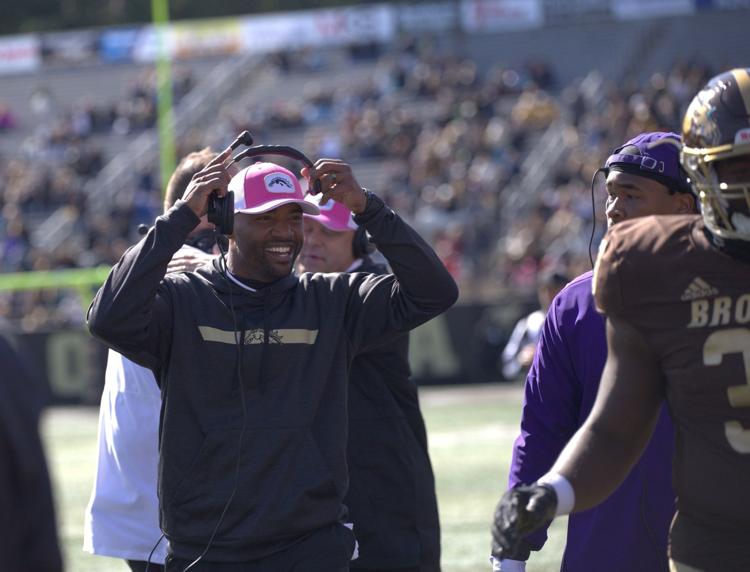 First-year Western Michigan cornerbacks coach James Adams has been through it all from a football standpoint. From building a program from the ground up to building relationships and battling through injuries as a player, Adams brings a ton of football knowledge to the WMU coaching staff. And throughout his career, he has taken information at each stop he has made and continues to apply those lessons as a coach. 
Starting from scratch 
As Western Michigan football continues to build their program under third-year coach Tim Lester, Adams has already taken part in building one from the ground up. 
 Adams previously coached at Charlotte, where he was one of the five original staff members to start the 49ers football program. He served as the team's secondary coach when the team first began playing games in 2013 until 2018. 
Adams said the experience of helping build that program was beneficial to him. 
"It was really cool. I had a chance to do it with a head coach that was my position coach in college (Brad Lambert). Going into it, he had a really solid blueprint for how he wanted to build the program from the ground up, whether it was facilities, recruiting, staff, or personnel, he had a pretty well-defined plan," Adams said. "It was really cool for me because I literally just took what I learned from him as a player and what I learned from working under him as a coach and applied it in my meeting rooms and in recruiting. So, it was really easy to get up and do my job every day." 
Learning along the way 
Adams said the experience at Charlotte helped him grow as a coach, but he has learned something along the way at every stop he has been in his football career. 
Prior to coaching at Charlotte, Adams was the cornerbacks coach at Wofford from 2010-11. There, he coached under Mike Ayers, who compiled a 218-160-2 record as their head coach from 1988 to 2017. 
Adams explained the respect he gained from Ayers while he coached under him. 
"Really tough coach but the guys ran through a wall for him," Adams said. "They played hard for him, they practiced hard for him, he loved them, and he told them he loved them." 
Adams said his eyes were opened on how to reach student athletes and knew that was the way he wanted to coach his players. 
"It really just enforced that there's a way you can coach and get the most out of guys," Adams said. "You don't have to do it by demeaning them, you don't have to do it by cussing at them. You can do it in a way that they get the message and they understand the importance of it, but they also feel like you can put your arm around them and bring them alongside of you."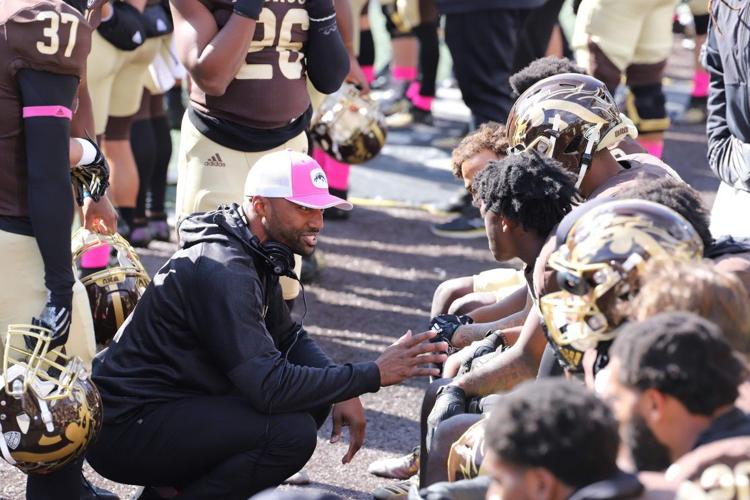 "Sudden change" mentality  
With all the information Adams retained in his football career, it helped him come up with an overlying coaching philosophy and a message he wants to get across to his players. He calls it having a "sudden change" mentality. 
"My defensive coordinator in college really harped on sudden change for us as defensive players," Adams said. "Whether you're having a great game on defense or a bad game on defense, you have to be able to weather the storm." 
Adams says he tells his players it does not matter how well or how poorly you are doing. He tells them they are going to have to view a sudden change situation in front of them one of two ways: 
"As a crisis that you have in front of you or an opportunity that you have to respond to," Adams said. "So playing for coach Hood (in college) that was it, we would have a big stop on defense and we would go to the sideline and get a Gatorade and take a break, then all-of-the-sudden there would be a turnover and 'here we go, sudden change.' So, where most teams would hang their head and most guys would be like 'oh man we just came off the field,' we really embraced that as an opportunity to respond and get the ball back." 
Adams' playing days 
In Adams' playing days, he was a standout athlete at Northern Durham High School, where he happened to be best friends with now Michigan offensive coordinator Josh Gattis.  
The two ended up continuing their athletic careers together to play football at Wake Forest coming out of high school.  
Adams said he and Gattis have a very close relationship and are "brothers."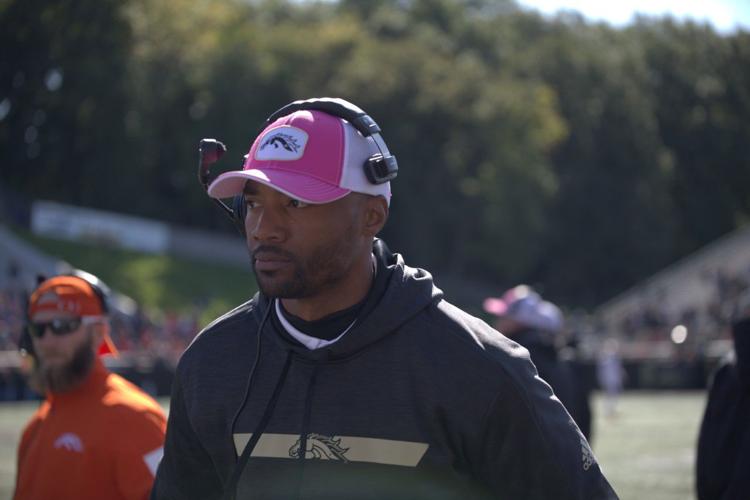 "We grew up in the same neighborhood," Adams said. "He has a brother two years older than him, I have one two years older than me. So there are a lot of parallels between our interests and our personalities and our ability at that time in high school. We would compete against each other; we would quiz each other on different things. There was always this thread of competition between us, but we were also really close and really brothers. So, for us to be able to play high school and college ball together and now be coaching in the same state right down the road from each other has been pretty cool." 
When Adams arrived at Wake Forest with his best friend, he was coached under Jim Grobe, who ended up coaching the Deamon Deacons for 13 seasons. 
Adams said Grobe was "awesome" to play for and was player-centered when it came to his coaching style. He said he wanted to know how you and your family was doing every day and said that resonated with him. 
Fighting through injury  
While playing for coach Grobe, unfortunately for Adams, his college football career as a player was stagnated due to a knee injury.  
What was a difficult situation in the moment is now just one more lesson Adams can apply to coaching at WMU. 
It just so happens that one of his position players, D'Wayne Eskridge, was lost for the season due to a broken collarbone.  
Adams said he can reflect on what happened to him to encourage players like Eskridge to keep pushing forward through tough injuries.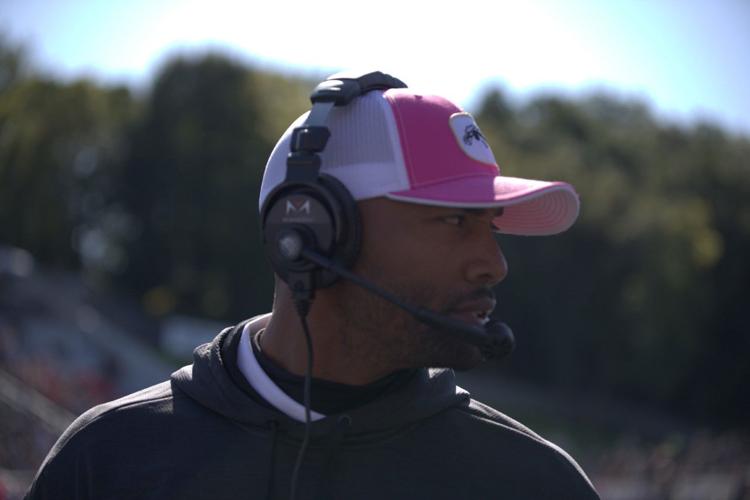 "All of the sudden it's like everything is on pause and the world stops moving," Adams said. "But what it forced me to do is realize that's not the truth. There is so much more out there in terms of opportunities when you're a student athlete to you have to take advantage of when you're out. You have to really focus in on your academics, you have to branch out and build some relationships outside the building. You have to focus in on getting ready for treatment instead of getting ready for a game and dealing with the highs and lows that come with that." 
Adams said when the injury happened to him, it forced him to see outside himself more. He took the time to focus on getting his body back together but also volunteering and getting involved with the community and focusing on what he wanted to do after football. 
"Through that time and that experience, it really pushed me into what I am doing now in coaching." 
It is apparent that Adams' coaching style is rubbing off on an improved Western Michigan defense. 
With a positive mindset and that "sudden change" mentality, the sky could be the limit for Adams and the Broncos defense as they continue to push for success.