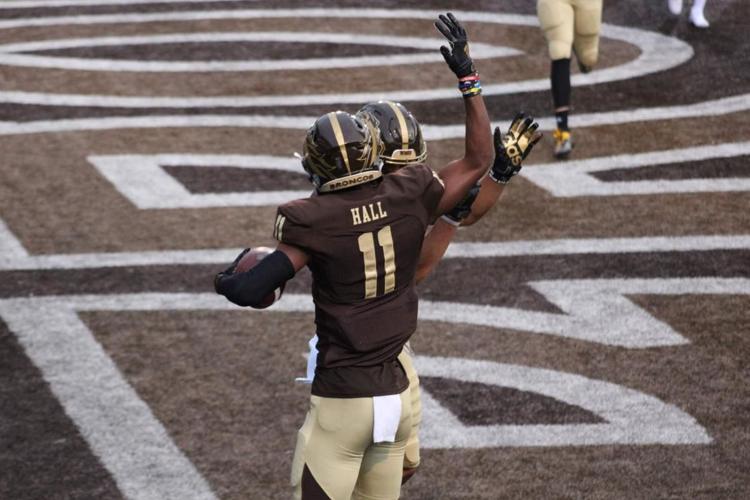 Who: Western Michigan (1-0) at Michigan State (1-0) 
Where: Spartan Stadium, East Lansing, MI 
Radio: Bronco Radio Network (96.5 FM), Spartan Sports Network 
Western Michigan football looked comfortable in their season opener, cruising to a 48-13 victory over Monmouth last Saturday night at home.  
But things get much more challenging this week. The Broncos travel a little over 79 miles to take on the Michigan State Spartans in East Lansing on Saturday, Sept. 7. 
The Spartans also won their first game of the year last Friday night at home against Tulsa. Michigan State's defense dominated, holding Tulsa to a shocking negative 73 yards on the ground. But Michigan State's offense could never really get going, as they couldn't put the ball in the endzone offensively after their first drive of the game while coming out with a 28-7 win. 
In the all-time series, Michigan State is 13-2 against the Broncos, owning an 11-game winning streak in the series that dates back to 1908. The Broncos last win in the series came in 1919. Most recently, Michigan State beat Western 28-14 in their last matchup in 2017 at Spartan Stadium. 
Here's all you need to know before the teams take the field on Saturday night.  
Michigan State's offense vs. Western Michigan's defense 
This is the key matchup in the game for me. Michigan State has plenty of concerns on the offensive side of the ball, as shown in the 2018 season and in their week one game. On the other hand, there are still some questions about Western Michigan's defense. While the Broncos only gave up 13 points in week one, they allowed Monmouth to convert on 12-of-21 third downs. That's not a good recipe for sustainable success, and the Broncos will need to get off the field more often this week on third downs. 
Which of these units answers more questions about themselves will determine who comes out on the winning end. 
The Spartans want to give more spread style looks this season under first-year offensive coordinator Brad Salem. But the results of the Tulsa game didn't go as planned, leading to a frustrated Mark Dantonio at his press conference early in the week, particularly about his offensive line. 
"Not good enough," Dantonio said. "Gotta get on the right people. If you've got nowhere to go, you've gotta play with effort and toughness. Too much of that was lacking. I'm going to send a message to our football team. We can play better than that and we have a long season ahead of us." 
Michigan State's running game was a letdown against Tulsa, as they only ran it for 108 yards for 2.7 yards per carry. They often tried to run the ball against outnumbered boxes and didn't have much success doing so, as they were stopped on fourth and shorts twice throughout the game in Tulsa's territory. Connor Heyward, their number one back, ran 15 times for just 43 yards. 
The Broncos were solid against a good Monmouth rushing attack, allowing 3.3 yards per carry and just 128 total rushing yards. The Broncos ability to rotate multiple guys on their defensive line will help them keep fresh. 
However, Western will go against an offensive line that returns seven players with experience, including the same five that closed last season out in the starting lineup. It's clearly a group that is struggling, as Tulsa was able to get consistent penetration last week. That'll be something the Broncos will have to do this weekend. 
Western Michigan head coach Tim Lester noticed the more frequent spread-style approach to MSU's offense and noted his defenses familiarity of going against that style. 
"That's one thing that should help our defense I think," Lester said. "They're running more of a spread offense now out of 11 and 12 personnel, which is what we do. I think that makes our guys a little bit more comfortable, but we don't have a huge sample size." 
Can the defense contain Lewerke? 
Michigan State quarterback Brian Lewerke is coming off a tough 2018 season, as he was banged up with a shoulder injury for much of the year. The Spartan faithful will hope he can get back to his 2017 form, where he threw for 20 touchdowns and seven interceptions. 
When Lewerke last faced the Broncos in 2017, it was his legs that were more harmful to the Broncos than his arm. He went 13-of-21 for 161 yards through the air with a touchdown and an interception in that game but ran it nine times for 81 yards and two scores. 
Lester knows it will be a challenge to contain him and offered high praises for the senior quarterback. 
"Lewerke I thought looked comfortable (against Tulsa)," Lester said. "He's got a swagger to him that I appreciate, he's tough. We've gotta be ready for what they did last week and study what they might do." 
Can the Broncos move the ball against that Michigan State defense? 
It's no secret by now. Michigan State's defense is good. Really good. A unit that ranked number one in rushing defense last season brings eight of those starters back this year. In week one, they picked up right where they left off last season, holding Tulsa to just 80 total yards and hardly letting them breathe. 
Lester knows it will be a challenge but takes special note of defensive end Kenny Willekes. 
"You've gotta know where he's at and you gotta know what he likes to do," Lester said. "His motor is unbelievable. His strength, watching him pick up the Nebraska 330-pound tackle and throwing him over his shoulder, it was an amazing thing to watch. He's really strong." 
Lester also added that Raequan Williams, Michigan State's defensive tackle, is "one of the most dynamic defensive linemen he has ever seen." 
The Broncos coach knows their offensive line must be prepared for whatever gets thrown at them and said that group has been studying MSU's defense to keep on top of things. 
"Our offensive line has really been studying them to just try to put themselves in the best position to understand how they're going to attack you," Lester said. "You know the effort level is gonna be at 110 percent at all times, every time, no matter what. That's what makes them, them."  
Western Michigan knows they need to run the ball better than they did in week one. They were bottled up to 2.5 yards per carry through three quarters by the Monmouth defense, although the Hawks were stacking the box to force the Broncos to throw. 
Lester still strives for a good balance on offense as the Broncos like to run the ball. He hopes to see that on Saturday, as the offense will look to find different ways to move it and minimize the pressure on Wassink. 
"You can't abandon the run game," Lester said. "You have to keep them honest. We have to pick the right areas of the field to run into, we have to pick the right types of run plays to give ourselves a chance and be happy with a two or three-yard run. And we have to be smart in the passing game and know where we are gonna go with the ball and take our chances." 
Michigan State seems way too confused on offense right now for this to be any type of blowout. Unless they just push the Broncos defensive line around and run it all day long, I expect this to be a close game. 
It will be difficult for Western to find ways to move the ball, but if they can give Wassink any time at all, receivers such as Deshon Bussell and Jaylen Hall will have chances to make plays. If the Broncos can get help from Keith Mixon in the special teams unit, that could go a long ways as well. 
The Broncos keep in this game until the end, but ultimately fall to a Michigan State team whose defense is good enough to carry them again in this one. 
Final Score: Michigan State 24, Western Michigan 17