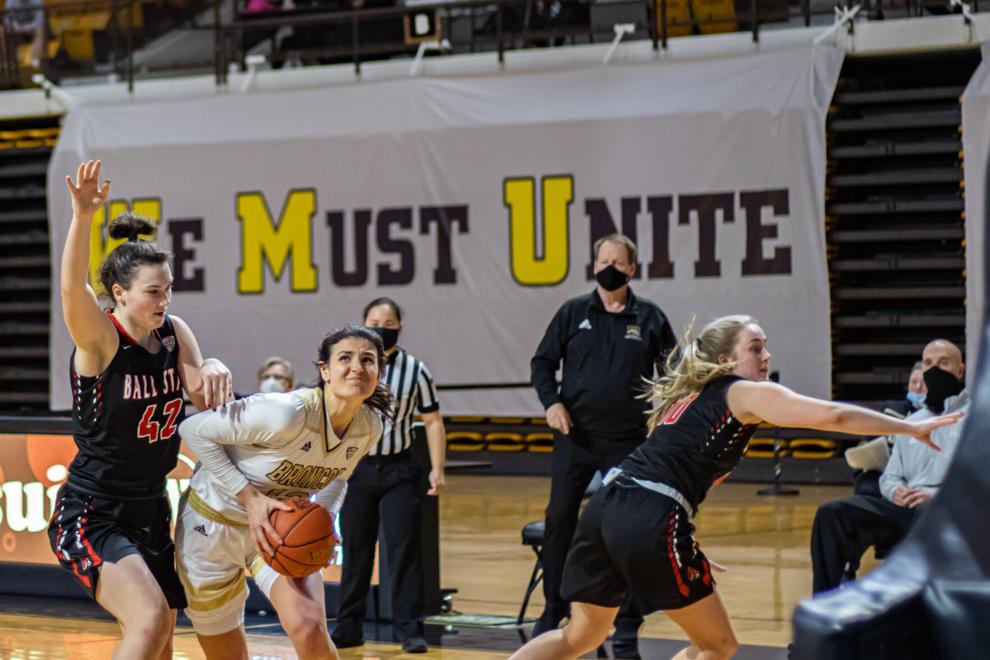 Western Michigan women's basketball earned its best win of the season, beating Kent State 71-58 at University Arena Wednesday.
The Golden Flashes came into the game at 7-5 and 6-3 in MAC play on the year, but the Broncos' defense limited three-pointers and forced turnovers throughout the game.
"I thought our grit, our determination on defense was probably better than it's been in a long while," said head coach Shane Clipfell postgame. "We were really concerned about our gameplan coming in because we were going to switch everything which was going to put us in a lot of mismatches on their post down inside, which we did, but it didn't kill us, in fact, it didn't hurt us at all. It helped us (with) the fact that we were able to not allow them to shoot as well as they normally do from the (three-point) arc was huge in the game.
The game went back-and-forth at the start, as it was tied at 11 at the first media timeout. The Broncos' offense was coming mainly from Reilly Jacobson, who had seven points in the first four minutes.
Kent State would close the quarter on an 8-1 run to hold a 19-12 lead at the end of the first quarter. The Golden Flashes were 2-10 on three-point shots, but 6-8 inside the arc to keep its offense flowing and putting up points. Five offensive rebounds had also played a key role in KSU building the lead.
It was more of the same to start the second quarter, as Kent State had the lead up to nine points with seven minutes left until halftime. The Broncos fought back with a 12-0 run that featured three Kent State turnovers to take the lead. Jacobson stayed hot, getting to 14 points by halftime to lead the way as WMU held a 31-30 lead at the break.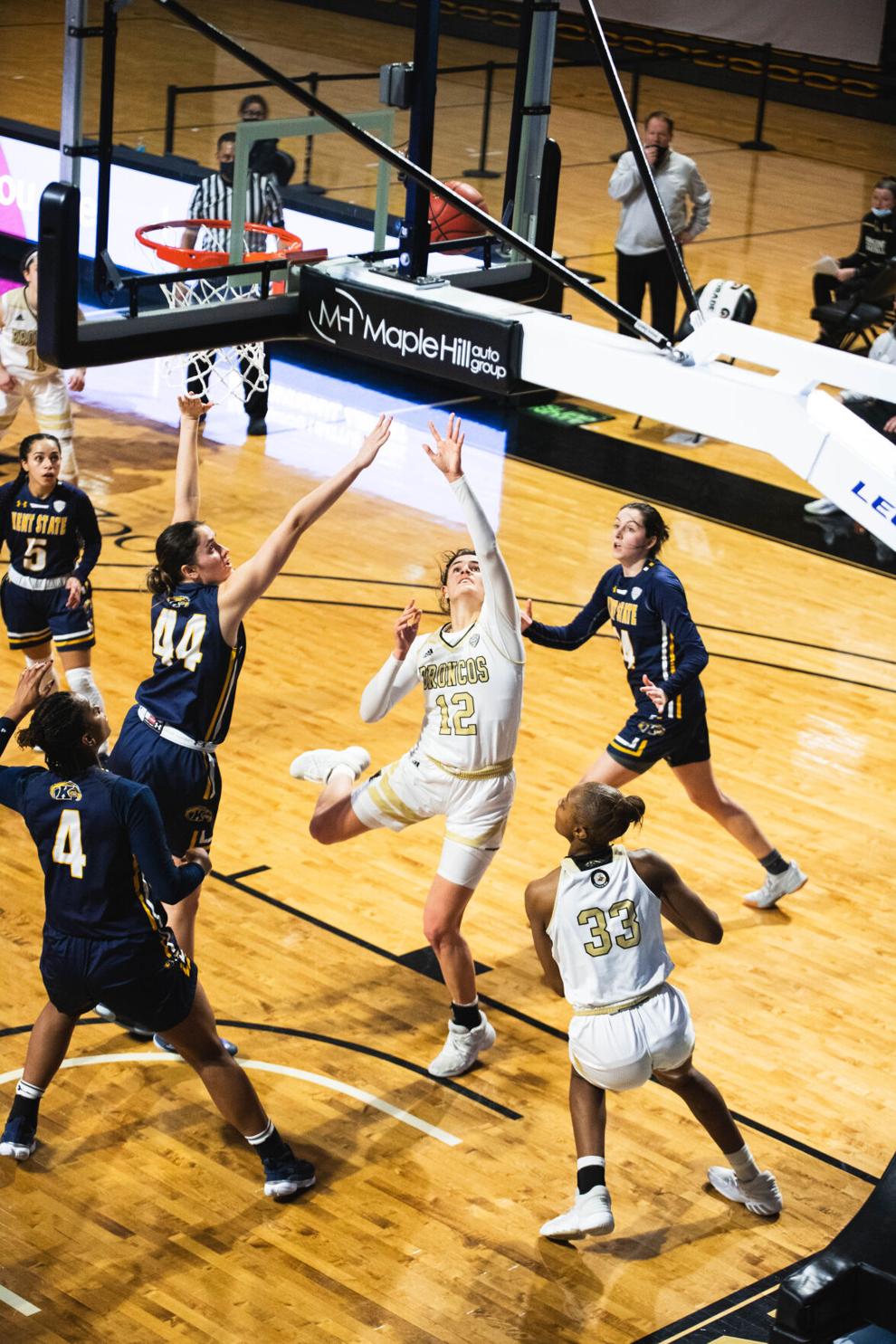 "She drove really, really hard to the basket, which I think was presenting her a lot of her (opportunities) down low," said Clipfell of Jacobson's play. "And then we, specifically, thought we had a matchup we liked with her so we were calling sets to her a lot in the second half."
WMU continued to frustrate Kent State defensively to start the third, going on an 11-2 run to make it a 10-point lead at the media break with 4:48 left in the quarter. The Broncos would go the entire third quarter without allowing a made field goal to Kent State in building an insurmountable lead.
Three-point shooting was another reason the Broncos were able to pull away, going 3-4 from deep in the third after shooting just 1-7 from long range in the first half. Heading into the fourth quarter, WMU held a 52-35 lead.
Kent State's offense roared back to life in the fourth, hitting four three-pointers after going 3-17 earlier in the game, but it was too late as the third quarter gave WMU too much room. Kent State put up 23 fourth-quarter points but the Broncos continued to score and hung on for the win.
The Broncos held Kent State to 34% shooting from the field in the game and forced 18 turnovers, but allowed 16 offensive rebounds which helped the Golden Flashes stay in the game. Clipfell talked about how the game could have been even better for WMU.
"As a coach, the thing I'm going to tell you is what we should learn from it is if we would have been better defensive rebounders we would have been able to create more separation than we did," Clipfell said.
Jacobson finished with a career-high 27 points to go with two assists, two steals and a block for WMU. Sydney Shafer was also a major contributor with 15 points, a career-high nine rebounds and four assists.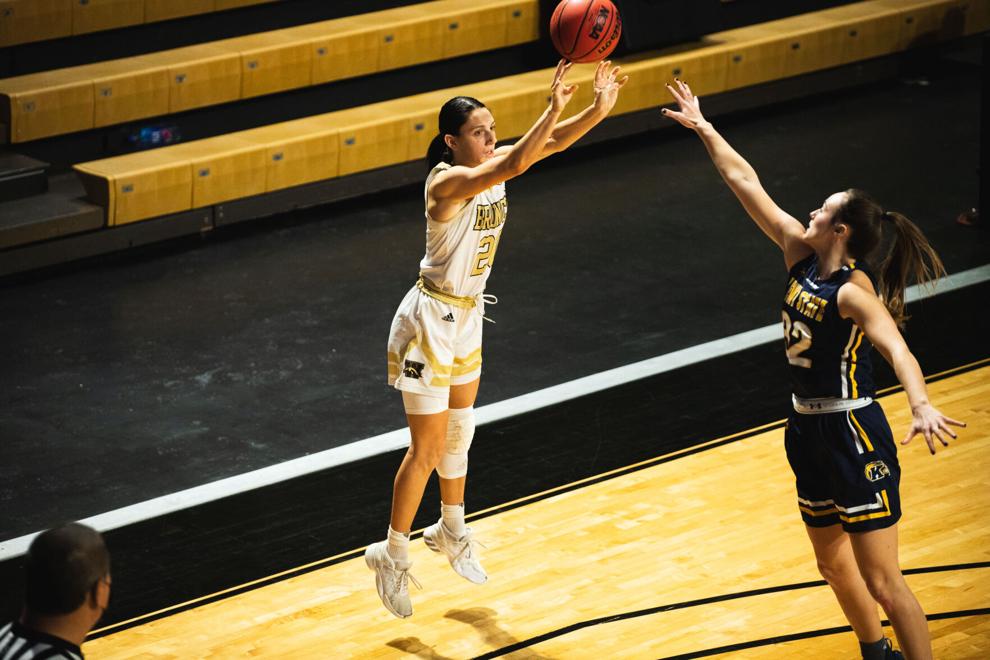 "When Megan (Wagner) was in foul trouble and we put Syd (Shafer) at the point guard I thought she managed that really well," Clipfell said. "I just got in her (Shafer's) ear a little bit about -- it's hard for her to go from the mentality of a two-guard, as a scorer, to be a playmaker and a facilitator as the point guard. I thought she adapted really well to that and I thought the nine rebounds were huge."
Kent State was led by Nila Blackford, who had a double-double with 14 points and 12 rebounds, and Lindsey Thall, who was 4-7 on three-point shooting and scored 14 points.
The win put WMU's record on the year to 4-13 and 3-12 in conference play. The Broncos return to action next Wednesday at Eastern Michigan. That game tips off at 7 p.m. and airs on ESPN+.