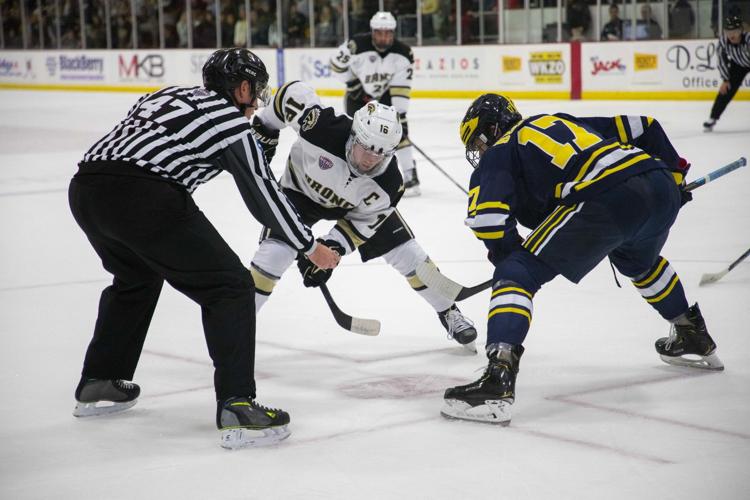 Western Michigan (3-3-2, 1-0-1 NCHC) will prepare for a home-and-home series against the Ferris State Bulldogs (2-5, 0-4 WCHA) looking to climb its way back into the national rankings. The Broncos have the edge against the Bulldogs in the all-time series with a record of 81-52-13. The Broncos are unbeaten in their last three games having a win against Michigan and a win along with a tie against Colorado College.
WMU Keys to the Game
The Broncos seemed to have found their groove on offense as of late scoring 14 goals over the last three games. They will need to continue to score heavily over the series against a weak Bulldog defense. Ferris State currently ranks 48th in the country in goals allowed at 3.6 goals per game.
Two players that have had strong performances over the last three games are forwards Paul Washe and Drew Worrad who had multi-point games against Michigan and Colorado College.
Washe scored four goals and racked up three assists over the three games while Worrad scored four goals and earned two assists. 
The Broncos have done a better job of staying out of the penalty box, but in the series finale against Colorado College, they went back to their old ways. During the finale they committed seven penalties for a total of 25 minutes of shorthanded play. 
Western will have to stay out of the box as much as possible against the Bulldogs as they rank 17th in the country in power play efficiency at 23.3 percent.
Freshman goaltender Brandon Bussi will be another crucial piece for the Broncos in the series as he will need to continue to be a force in the net. Bussi had a good weekend against Colorado College allowing seven goals over the two games. Bussi has a save percentage of .916 and a goals against average of 2.56 this season.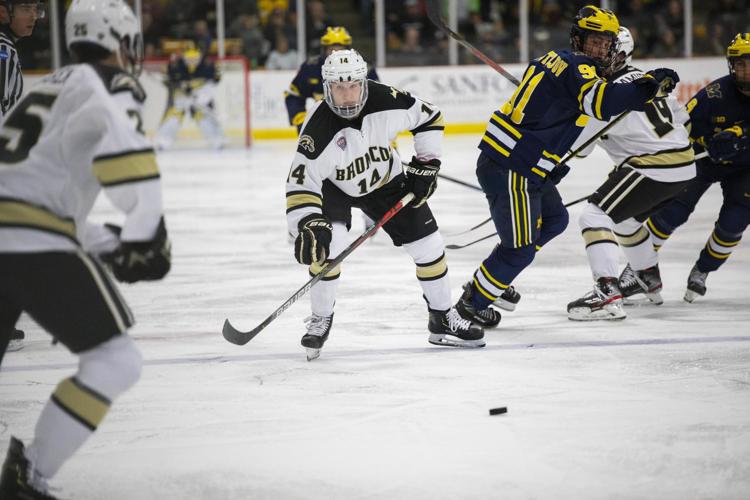 A Look at the Bulldogs
The Bulldogs have had a slow start to the year having two wins through seven games and are currently on a four-game losing skid. However, they are not a team to be taken lightly as they do have some weapons that could pose a problem for the Broncos.
Western will need their defensemen to put extreme pressure on the Bulldogs as they are one of the top offensive teams in the country. Ferris State currently ranks 19th in the country in goals per game with 3.29. Some players that have contributed to the hot offensive start are defenseman Jake Willets and forward Jason Tackett.
Willets, a freshman, knows how to distribute the puck and set up his teammates to score. Willets is tied for most points on the team with seven with all of them coming from assists.
Tackett is another lethal player for the Bulldogs that the Broncos will need to keep in check over the weekend. Tackett currently has three goals and four assists for a total of seven points in the 2019-20 campaign. 
The Broncos will host the Bulldogs on Friday at home inside Lawson Arena with puck drop scheduled for 7:05 p.m. They will then head to Big Rapids on Saturday to take on Ferris State at 8:07 p.m. 
Friday's game will be broadcasted on NCHC.tv and the Bronco Radio Network. Saturday's game will be broadcasted on 106.9 FM WKZO.