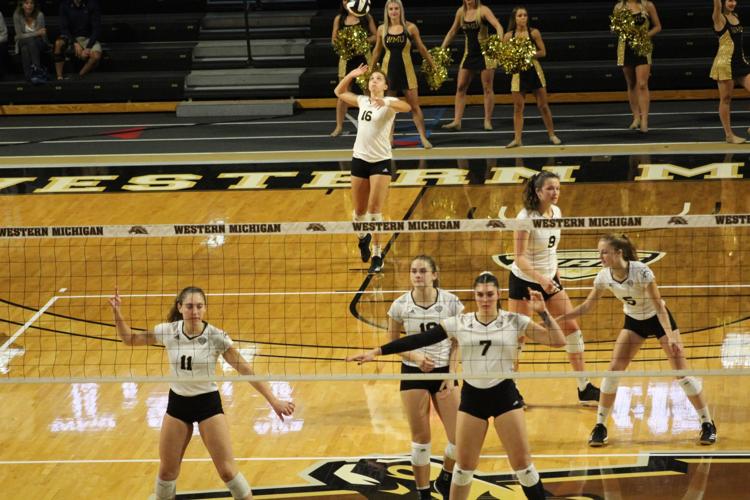 Western Michigan dropped two games this past week to move to 11-7 on the season and 2-4 in the Mid-American Conference. The Broncos currently sit in fifth position in the MAC West division. 
Western lost on Thursday to Northern Illinois in five sets by the scores of 25-17, 25-22, 20-25, 25-20 and 8-15. The team also suffered a three set defeat to Bowling Green on Saturday by the scores of 22-25, 19-25 and 13-25.
The Broncos started their weekend at home against Northern Illinois, where they lost a hard fought five set match against the Huskies. Leading the way for the Broncos was junior Rachel Bontrager with 16 kills and nine digs. Redshirt sophomore Janell Williams also helped with her nine kills. 
The Broncos posted only a .195 attack percentage, with Northern Illinois having a .206 percentage. However, the Broncos led the way in blocks with nine compared to Northern Illinois' three. Williams had seven of the kills for Western Michigan.
For the Huskies freshman Peyton Tilly led the way with 14 kills and sophomore Grace Balensiefer had 35 assists. Defensively sophomore Jasmine Kemp had two of the teams three kills. 
The Broncos looked to redeem themselves on homecoming and get back on the winning track, however, they fell short in three sets to BGSU. For the Broncos, Bontrager led the way again with 11 kills in the game with freshman Rose Duffy helping with 26 assists. 
The Broncos were held to a stifling .093 attack percentage with BGSU having a .286 percentage. Western was held in check only converting on four blocks all game. 
For the Falcons, sophomore Nikolija Katanic, junior Jacqueline Askin and sophomore Katelyn Meyer led the way with eight kills. Also contributing on the offensive side was senior Isabelle Marciniak with 28 digs. 
The Broncos will be back in action on Friday as they travel to Buffalo to take on the Bulls and then travel to Akron to take on the Zips on Saturday.