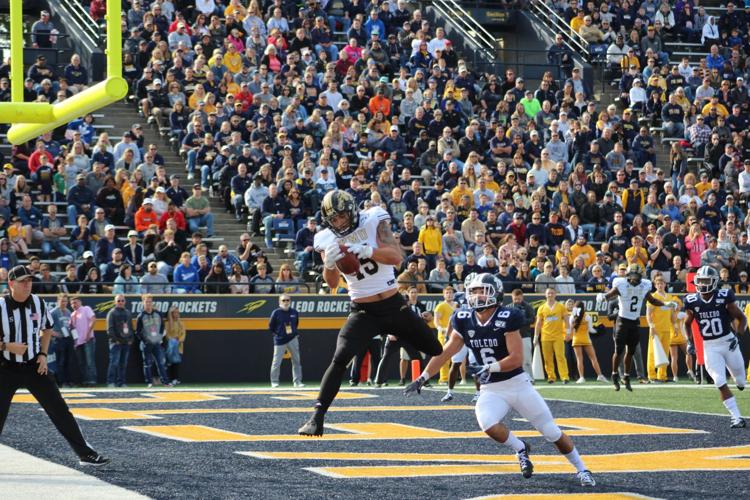 After finishing the regular season at 7-5 overall and a second place finish in the MAC West division, Western Michigan football found out their bowl fate on Sunday afternoon.
The Broncos will play in the SERVPRO First Responder Bowl against the Western Kentucky Hilltoppers on Monday, Dec. 30 at Gerald J. Ford Stadium in Dallas, Texas.
For WMU, it is the program's fifth bowl appearance in the past six seasons and second in three years under head coach Tim Lester after playing in the Famous Idaho Potato Bowl in 2018.
This will be the Broncos 10th appearance in a bowl game in program history, where WMU is 1-8 overall with their only win coming in 2015, where they defeated Middle Tennessee 45-31 in the Bahamas Bowl under coach P.J. Fleck.
This season, the bowl game is an opportunity for WMU to end the season on a high note and push the program back in a positive direction after the disappointing finish to the regular season, where the Broncos lost 17-14 at Northern Illinois with a chance to win the division and get to the MAC title game. 
Lester said ending the season on a high note can help build momentum going into the offseason.
"We have a chance to go and end the season the right way for the seniors, for the program, for everybody. And it can help build into the offseason," Lester said.
Even though the Broncos have had some time to recover since the NIU loss, Lester said his team has used the time to improve as a program.
"It's been a tough couple of weeks but we have to get better," Lester said. "I have to get better, the coaches have to get better, the players need to get better. The greatest thing is that we have another chance to send the seniors out the right way."
The Hilltoppers come into the game with an 8-4 overall record and a second place finish in the Conference USA. 
First-year head coach Tyson Helton, who is the brother of USC coach Clay Helton, said he is just beginning to learn about the Broncos, but knows WMU will challenge his team.
"I know their back is really good and the quarterback is a good player as well. I have not gotten to see them, I'm just looking at the stats right now."
Helton also pointed out the Broncos difficult schedule and noted how competitive the Mid-American Conference is. 
"It looks like they have played a challenging schedule. They were kind of like us, they were in the hunt to try to make their conference championship. So they're a good football team and we've played that league a lot, it's a very competitive league," Helton said.
The game between the Broncos and Hilltoppers will kick off at 12:30 p.m. Eastern Time and will be televised on ESPN.