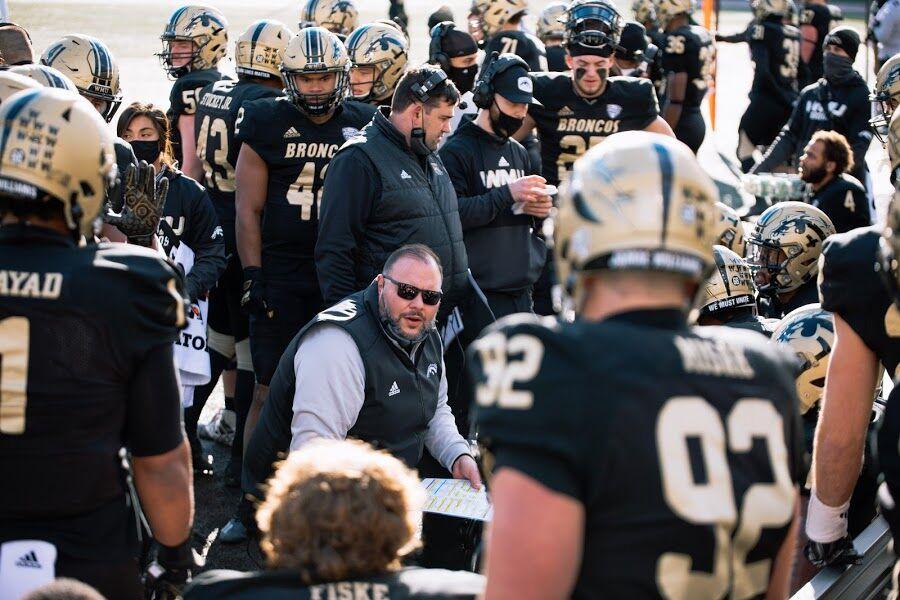 Coming into last weekend, WMU football was likely going to have to beat Ball State in the final week of the season to win the MAC West unless it received some help from rival Central Michigan while taking care of EMU.
As it turned out, the Broncos did not take care of business against the previously winless Eagles and put together their worst performance of the season in a 53-42 loss heading into the biggest game of the year.
Just a couple weeks ago, it seemed to feel like WMU may cruise its way to a division title after the momentum of a come from behind win against Toledo and a solid performance in a road win against the Chippewas.
Instead, the Broncos have shown some obvious flaws in the past couple games against the bottom of the MAC West with many questions to answer before they travel to Munci, Ind. for a game that will decide who goes to Ford Field.
Head coach Tim Lester acknowledged the disappointment from the loss over the weekend in a game where WMU's defense gave up 533 yards and allowed the Eagles to run and pass all over them.
Lester called it a "wake up call" for his team and said he hopes his team uses the loss as an opportunity to clean things up and focus on the small details coming into the weekend.
"We had a wake up call, we didn't get the job done," Lester said. "You have to swallow that humility pill, and it makes everyone reevaluate, hopefully the players reevaluate 'could I have practiced harder?'  It (a loss) gets them back to really looking at all the little details that we didn't get done last week and gives us a chance this week to get back at it."
As Lester has done throughout his tenure at WMU, he is taking the defeat with a positive outlook as the Broncos hope to learn from the shortcomings against EMU while turning the page to a Ball State team that has won four in a row.
"I give them (EMU) credit," Lester said. "They executed, we didn't. "It was a great film to learn from so that's what we've been doing this (Monday) morning. We literally just turned the page to Ball State. It's exciting to be in a MAC West championship game, I'm sure a lot of teams wish they had a chance to be in it at this point, and we do."
As the Broncos turn the page, there are areas they must improve before they step on the field against the Cardinals. Against the Eagles, nothing was more noticeable than the poor play of the defense, which allowed EMU to score on 10 straight possessions after forcing a punt in the first series of the game.
"We've got to trigger better, we've got to be more disciplined, our eye discipline was a little bit weak," Lester said. "I thought we were out there trying to make some plays instead of just running the defense the way it's meant to be run. It's a good thing to learn from, we do want to turn the page but the most important thing about when you lose is learning from it. Losing is learning. We don't lose much, but when we do, we learn from it."
The turnover margin was also of concern for WMU as the offense lost two fumbles along with losing another fumble on a special teams play in the second half, all of which led to 13 Eagles' points.
Defensively, the Broncos haven't forced a turnover since the second game of the season against Toledo on Nov. 11 and that came on a desperation Hail Mary attempt on the last play of the game.
WMU is now -1 in the turnover margin category, something that will likely have to change if it hopes to beat a Ball State team that has turned teams over nine times this season and are +3 in that department.
"One, we've got to tackle the ball," Lester said. "We've got to put our helmet on it. I think we've got a couple guys coming in for big hits as opposed to trying to put their helmet on the ball and that's something we've been focusing on last week."
" Then, we've got to read our keys and get to the plays. There's been some balls on the ground, there's been some tipped balls and we're getting closer. The most important thing, offensively and defensively is that we understand you have to do your job. All big plays come from that."