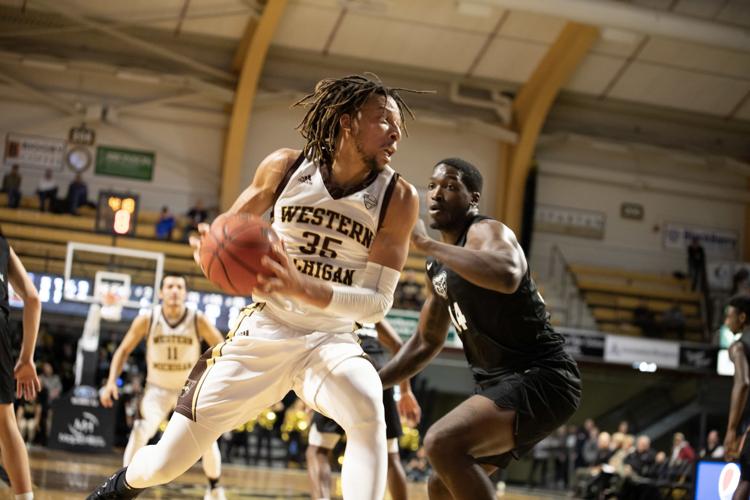 Western Michigan men's basketball dropped a hard fought game at Toledo on Saturday night by the score of 67-59. The loss drops their record to 8-8 overall and 1-2 in conference play. 
The game was close throughout, with Toledo's largest lead of the first half coming at only five points and the game itself being tied at the intermission by the score of 32-32.
Despite this, the game never really fell out of Toledo's grasp, with the Rockets holding the lead for nearly 90% of the game. WMU's largest lead was just two points, coming at the three minute mark of the first half. 
As a whole, the team shot 36.5% from the field, with the bulk of the points coming from redshirt junior Brandon Johnson, who scored 23 points and added six rebounds and an assist. 
Helping out Johnson on the offensive end was junior Michael Flowers, who had 13 points, scoring double digits in every game so far this year.  
The little things that the Broncos try to do each game were overpowered by Toledo as the Rockets led in total rebounds (46-29) and points in the paint (38-28) on their way to victory. 
WMU did come away with a positive in the score sheet, committing only seven turnovers compared to Toledo having 15, leading to 17 points off turnovers, to only six for Toledo. 
Senior Luke Knape helped the Rockets pick up the victory with a double- double, consisting of 14 points and 10 rebounds. Fellow senior Willie Jackson also picked up a double-double with 12 points and 16 rebounds. The team as a whole spread the love with five players reaching double digit points. 
The Broncos return home on Tuesday, Jan. 14. against Bowling Green to try to move to 2-2 in the Mid-American Conference, as the Broncos host the Zoo t-shirt giveaway. That game will begin at 7 p.m. at University Arena.