I caught up with Ben Moore, Georgia State football reporter for 247sports for a Q&A session to help preview this weekend's matchup at Waldo Stadium. Check out some of the things Moore had to say about the matchup. 
("WH"= Western Herald, "BM" = Ben Moore)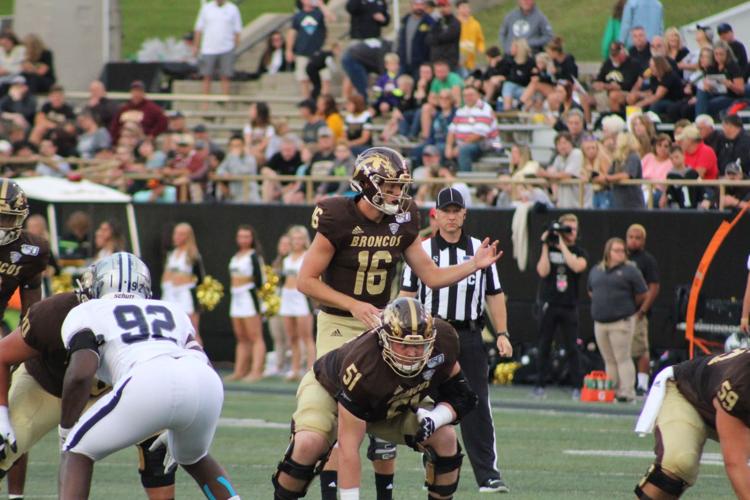 WH: Quarterback Dan Ellington is obviously having a great season up to this point, leading the team in both passing and rushing. What has been the biggest change in his game from last year to this year? And why is the offense having so much more success as a whole? 
BM: It has been several things and very few that he's actually responsible for.  He now has a veteran offensive line led by All-Sun Belt Conference left tackle Hunter Atkinson and left guard Shamarius Gilmore. Also, he has a staple of six scholarship running backs, four of which were true freshman in 2018. Dan also has a deep and talented receiving corps and several legit options at tight end. This GSU offense is no fluke and hung 38 points on Tennessee and 48 points on a very good FCS foe in Furman last Saturday.   
I think the play calling is helping a bit as well. First year offensive coordinator Brad Glenn is letting Dan drive the offense with both his legs and his arm. He's truly a dynamic weapon and has the confidence to audible and shift the unit into a better play based on the look the defense is giving. Ellington is about as calm of a customer as you'll see back there and isn't easily rattled even when things don't go well during a series. He guided an offense that scored 45 points in three quarters last Saturday and can make timely throws while running an up-tempo style offense that GSU wants to wear out opposing defenses. 
WH: Ellington can clearly run, but both Tra Barnett and Seth Paige are averaging over four yards per carry on the ground. Are defenses just having trouble accounting for all of those running threats? 
BM: Both Barnett and Paige have elite speed and very good compliments to Ellington and you'll see a variety of formations on Saturday evening. GSU isn't afraid of putting speedy slot wide receivers in the back field as well to either carry the ball, catch the ball out of the backfield or serve as decoys on misdirection plays. Head coach Shawn Elliott is a former offensive line coach at South Carolina and demands a level of toughness from his offensive line and mentioned during is opening statements when he was hired that the Panthers will run the ball.    
WH: Wide receiver Cornelius McCoy looks to have stepped up and is the No. 1 receiver, averaging 93 yards per game. What type of player is he? 
BM: Speedy, fast, quick, whatever word you'd like to use McCoy is that. He is slippery off the line and runs great routes. Ellington has a great grasp of where Cornelius is on the field and how quickly he can get there. As some dual threat quarterbacks run to run, Dan runs to set up the throw. McCoy has fully embraced the role vacated by Georgia State all-timer Penny Hart who has moved on to the NFL.  
WH: Given how Western Michigan's defense has been shaky, is that an area where Georgia State really thinks they can expose the Broncos? 
BM: There's no question. This GSU offense is really rolling right now and they believe they can score on anyone. This group had long sustained drives against Tennessee and has the ability to grind it out with the run as well as hit big plays deep. One of the biggest areas that makes this offense so tough is on 3rd down. The Panthers are top 10 in the FBS ranks nationally converting better than 57% of their third downs. Georgia State also has an elite punter in Brandon Wright who will most likely be a Ray Guy semifinalist for the second straight season for those times where the offense misfires.  
WH: Being a program that hasn't been around for too long, what did it mean for the team to win at Tennessee? Did they feel like that was a real signature win to get the program jump started and to contend in their conference? 
BM: It was, simply put, earth shaking.  In the heart of SEC country, it really woke the city of Atlanta up.  GSU, as you mentioned, is a very young program celebrating its 10th season of existence in 2019.  To open the year with a victory over Tennessee seemed to stamp the limitless potential that many around the program had envisioned when making the quick transition from FCS to FBS back in 2012-13.  Forbes Magazine put out a story about just how the athletics department was ready for the win. Something to also keep in mind—GSU is now the largest school in the state of Georgia and Top 10 nationally with more than 52,000 students.  On Tuesday, the Board of Regents green lighted a new $80 million basketball Arena that is expected to be completed in a few years.  The buzz around Atlanta about Georgia State is at an all time high and some of the promises and potential from the struggles experienced as a very young program are being realized in a major way.  
WH: Georgia State had a slow start against Furman last week after coming back to win. Was that more of a Tennessee hangover or is there concern in that regard? 
BM: I think it was a combination of a few things.  Certainly the hangover was real.  The players and coaches had heard how great they played against Tennessee and you can't discount 18 to 21 year olds not being completely locked in when the name on the opposing jersey says Furman instead of Tennessee.  Senior Safety and captain Remy Lazarus said during the week that his defense would be challenged more by Furman than UT and some around the SEC took offense to that.  Furman runs a triple option offense with a QB who has the ability to throw the ball and burnt the GSU secondary on multiple occasions.  It was also the home opener and the atmosphere was electric in GSU Stadium (formerly Turner Field). I also want to give credit to the Furman coach staff because they had a great game plan and just punched the Panthers squarely in the mouth offensively. GSU shook the cobwebs out and then hit the gas outscoring the Paladins 45-22 over the final three quarters of the game. 
WH: The Panthers defense has given up an average of 36 points per game and 622 total yards through the air. Is that an area of concern, and is that something WMU could take advantage of? Who can we expect to make plays from that GSU defense? 
BM: Georgia State runs a base 3-4 with zone concepts in the back third.  They'll bend a bit but won't typically break. As I mentioned above, facing a TO offense with a QB who can throw the ball resulted in multiple touchdowns because the secondary was lulled into cheating towards the line of scrimmage.  Facing a more traditional offense will certainly help and the GSU front seven can really fly around and hit people.  Linebacker Ed Curney is the clear leader of the team and he is one of the toughest guys in the Sun Belt . I expect Curney, Lazarus and the rest of the GSU leaders to have a much better effort on Saturday defensively.  
 
WH: How do you think the game will play out? Prediction? 
BM: Full disclosure - I've been historically pretty terrible at predictions so I rarely make them anymore. I do think Saturday's game is a bit of a litmus test for Georgia State. Huge road victory followed by a nail biter at home.  Now the team heads back on the road again where they can use the energy of the road crowd.  Game time temperatures at kick are expected to be significantly more comfortable than what GSU has been playing and practicing in the last few weeks - 93 degrees and 91 degrees, respectively. I believe Georgia State is more than capable of winning this game close on the arm and legs of Dan Ellington but turnovers and penalties will be areas that I'll be watching on both sides. The team that plays more clean will win the game in this writer's view. 
There's no reason to believe that this game won't be an absolute shootout. Both teams come into the game with dynamic offenses and struggling defenses. 
Amazingly, both teams rank at the bottom two in the nation in third down defense. The Panthers are 129th in that category, allowing teams to convert about 58% of the time on third down. The Broncos are even worse, allowing offenses to convert at about a 61% clip on third down. 
It could very well come down to who has the ball last or which team makes more plays late in the game. 
For Western's offense, they will have to keep an eye on GSU's pass rush, who as a team has seven sacks on the year, tied for 16th in the country. But if the offensive line gives Wassink time to throw, he should have a good night, as the Panthers pass defense ranks 117th in the nation. 
Defensively, the Broncos will likely have trouble stopping Ellington. Western's defense contained him last year, but this is a new Georgia State offense with plenty of weapons, as Moore pointed out. Western will certainly have to figure out some of those communication and tackling issues that hampered them at Michigan State last week if they hope to contain the Panthers offense. 
Prediction: Western Michigan 48, Georgia State 42 
Special thanks to Ben Moore for providing the Herald with some insight on Saturday's game in Kalamazoo. Kick off is set for 7 p.m.