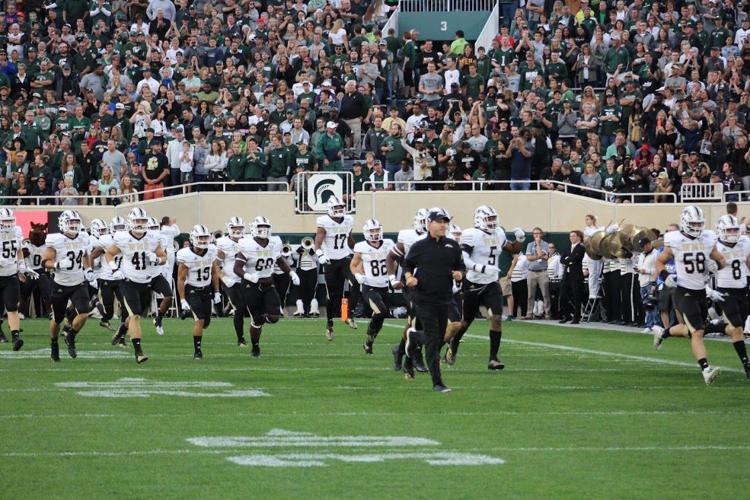 The Mid-American Conference released its football preseason coaches poll on Wednesday with Western Michigan picked to finish second in the MAC West.
WMU received two first-place votes from the league's coaches and totaled 53 points. 
The Broncos are one point behind Toledo, who was picked to win the division with 54 points and four first-place votes.
Western Michigan's rival Central Michigan received the most first-place votes of any team in the MAC West with five, but totaled 52 points from the conference's coaches, one point behind the Broncos.
Ball State was picked fourth with 50 points and one first-place vote in what is expected to be a four-team race in the West in the shortened 2020 season.
In the MAC East, defending champion Miami (OH) was picked to repeat as division champions with six first-place votes and 64 points.
Buffalo is the clear second-place favorite, according to the coaches poll, with four first-place votes and 58 points.
Ohio (one first-place vote, 48 points) and Kent State (42 points), were picked to finish third and fourth in the MAC East, respectively.
The Broncos have not won the MAC West since its 13-1 season in 2016, when the P.J. Fleck-led team beat Ohio in the MAC title game before making an appearance to play Wisconsin in the Cotton Bowl.
Last season, WMU finished 7-6 overall and 5-3 in conference play and dropped its final regular season game at Northern Illinois that would have sealed the program's fourth MAC West title with a win.
WMU will open its season on the road at Akron on Wednesday, Nov. 4 at 6 p.m. EST on ESPN3.
Below is the 2020 MAC football coaches preseason poll:
West Division predicted order of finish 
1. Toledo (4 first-place votes), 54 points
2. Western Michigan (2), 53 points
3. Central Michigan (5), 52 points
4. Ball State (1), 50 points
5. Eastern Michigan, 22 points
6. Northern Illinois, 21 points
East Division predicted order of finish
1. Miami (OH) (6), 64 points
2. Buffalo (4), 58 points
3. Ohio (1), 48 points
4. Kent State, 42 points
5. Bowling Green, 23 points
6. Akron (1), 17 points