Western Michigan University is following a national trend by relying on athletic donor support for its athletic department -- in particular, its football program -- in response to overall university budget-cutting.
In fact, when it comes to donor support for athletics, WMU is the most revenue-generating school in the Mid-American Conference, said WMU Athletic Director Kathy Beauregard.
"The majority of coaches' contracts are not from university funding. It's coming from donors," said Beauregard. "We have to find donors to help pay for the rest of the contract. You have to have a good group of donors and WMU has that."
Western Michigan University head football coach P.J. Fleck is the highest paid coach in the Mid-American Conference, with WMU donors accounting for 70 percent of Fleck's $800,000 contract. The administration said that his contract could increase if Fleck continues to win and gain interest from other football programs. The university pays each athletic coach at WMU a base salary, but the athletic department must rely on donors for the remaining funds of the contract, which, in Fleck's case, is $575,000.
Not only are donations increasing, football revenue has grown as well. Revenue generated from the football program has steadily increased to $8.04 million in 2015 from $7.48 million in 2013, according to a three-year football activity report obtained from the Western Michigan University Division of Intercollegiate Athletics.
WMU President John Dunn and Beauregard rewarded Fleck for his team's improvement on Dec. 18, 2014, by signing him to a six-year contract extension through Jan. 31, 2021. The extension increased Fleck's base salary from $210,000 annually to $225,000.
"Look at [Fleck's] trajectory from the first season and acknowledge we knew it was going to be tough," Dunn said. "Then look how it was turned around in the second year. That's pretty impressive."
As part of the extension, Fleck has an opportunity to earn $800,000 per year in addition to his base salary. He can earn money from incentive-based compensation, according to a WMU press release. Incentive provisions are described in further detail in section five of Fleck's most recent contract and a select few are highlighted in the table below.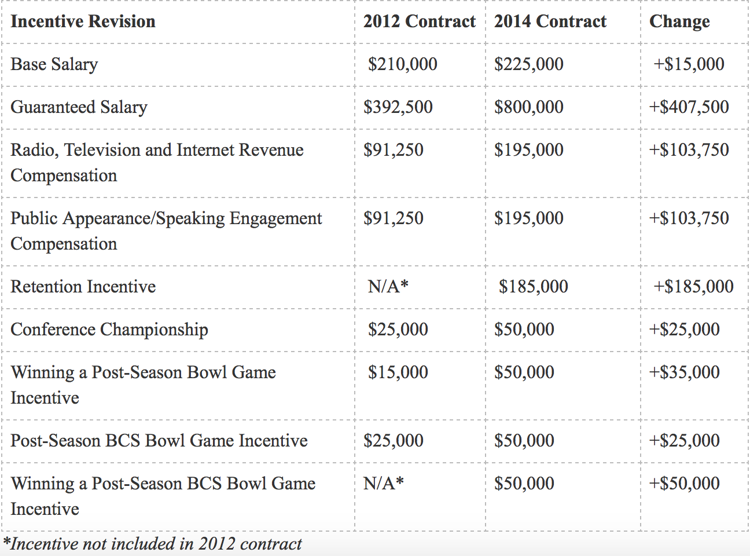 A $195,000 compensation for radio appearances and $195,000 for television appearances are both included in Fleck's contract, along with a $185,000 retention incentive. Fleck can also receive incentives for winning a conference championship, bowl game and for his players being named to all-conference teams, but his earnings cap is set at $800,000.
The WMU athletic department receives donations in two ways. The first is through the WMU Foundation; donations to the university can be specified for the athletic department in particular. The second way is through the Mike Gary Athletic Fund, which is the fundraising arm for athletics. Donations to the Gary Fund are typically more public and draw more attention.
"I think it's safe to say that P.J. Fleck's enthusiasm and passion for WMU has helped to increase alumni and community interest," Jim Thomas, executive director of the WMU Foundation said. Thomas added there's been an increase in alumni attendance at events and an increase in philanthropic support.
Donations to athletics totaled just over $9.8 million from 2006 to 2012, according to a Gary Fund report. Since 2013, donations totaled just under $12.9 million with four months left in the 2016 fiscal year.
"Just about anything, unless it's capital for business or renovations, goes through the Gary Fund," said Mellissa Porter, Mike Gary Athletic Fund associate manager of engagement said.
The football program generates the most revenues for the athletic department. It also receives the most funding out of any sport. This has led to concern from those questioning whether or not donations are going to the right place.
"Some people are critical and would like to use that financing for other parts of the university," Beauregard said. "What you have when you find money and individuals who want to donate is they are doing it because they have a love for what they believe in."
Beauregard said that donor money is the future of college sports because athletic departments are never going to get any more money from the university. If money is needed to increase a coach's contract, athletic departments are turning to donors for support. WMU is following this trend.
After leading the Broncos to an 8-5 record in 2015 and their first bowl win in WMU history, Fleck's name was mentioned as a potential candidate for other football head coaching jobs. Reports surfaced towards the end of the 2015 season that Western Michigan University and Fleck were in talks to increase his contract again.
"There was a story out there that we were renegotiating some whopping, huge contract and that was not true," Beauregard said. "We did have conversations of other schools wanting to talk to him, but Coach Fleck is not ready to go."
Fleck is WMU's head coach now, but if a day comes when a more appealing coaching offer comes to the table, it will be up to donors to provide the money to keep him in Kalamazoo.