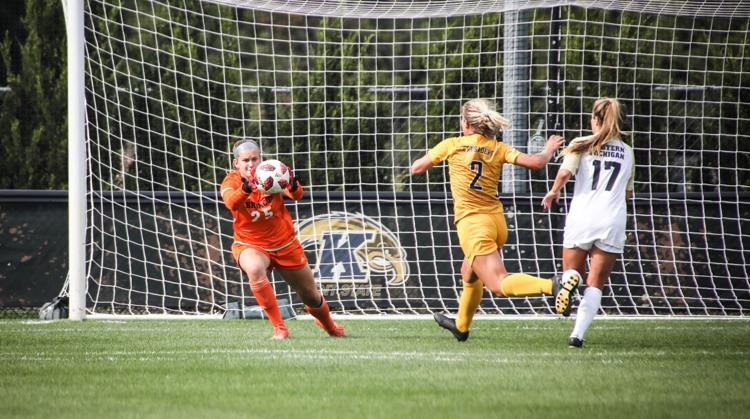 Western Michigan's women's soccer picked up their first win of the season after shutting out Cincinnati 1-0, away from home on Sunday night.
After a 45 minute delay caused by lightning in the area, sophomore Morgan Otteson put the ball in the back of the net with a goal in the 18th minute. Otteson forced a turnover then smashed home the game winning unassisted goal. 
Once the goal occurred, Western's defense showed in a big way only allowing the Bearcats to have 2 shots on goal. The backline of Savannah Bosworth, Rachel Royer, Emily Dahl and Kai Sugiyama played extremely well stopping any attack that came their way.  This win was the first for junior goalkeeper Maggie Rogers as she made two saves in the shutout. 
"From the front to the back, it was a great team effort," interim head coach Sammy Boateng said. "Maggie did a great job communicating with everyone and Morgan did an awesome job pressing and showed great composure on her finish," Boateng said.
The Broncos had the majority of the corner kicks with seven compared to the Bearcats four. Cincinnati outshot WMU 11 to five but the Broncos had more shots on target with three while the Bearcats had two.
"We had Grace Labadie and Hannah Kahn providing a lot of pressure on the wings," said Boateng. "Our substitutes played with the same intensity. It was a full team effort."  
Western now heads out to Colorado to face Colorado College at the Air Force Academy on Friday at 9 p.m. They also have match against Air Force on Sunday at 2 p.m.