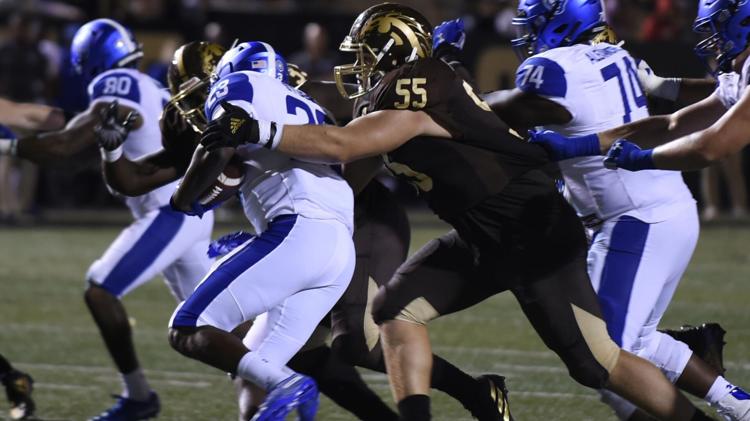 After an extended offseason in the Mid-American Conference filled with uncertainty, 'MACtion' will finally make its return on Wednesday.
Western Michigan football kicks off its six-game, conference-only season with a trip to Akron Wednesday night to take on the Zips.
Last week, the MAC coaches poll was released and has WMU finishing second in the MAC West, while the media poll projects the Broncos to finish fourth in the division.
Before WMU takes the field, here is a game-by-game prediction on how the Broncos will fare in 2020.
11/4 at Akron
With the Broncos having to replace its starting quarterback and running back from 2019, along with adding some new faces in the secondary, this should be a good game for WMU to get its feet wet and work out any kinks for Week 2 against Toledo while coming away with a road win.
The Zips were one of college football's worst teams in 2019 and went 0-12 on the year. This doesn't mean the Broncos should come in and take Akron lightly, considering Kato Nelson's experience at quarterback and his ability to make plays with his arm and legs.
On defense, Akron will be experiencing quite a bit of turnover, so it will be up to redshirt sophomore quarterback Kaleb Eleby and the WMU offense to keep Akron's defense on its heels.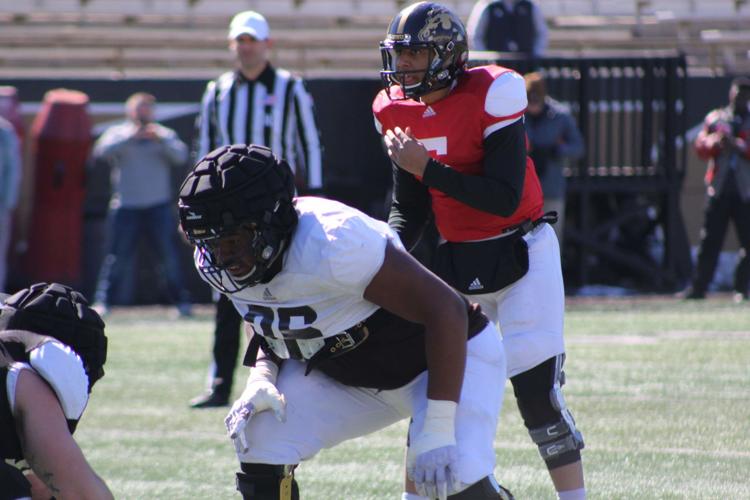 As long as WMU comes in focused and ready to play against an Akron team that should be somewhat improved from last season, the Broncos win with ease.
Final score prediction: WMU 42, Akron 17
11/11 vs. Toledo
Week 2 for WMU will be critically important when it comes to the sprint for the MAC West title as the Broncos welcome the Rockets on Nov. 11.
During head coach Tim Lester's first three seasons, he has yet to get over the hump against Toledo with an 0-3 record.
Last season, the Broncos lost a one possession game to the Rockets on the road earlier in the year before Toledo stumbled down the stretch and were hampered by injuries.
Quarterback Mitchell Guadagni will be tough to replace, but Eli Peters or Carter Bradley, whoever wins that starting job, should be competent in his place. Receiver Bryce Moore will likely take on an increased role at receiver to give the Rockets a consistent down field threat.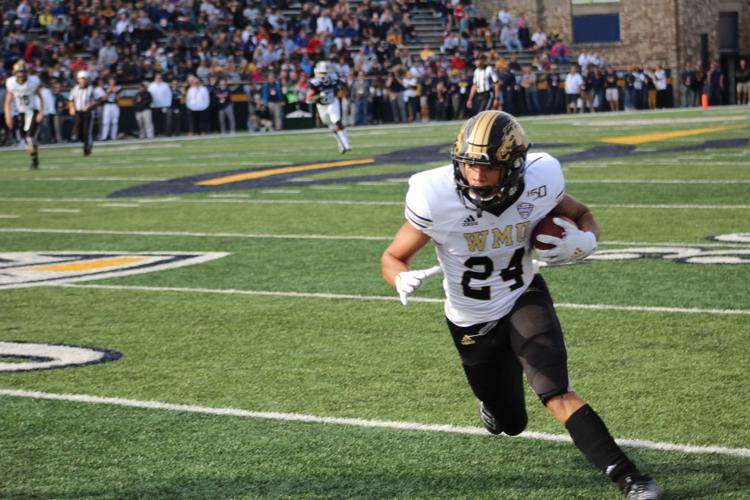 Toledo's running game will be the element the Broncos will need to watch out for, as Bryant Koback and Shakif Seymour will be one of the most potent duos in the MAC this season.
That being said, WMU finds a way to win this one at home in what has the makings to be a shootout.
Prediction: WMU 38, Toledo 35
11/18 at Central Michigan
Western Michigan took care of the Chippewas on its home field last season and claimed the Victory Cannon for the fifth time in six seasons.
 CMU was able to sneak into the MAC title game at Ford Field and take the West division after WMU lost its final regular season game in Jim McElwain's first year as head coach.
The Chippewas return plenty of talent, too. Kobe Lewis, who ran for nearly 1,200 yards last season, is back in the CMU backfield, along with top receiver Kalil Pimpleton. Senior quarterback David Moore is back after being suspended midway through last season, but his eligibility status is still up in the air. If the Chippewas hear nothing in regard to Moore, it will be redshirt freshman Daniel Richardson under center, who McElwain and the coaching staff really like.
The Chippewas defense also returns most of its production on defense from 2019, including linebacker Troy Brown on a unit that ranked second in the conference last season in total defense.
I see the Chippewas prevailing in this one and claiming the Victory Cannon for the first time since 2017.
Prediction: CMU 34, WMU 28
11/28 vs. Northern Illinois
The Broncos' first Saturday game of the year comes against the team that spoiled WMU's chance at a MAC West title at the end of the 2019 season.
That in itself should be enough to motivate the Broncos for this game, but overall, WMU should have the more well-rounded team.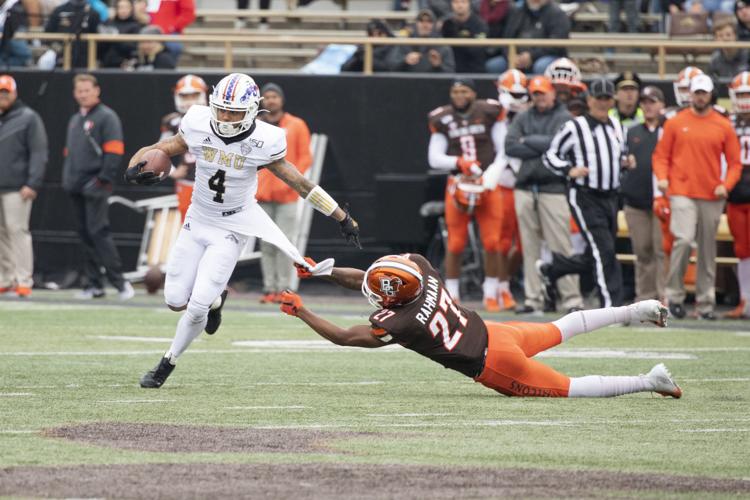 NIU's offense finished 104th in the nation last season and will have to deal with the loss of its most dynamic offensive player in running back Tre Harbison, who is now a Charlotte 49er.
The Huskies ran a two quarterback system last season, but Marcus Childers, The Huskies' second leading rusher in 2019, is gone. Ross Bowers, who is much more of a passer than Childers as opposed to a runner, will likely be under center for NIU in 2020.
But the Huskies will just not have enough offensive firepower to keep up with WMU's offense.
Prediction: WMU 31, NIU 14
12/5 vs. Eastern Michigan
EMU is another loss the Broncos will have to avenge from last season. Backup quarterback Preston Hutchinson stepped in and torched the Broncos' secondary in the 2019 matchup after Mike Glass was scratched due to an injury.
Hutchinson is now expected to take over as the starter this season. The Eagles' offense, which averaged nearly 300 yards per game through the air in 2019, should again have a strong passing attack in 2020. EMU loses Arthur Jackson and Mathew Sexton, but leading target Arthur Jackson returns after a nearly 700-yard receiving season last year with six touchdowns.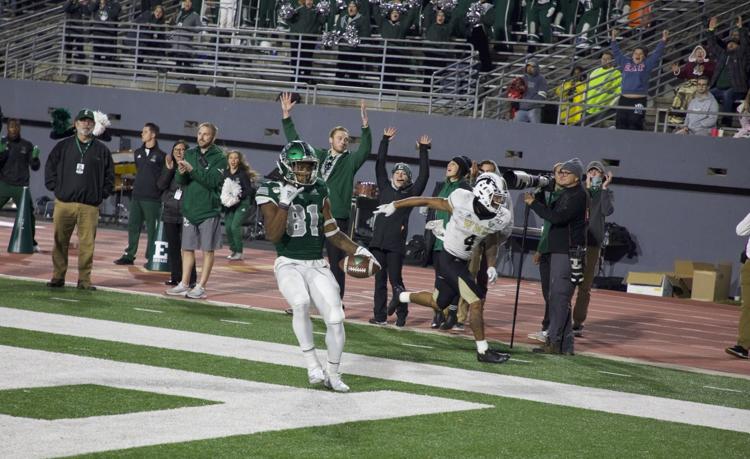 But if EMU cannot find a consistent running game, it will be difficult to sustain drives with any consistency. As long as WMU does not give up numerous big plays in the secondary as it did in last year's game, this is a win for the Broncos.
Prediction: WMU 34, EMU 27
12/12 at Ball State
WMU will travel to Muncie, Ind. for this season's finale at Ball State. Last year's game between the two was a doozy, with former WMU running back LeVante Bellamy taking over in the fourth quarter and the Bronco defense coming up with a late stop to secure the victory.
The Cardinals were right in the thick of the MAC West title race last season before faltering down the stretch in some close losses, but have the potential to take a step forward this season.
Ball State's offense was No. 1 in the MAC in 2019 in offense and scoring, averaging 463 yards and 35 points per game. Drew Plitt is back at quarterback after a nearly 3,000-yard season to go along with 24 touchdown passes. He will have receiver Justin Hall back, who went for 684 yards and six scores in 2019.
Ball State's defense was not able to match the success of its offense last year, giving up 425 yards and 31 points per game.
The Cardinals did lead the MAC in takeaways in 2019 and have most of its starters back on defense this year.
If WMU plans on winning this one, its offense will likely have to carry the load, and I think Kaleb Eleby and company can do enough.
Prediction: WMU 40, Ball State 39
Other predictions from the Western Herald sports staff:
Collin Murphy, Lead Sports Reporter
I'm picking the Broncos to go 4-2 this year.
Games at Akron and at home against Eastern Michigan and Northern Illinois are games WMU needs to win. If the Broncos lose any of those games, Tim Lester should start feeling his seat getting hot under him.
Games against Toledo, at Central Michigan and at Ball State would prove more difficult, and I would expect WMU to go 1-2 in those contests. All three of those teams have a more experienced quarterback than WMU's redshirt sophomore Kaleb Eleby, and if they turn into a shootout it's hard to rely on an inexperienced quarterback to not make a potentially game-changing mistake. If the defense is able to step up and slow teams down or force turnovers it will give the Broncos a much better chance to win those big games.
Conner Peterson, Sports Reporter
I'm predicting a 3-3 season. The offense will be run a bit differently compared to last year because Levante Bellamy is gone and so is Jon wassink, which were huge components to the offense last year. I think the Broncos will beat Akron, lose to Toledo, beat Central Michigan. In the second half of the season, I have WMU losing to NIU, beating EMU and losing to Ball state.
Jake Nelson, Sports Reporter
 WMU will start the season with a win over Akron 35-3. The Zips finished 0-12 last season and I don't see the team being a stout Bronco defense. WMU follows the Zips with its home opener against Toledo, who gave them trouble last year and throughout Lester's three year tenure. I have the Broncos losing this one 24-20 in a back-and-forth match up. WMU will win its second straight against the Chips as I have WMU defeating Central Michigan 17-14. WMU will get its first home win of the season as WMU will defeat the Huskies of Northern Illinois, 26-15.
The winning streak will continue the following week when the Broncos host Eastern Michigan with a  31-20. WMU will finish the season the same way it did last season, with a loss, as I have the Broncos losing to Ball State 24-14. WMU will finish its season 4-2 in a pivotal season for the Broncos as it aspires for its first MAC championship since 2016.